National Wilderness Areas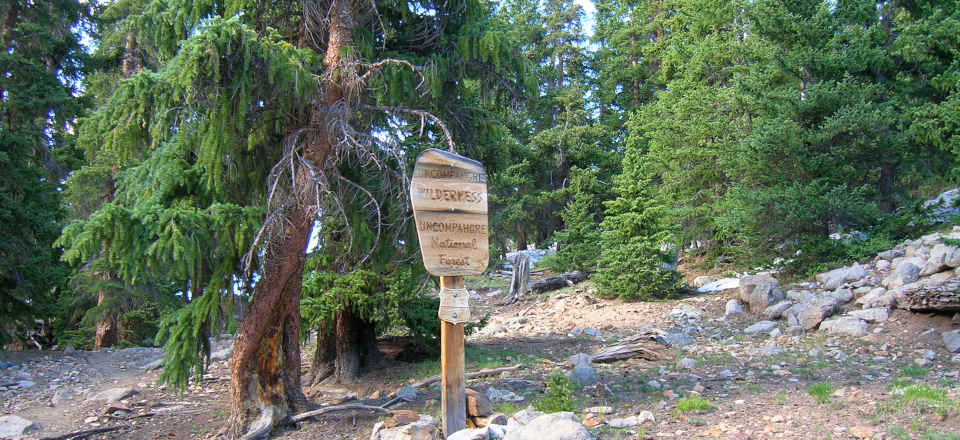 Boundary marker for Uncompahgre Wilderness in Colorado
In total, there are about 110 million acres of designated wilderness managed by the US Forest Service, the National Park Service, US Fish & Wildlife Service and the Bureau of Land Management. This is an area larger than the state of California (third largest of the 50 states). 52% of all wilderness acreage in the United States is in Alaska.
The US Forest Service oversees more than 430 designated wilderness areas for a total of more than 36 million acres. The National Park Service lays claim to more than 43 million acres in 60 locations (although some locations (like Lake Mead National Recreation Area) have multiple designated wilderness areas within them). US Fish & Wildlife Service manages more than 20 million acres in 71 areas. The Bureau of Land Management has more than 22 wilderness sites, comprising more than 8 million acres.
Some wilderness areas are managed by multiple agencies but there are more than 750 designated Wilderness Areas in the United States.
The list below is only a list of the National Designated Wildernesses, not wilderness areas managed by the various states and some tribal governments.
National Wilderness Areas
Alabama

Alaska

Arizona

Arkansas

California

Resting Spring Range Wilderness
Rice Valley Wilderness
Riverside Mountains Wilderness
Rocks and Islands Wilderness
Rodman Mountains Wilderness
Sacatar Trail Wilderness
Saddle Peak Hills Wilderness
San Gorgonio Wilderness
San Jacinto Wilderness
San Mateo Canyon Wilderness
Santa Rosa Wilderness
Sawtooth Mountains Wilderness
South Fork Eel River Wilderness
South Fork San Jacinto Wilderness
South Nopah Range Wilderness
Stateline Wilderness
Surprise Canyon Wilderness
Sylvania Mountains Wilderness
Turtle Mountains Wilderness
Whipple Mountains Wilderness

Colorado

Florida

Georgia

Blood Mountain Wilderness
Brasstown Wilderness
Mark Trail Wilderness
Raven Cliffs Wilderness
Rich Mountain Wilderness
Southern Nantahala Wilderness
Tray Mountain Wilderness

Hawaii

Idaho

Hells Canyon Wilderness (Oregon and Idaho)
Selway-Bitterroot Wilderness (Idaho and Montana)

Illinois

Indiana

Kentucky

Louisiana

Maine

Massachusetts

Monomoy Wilderness

Michigan

Delirium Wilderness
Horseshoe Bay Wilderness
Huron Islands Wilderness
Mackinac Wilderness
McCormick Wilderness
Michigan Islands Wilderness
Round Island Wilderness
Seney Wilderness
Sturgeon River Gorge Wilderness
Sylvania Wilderness

Minnesota

Mississippi

Missouri

Montana

Nebraska

Nevada

New Hampshire

New Jersey

New Mexico

New York

North Carolina

Birkhead Mountains Wilderness
Catfish Lake South Wilderness
Joyce Kilmer-Slickrock Wilderness
Linville Gorge Wilderness
Middle Prong Wilderness
Pocosin Wilderness
Pond Pine Wilderness
Sheep Ridge Wilderness
Shining Rock Wilderness
Southern Nantahala Wilderness
Swanquarter Wilderness

North Dakota

Ohio

Oklahoma

Oregon

Black Canyon Wilderness
Boulder Creek Wilderness
Bridge Creek Wilderness
Cummins Creek Wilderness
Drift Creek Wilderness
Hells Canyon Wilderness (Idaho and Oregon)
Mill Creek Wilderness
Monument Rock Wilderness
North Fork John Day Wilderness
North Fork Umatilla Wilderness
Oregon Badlands Wilderness
Oregon Islands Wilderness
Rock Creek Wilderness
Soda Mountain Wilderness
Spring Basin Wilderness
Steens Mountain Wilderness
Strawberry Mountain Wilderness
Table Rock Wilderness
Three Arch Rocks Wilderness
Wenaha-Tucannon Wilderness

Pennsylvania

Puerto Rico

South Carolina

South Dakota

Tennessee

Big Laurel Branch Wilderness
Citico Creek Wilderness
Gee Creek Wilderness
Joyce Kilmer-Slickrock Wilderness
Little Frog Mountain Wilderness
Pond Mountain Wilderness
Sampson Mountain Wilderness
Unaka Mountain Wilderness

Texas

Big Slough Wilderness
Indian Mounds Wilderness
Little Lake Creek Wilderness
Turkey Hill Wilderness
Upland Island Wilderness

Utah

Vermont

Big Branch Wilderness
Breadloaf Wilderness
Bristol Cliffs Wilderness
George D. Aiken Wilderness
Glastonbury Wilderness
Joseph Battell Wilderness
Lye Brook Wilderness
Peru Peak Wilderness

Virginia

Barbours Creek Wilderness
Beartown Wilderness
Brush Mountain Wilderness
Brush Mountain East Wilderness
Garden Mountain Wilderness
Hunting Camp Creek Wilderness
James River Face Wilderness
Kimberling Creek Wilderness
Lewis Fork Wilderness
Little Dry Run Wilderness
Little Wilson Creek Wilderness
Peters Mountain Wilderness
Priest Wilderness
Raccoon Branch Wilderness
Ramseys Draft Wilderness
Rich Hole Wilderness
Rough Mountain Wilderness
Saint Mary's Wilderness
Shawvers Run Wilderness
Shenandoah Wilderness
Stone Mountain Wilderness
Three Ridges Wilderness
Thunder Ridge Wilderness

Washington

San Juan Wilderness
Washington Islands Wilderness
Wenaha-Tucannon Wilderness

West Virginia

Wisconsin

Wyoming
Mount Rainier from Goat Rocks Wilderness to the south