Baboquivari Peak Wilderness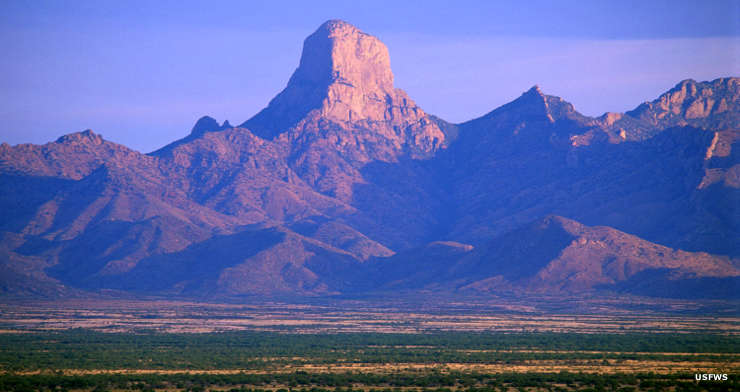 View across the Altar Valley to Baboquivari Peak, from Buenos Aires National Wildlife Refuge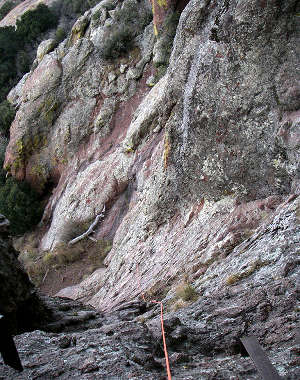 The Ladder Pitch from above
The smallest wilderness area in Arizona, Baboquivari Peak Wilderness is a 2,065-acre property located along the eastern flanks of the Baboquivari Range. This is spectacular rugged countryside dominated by the sheer form of Baboquivari Peak (7,730'). Baboquivari Peak is the only major peak in Arizona where a climber needs equipment and technical ability to reach the summit. Most folks come to climb the mountain. Access is easier from the west but to the west is the Tohono O'odham Indian Reservation and hikers/climbers will need permission from the tribe to access the wilderness and/or the peak. That might be problematic as the Tohono O'odham believe the peak is the navel of the Earth, that place where the Earth opened up and allowed the people to emerge after the Great Flood. They tell a story, too, of early Spanish Conquistadors coming to Baboquivari to dig for gold, only to have the Earth open up and swallow them.
The lower areas of Baboquivari Peak Wilderness are covered with a thick chaparral that includes paloverde and giant saguaro. Higher up that vegetation changes to oak, pinion and walnut. There have been more than a few reports of jaguars being spotted in the Baboquivaris over the last ten years.
To get there: Go west from Tucson on State Road 86 to State Road 286. Turn and head south toward Sasabe. Go about 30 miles to the dirt road off to the west that leads into Thomas Canyon. The Nature Conservancy owns the Humphrey Ranch in Thomas Canyon and they maintain a hiking-only access route to Baboquivari Peak Wilderness. To the north of Thomas Canyon is the Brown Canyon section of Buenos Aires National Wildlife Refuge. Brown Canyon is open to the public sometimes but there is no public access to the wilderness from there.
For those who come to climb the peak: there have been so many pieces of hardware left stuck in the rock the BLM doesn't allow the placing of new hardware. So while you're on the face, you need to thoroughly test every bit of metal you think you might want to use before you put any trust in it.
7.5-Minute Topo Map: Baboquivari Peak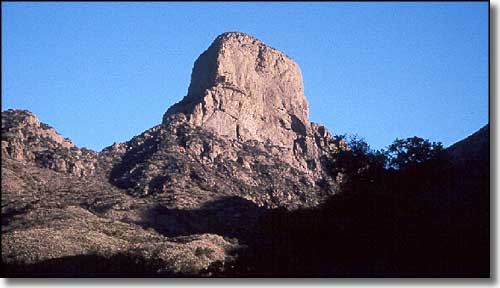 The east face of Baboquivari Peak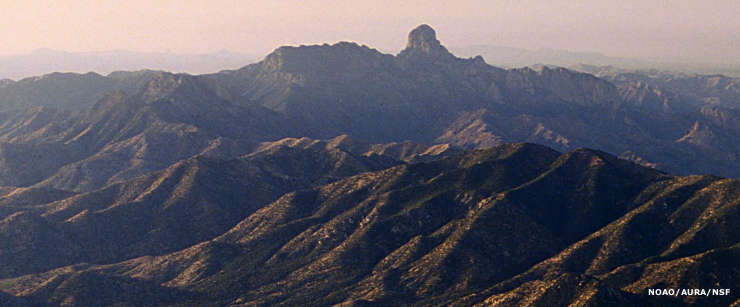 Baboquivari Peak from Kitt Peak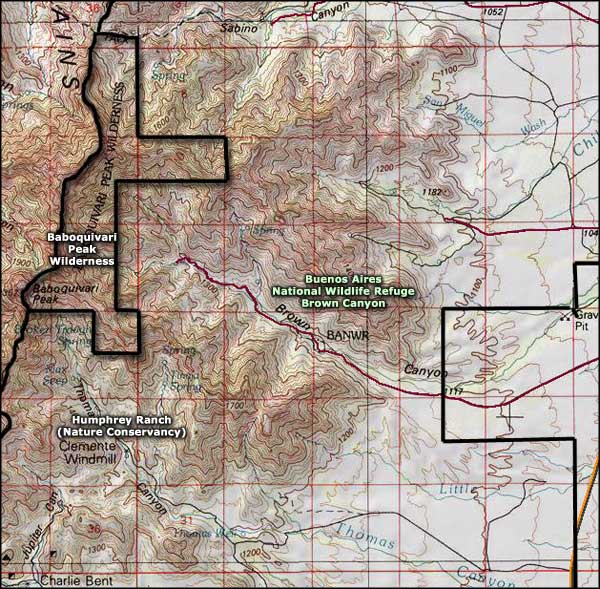 Baboquivari Peak Wilderness
Bureau of Land Management

- Tucson Field Office
Upper photo courtesy of the Steve Hillebrand, US Fish & Wildlife Service
Upper left photo courtesy of
Todds Hiking Guide
Lower photo courtesy of the Bureau of Land Management
Bottom photo courtesy of the National Optical Astronomy Observatory/Association of Universities for Research in Astronomy/ National Science Foundation
Map courtesy of National Geographic Topo!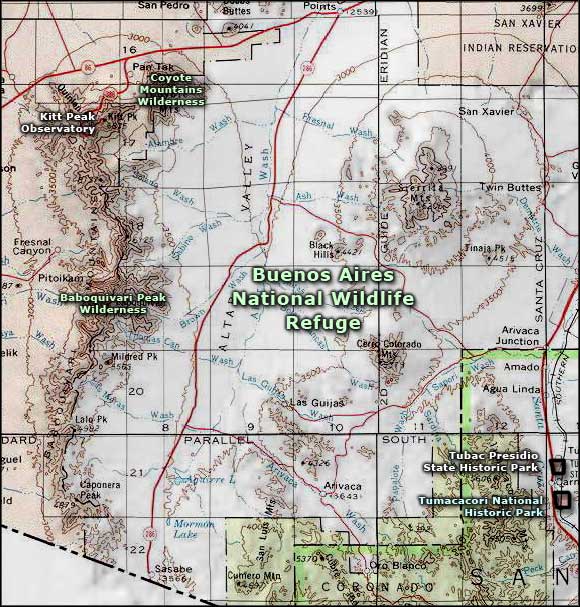 Related Pages
Map courtesy of National Geographic Topo!