Rhode Island - The Ocean State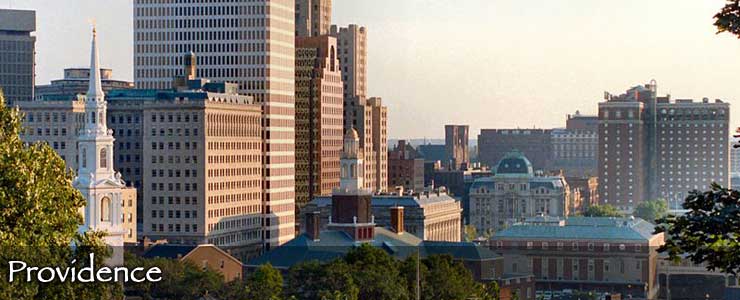 Rhode Island is smallest of the 50 states. It was originally settled by outcasts from Massachusetts Bay Colony... Roger Williams being chief among them. Williams espoused full separation of church and state, full freedom of religion, the abolition of slavery and equal treatment for Native Americans (all radical ideas in those days). In their search for real political and religious tolerance, Williams and others came to the area of Narragansett Bay and founded "Providence Plantations" in 1636. The land was actually granted to Williams by the Narragansett tribe and one of Williams' first acts was to declare the site a place of religious freedom.
The name "Rhode Island" most often referred to what is now called "Aquidneck Island," the island in the bay where the city of Newport is located. Another group of religious dissidents bought that island from the Narragansetts in 1638 and began the settlement at Portsmouth. Within a couple years they were arguing with each other too much and one group split off to found Newport.
In 1644, Providence, Newport and Portsmouth united as the Colony of Rhode Island and Providence Plantations and the state is still officially named "Rhode Island and Providence Plantations."
Rhode Island was the first colony to declare independence from Great Britain, taking that action fully two months in advance of the issuance of the Declaration of Independence. However, of the 13 colonies, Rhode Island was also the last to ratify the United States Constitution, waiting for assurances that a "Bill of Rights" would be added to the document.
Brown University (located within the city limits of Providence) is one of only eight colonial colleges that were chartered in this country before the founding of this country.
As much as the early founders of the state fully supported the abolition of slavery, at the beginning of the American Revolution 6.3% of the colony's population was African slaves. After the Revolution, Rhode Island mercantile families controlled between 60% and 90% of all African slave trading in the country.
The majority of the state is within a few miles of the waters of Narragansett Bay.
Fast Facts about Rhode Island
Capital: Providence
Largest City: Providence
Became a State: May 29, 1790 : 13th
Area: 1,214 square miles : 50th
Highest Point: Jerimoth Hill : 812'
Lowest Point: Atlantic Ocean : 0''
2010 Rhode Island Population Demographics
Total Population
1,052,567
Hispanic or Latino
130,655
Non Hispanic or Latino
921,912
Hawaiian or Pacific Islander
554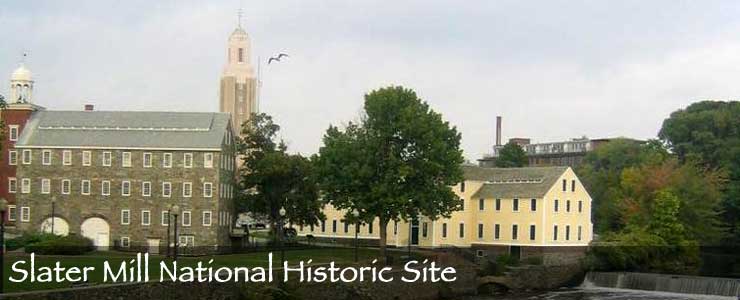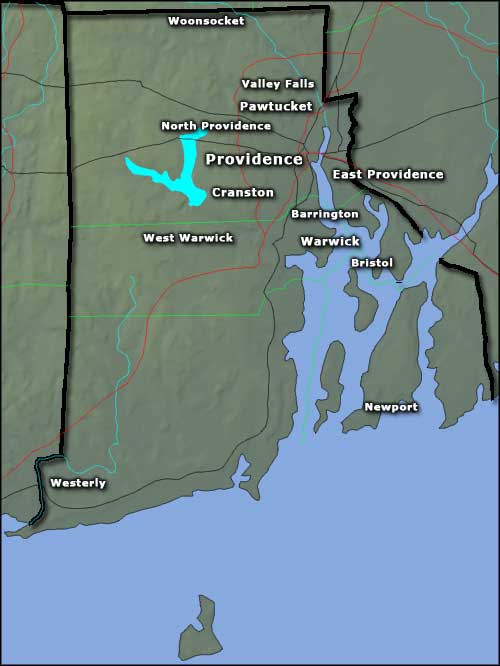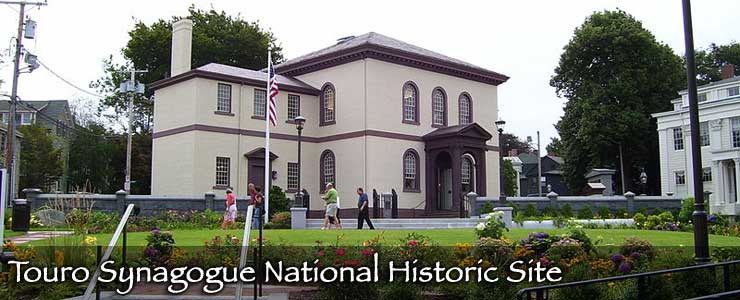 Photo of Providence skyline courtesy of Will Hart,
CCA-by-SA 2.0 License
Beavertail photo courtesy of Wikipedia userid SamFaz23,
CCA-by-SA 3.0 License
Other photos courtesy of the National Park Service
Map courtesy of Cartesia MapArt US Terrain