Matilija Wilderness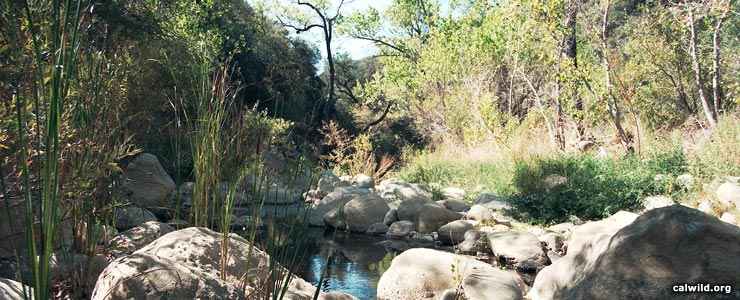 Matilija Creek in Matilija Wilderness
Matilija Wilderness is a 29,600-acre property that was established by the Los Padres Condor Range and River Protection Act in 1992. The wilderness is about 12 miles north of Ojai off Highway 33. Located on Los Padres National Forest, Dick Smith Wilderness is to the north, Sespe Wilderness to the east.
The centerpiece of Matilija Wilderness is Matilija Creek, a year-round stream that sometimes flows large enough to fish in... Sixteen miles of the creek have been nominated for Wild and Scenic River designation.
The property lies between the Soquioc and Sespe Condor Sanctuaries and offers enough high rock ledges to be attractive to the California Condor but not enough to have been designated a bird sanctuary.
Matilija Wilderness is mostly covered in a thick chaparral although the deeper, wetter canyons are thick with alder and maple and there are a few stands of conifers in the high country. The area is also known for the Matilija poppy, a flower that grows in clumps up to two feet high.
There are two usable trails, one even has a good campsite on it. That one trail follows the North Fork of Matilija Creek for about nine miles. If you're traveling north on that trail, expect to climb about 2,000 feet in elevation along the way. The northern trailhead is on Cherry Creek Road, a road that is only open from the beginning of August to mid-December (unless it's closed because of high fire danger). Off trail hiking is decidedly strenuous, if not impossible in the thick brush.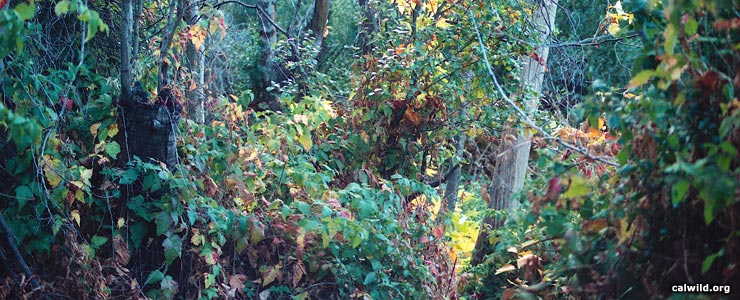 Typical chaparral on Matilija Wilderness
Matilija Wilderness
Los Padres National Forest -

US Forest Service