Sespe Wilderness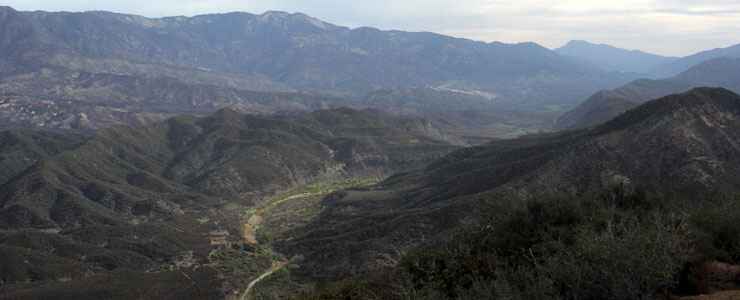 Looking down on Sespe Creek in Sespe Wilderness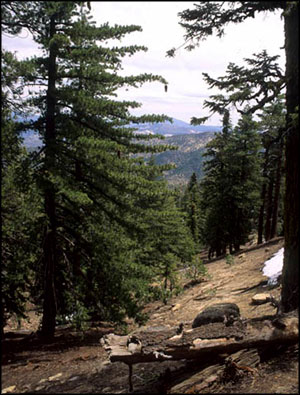 The 219,700-acre Sespe Wilderness was established on Los Padres National Forest in 1992 by the Los Padres Condor Range and River Protection Act. To the west (across Highway 33) is Dick Smith Wilderness, to the southwest (also across the highway) Matilija Wilderness. The Sespe Wilderness is embedded in the fourth largest roadless area in the 48 contiguous states.
In the wilderness area is the Sespe Condor Sanctuary, a release and propagation site for the endangered California Condor and a 53,000-acre area where humans are banned. The Sespe Condor Sanctuary was established in 1947 when there were only a very few condors left in the world. The California Condor is still an endangered species but there are several hundred of them alive now, scattered in different areas of California with more than a few in the Grand Canyon.
Sespe Wilderness is mountainous and covered primarily in a thick chaparral. The landscape is bleak and jagged with lots of evidence of past geological upthrusts. High up, you might come across pine trees growing at odd angles on always-shifting boulder-strewn hillsides.There are enough high rock cliffs in some areas that the California Condor is attracted to hang out and raise some young.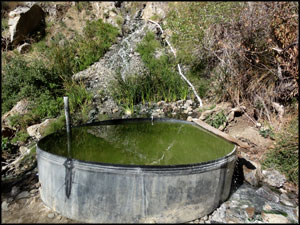 The beautiful Piedra Blanca area is just off Highway 33 at the western end of Sespe Wilderness and is usually accessed via the Piedra Blanca-Gene Marshall Trail, an 18-mile route that passes through some impressive white rocks to some really nice campsites in the conifers. The popular Willet Hot Spring is about 11 miles in from the Piedra Blanca trailhead.
The property is named for Sespe Creek, 31.5 miles of designated Wild and Scenic River, most of that in the wilderness. Another 10.5 miles of Upper Sespe Creek have also been nominated for Wild and Scenic status. There are areas along the creek where the sandstone cliffs rise as much as 500 feet above the water.
There are also areas where incredible sandstone formations stick out over the vegetation. The Sespe River Trail follows the stream for 17.5 miles past cool swimming holes to Sespe Hot Springs where you'll find some of the hottest naturally flowing water in the country.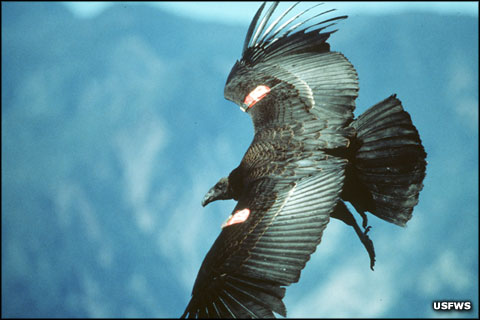 A California Condor in flight
Sespe Wilderness
Los Padres National Forest -

US Forest Service
Top photo courtesy of Wikipedia userid Antandrus,
CCA-by-SA 3.0 License
Upper left photo courtesy of George Wuerthner via Wilderness.net
Lower right photo courtesy of Wikipedia userid Nudeturtle,
CCA-by-SA 3.0 License
Bottom photo courtesy of the US Fish & Wildlife Service