Dick Smith Wilderness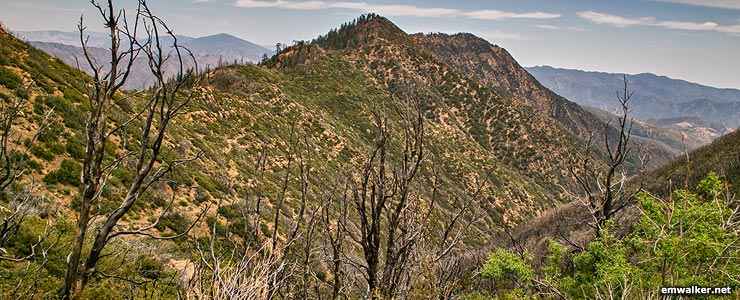 Madulce Peak on Dick Smith Wilderness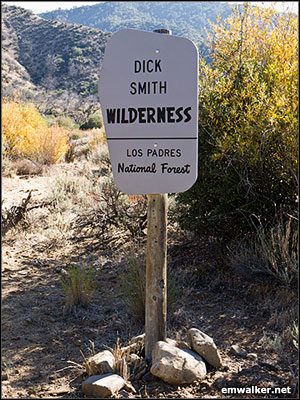 Dick Smith Wilderness is a 64,700-acre property in the southern section of Los Padres National Forest. San Rafael Wilderness is to the west, Matilija Wilderness to the south and Sespe Wilderness across Highway 33 to the east. Dick Smith Wilderness is most often accessed via two trailheads on State Highway 33. The wilderness is named after a prominent local environmental journalist who spent years exploring the area and advocating for the preservation of the area that now bears his name.
Elevations range from a low around 3,700 feet where the Santa Barbara Creek crosses the northern boundary to a high of 6,541 feet on the summit of Madulce Peak. Big Pine Mountain is on the western boundary and serves as the junction of the Sierra Madre and San Rafael Mountains to the west/northwest and the Transverse Ranges to the east (where Dick Smith Wilderness is). The wilderness spans the divide between the Santa Ynez River to the south and the Cuyama River to the north.
Dick Smith Wilderness is cut across by the east/west trending Big Pine Fault. Most rock in the wilderness is composed of marine sediments that were deposited in the Eocene, Pliocene, Miocene and Oligocene eras. The divisions in those ages of rock can be sharply seen along the edges of the fault.
The climate is Mediterranean, modified by the distance from the ocean and the mountains in between. The wilderness area is mostly at a high altitude and that allows for regular freezing in the winter and occasional snow. Between April and October rain is extremely rare. That situation was a major contributing factor in the Zaca Fire which burned nearly the entire wilderness area in 2007.
Vegetation is primarily chaparral with a few stands of conifers on north-facing slopes, some riparian strips along the streams and a few stands of larger oaks. The Rancho Nuevo area on the eastern side of the wilderness offers massive sandstone formations, some large stands of Douglas fir and some relic Great Basin sage, left over from the last Ice Age when temperatures in the area were considerably cooler and the atmosphere wetter.
You might find coyotes, deer, bobcats, black bears and mountain lions among the bushes and you might see the occasional California Condor in the sky as Dick Smith Wilderness lies directly between the Sisquoc and the Sespe Condor Sanctuaries. You might also come across rock pictographs left by the Chumash Indians (and their ancestors - human habitation in the area goes back about 10,000 years) but the Forest Service doesn't advertise their presence due to the high potential for vandalism.
There are eight primary trails and several side trails on the wilderness for a total of about 49 miles of relatively rugged hiking. Most folks access the property from the east via the Bear Canyon Trail off Highway 33 but even on that trail, human use is light.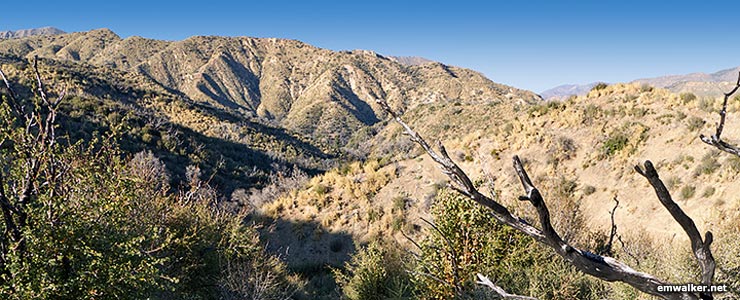 Heartbreak Hill on Dick Smith Wilderness