Pemigewasset Wilderness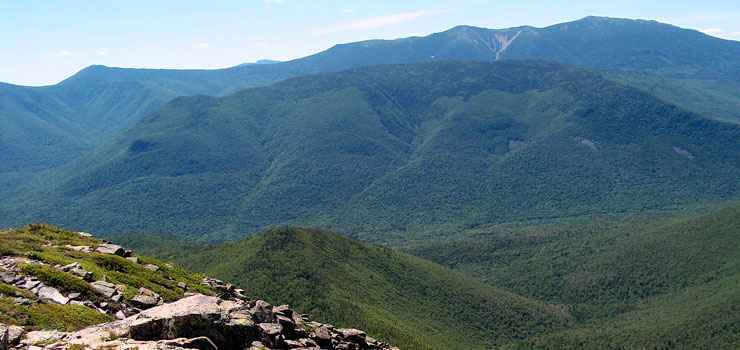 Pemigewasset Wilderness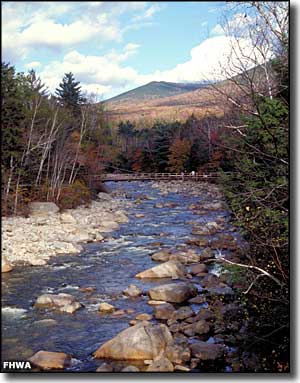 Located in the White Mountains of New Hampshire, the Pemigewasset Wilderness is comprised of some 45,000 acres in the upper watershed of the East Branch of the Pemigewasset River. This includes parts of the Hancock, Twin, Zealand and Franconia mountain ranges. Because of the location and the wild and woolly nature of the property, Pemigewasset Wilderness is very popular and sees a lot of human usage throughout the year. A hundred years ago, this whole section of the White Mountains was under direct frontal assault from major timber companies with the result that most of the White Mountains were clear cut by about 1920. What saved this area was the establishment of the White Mountain National Forest, then designation of this property as a wilderness area in 1984. Pemigewasset Wilderness is a great example of the power of nature to rebound after near destruction at the hands of corporate interests.
Along the western edge of the Pemigewasset Wilderness is the length of Franconia Ridge, a long prominent ridge that connects all the major summits of the Franconia Range. The Franconia Ridge Trail between Mount Liberty and Mount Lafayette (five of the six peaks in the Franconia Range above 4,000') is one small section of the greater Appalachian National Scenic Trail. Hiking the route is considered very strenuous as the cumulative elevation gain is more than 3,900'. Most of the route is well above treeline so the views are superb. However, this is the White Mountains, the ridge is completely exposed and the weather is very fickle, often changing in a matter of minutes from gorgeous to life-threatening. Franconia Ridge offers the third largest contiguous expanse of alpine tundra (after the Presidential Range and the Katahdin massif) east of the Rocky Mountains.
If you descend a bit from the north peak of Mount Lafayette and follow Garfield Ridge to the east, you'll find yourself heading across the top ridge of the the Twin Range on another trail that is part of the Appalachian National Scenic Trail. This ridge defines the northern edge of the Pemigewasset Wilderness with the drainage of the East Branch of the Pemigewasset River directly to the south.
The trail continues on to the east, eventually dropping down into Zealand Notch. From Zealand Notch, the wilderness boundary starts to run south across some flatter sections of White Mountain National Forest before rising again along the ridgeline leading to the summit of Mount Lowell and then to Mount Hancock, from which it drops westerly to the East Branch of the Pemigewasset and completes the circuit.
The Kancamagus Highway runs east/west just below the southern boundary of the Pemigewasset Wilderness.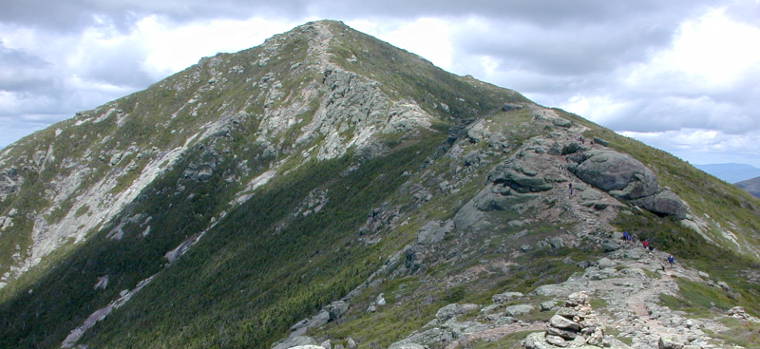 Mount Lincoln, on the edge of Pemigewasset Wilderness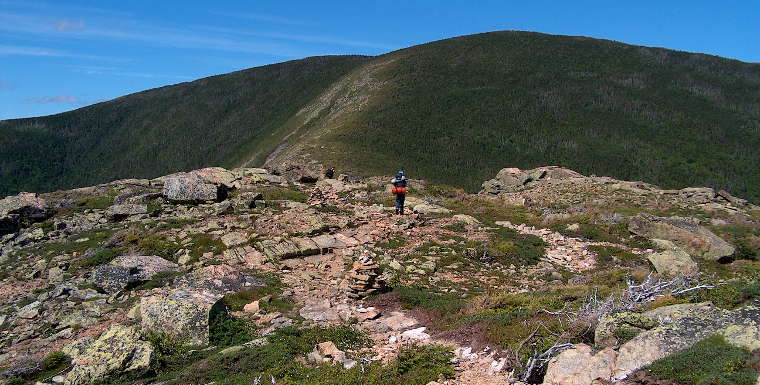 Mount Bond, on the north edge of Pemigewasset Wilderness
Pemigewasset Wilderness
US Forest Service
Upper Photo and photo of Mount Lincoln courtesy of Wikipedia userid Paulbalegend,
CCA-by-SA 3.0 License
Photo of the East Branch of the Pemigewasset River courtesy of Dennis Adams, NSBO
Photo of Mount Bond courtesy of Ken Gallager