Santa Teresa Wilderness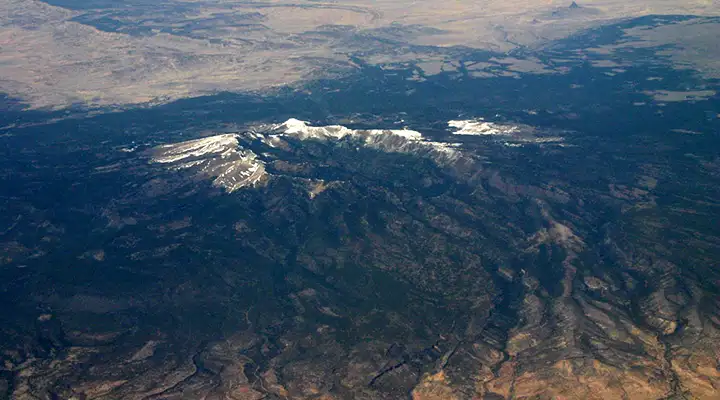 Aerial view of the Santa Teresa Mountains
Santa Teresa Wilderness is a 26,780-acre property in Coronado National Forest. Getting to Santa Teresa Wilderness is not easy: the roads are poorly maintained gravel and the place is pretty remote. A few miles to the west is Aravaipa Canyon Wilderness, directly to the northeast is North Santa Teresa Wilderness, a few miles to the north is the San Carlos Apache Indian Reservation. This is an area that government-funded road maintenance managers try to forget. Access from the north is across the reservation and they don't generally allow access anyway.
The Santa Teresa Mountains are rugged: sprawling mesas, deep canyons, bald summits. Elevations range from around 3,900 feet to 7,481 feet at the top of Cottonwood Peak. Mud Spring and Holdout Mesa are the two dominant landforms in the central part of Santa Teresa Wilderness. Separating them is the extremely rugged Holdout Canyon, an area of picturesque but eroded cliffs that shelter many caves and alcoves.
Most of the terrain is covered with dense chaparral, although the northern slopes and the upper parts of Cottonwood Peak offer stands of Ponderosa pine and Douglas fir. You'll probably find black bear, coatimundi, mountain lion, bobcat, mule deer, coyote and javelina living in the woods. There are a few perennial springs on the property.
There are a few hiking trails on Santa Teresa Wilderness but the more "maintained" ones are "maintained" by cowboys driving their stock over them. The trails tend to be up on the mesas, not down in the canyons. Because of the ruggedness of the countryside, cross-country travel can be extremely hard. Trail signage is almost non-existent: you'll want to have a good map and a compass or GPS device with you.
USGS Quad Maps: Cobre Grande Mountain, Buford Hill, Jackson Mountain, Klondyke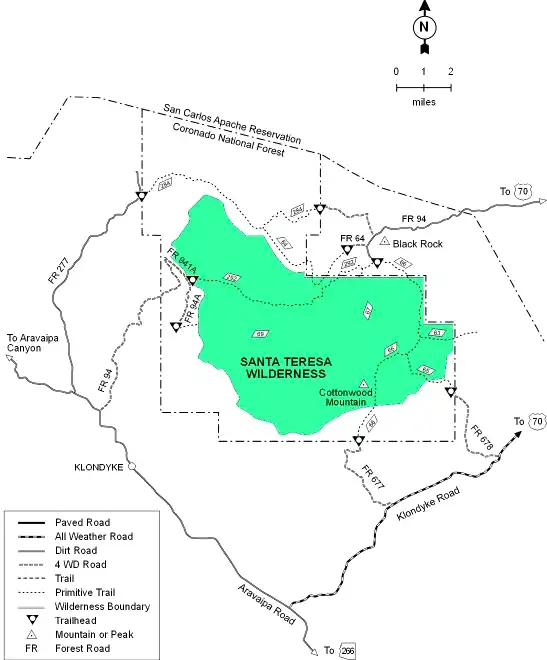 Santa Teresa Wilderness
Coronado National Forest -

US Forest Service

Aerial photo of Santa Teresa Wilderness courtesy of James Stuby
Map courtesy of the US Forest Service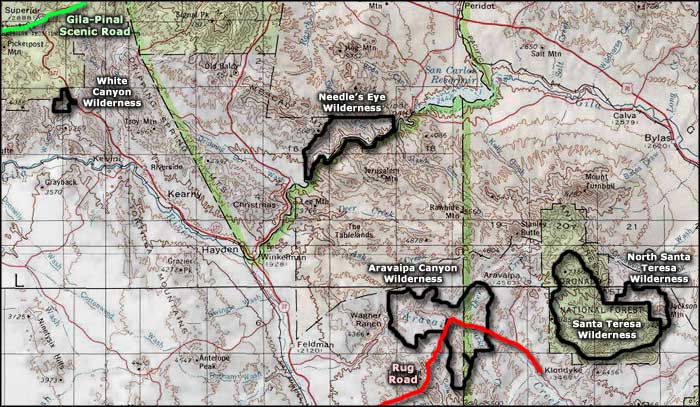 Related Pages
Map courtesy of National Geographic Topo!