Wild Sky Wilderness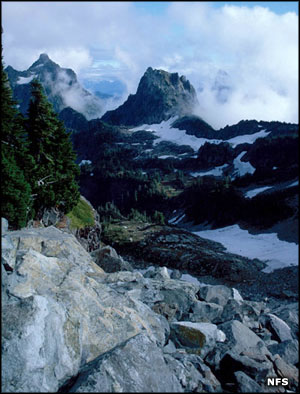 Wild Sky Wilderness is a 106,577-acre property in Mount Baker-Snoqualmie National Forest on the western side of the Cascade Range. Henry M. Jackson Wilderness is to the east and northeast.
Wild Sky Wilderness is a relatively new wilderness area, signed into law by President George W. Bush on May 8, 2008. There were about 2,000 acres of private land within the designated wilderness area boundary in 2003 but since then, the Wilderness Land Trust and the Cascade Land Conservancy have slowly been acquiring that land and adding it to the public lands of the wilderness.
The western side of Wild Sky Wilderness is characterized by a steep rise from about 600 feet along the North Fork Skykomish River to more than 6,000 feet on the summit of Gunn Peak in less than 3 miles. The countryside is sharp and jagged with very few trails and extremely difficult cross-country travel. The forest starts low with western red cedar, western hemlock and Douglas fir, changes to mountain hemlock and Pacific silver fir in mid-elevations, then subalpine parklands in the higher elevations. Treeline tends to be between 4,500 and 5,000 feet. Annual precipitation in the area varies between 150 and 200 inches. Some of the higher peaks have small permanent icefields on their north and east slopes.
East of the Straight Creek Fault and the Beckler River the precipitation drops off and the topography is less dramatic. The eastern part of Wild Sky Wilderness also carries significant areas of old growth hemlock, Douglas fir and western red cedar but because of the more gentle topography, some areas were roaded and logged as recently as the early 1990's. There are also areas where the remains of old mining operations are still evident. There are about a dozen good fishing lakes on the eastern side of Wild Sky Wilderness, the largest being Lake Isabel at about 1.5 miles long and maybe 200 feet deep. Float planes have historically landed on Lake Isabel and that practice has been allowed to continue since the wilderness designation. Wild Sky Wilderness is also divided into several sections separated by Forest Service access roads and several other roads are tunneled into the wilderness area. As the Wilderness was only designated in 2008, new trail development is hardly begun.
The eastern portion of Wild Sky Wilderness has more trails, several of which can be combined to make extended loops into Henry M. Jackson Wilderness and access the Pacific Crest National Scenic Trail there. Access to Wild Sky Wilderness is to the north of US Highway 2.
There is a rental cabin available at Evergreen Mountain Lookout. The cabin is allowed to operate within the wilderness and at 5,587 feet in elevation, offers views across Wild Sky Wilderness from Glacier Peak to Mount Rainier.
Most trailheads require that you have a valid Northwest Forest Pass on display on the dashboard of your vehicle when you park.
Upper left photo and map courtesy of the US Forest Service