Glacier Peak Wilderness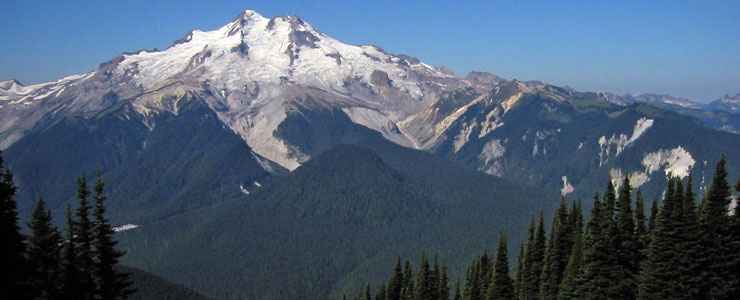 Glacier Peak
Glacier Peak Wilderness is a 572,000-acre property in the North Cascades of Washington. The wilderness is about 35 miles long, 20 miles wide and straddles the boundary between the Okanogan-Wenatchee and Mount Baker-Snoqualmie National Forests. This is a landscape of very rugged valleys and hillsides, glacier-crowned peaks and very heavily forested waterways. Treeline is between 5,000 and 6,000 feet with thick forests below and flower-strewn meadows below tattered ridges above. Water drainages tend to be deep and steep with ice-cold streams running wild during the summer snowmelt season. There are more than 200 lakes in the wilderness but many are unnamed and ridiculously hard to access hidden as they are in various high basins and beneath numerous glacial cirques.
Glacier Peak itself is one of the five major stratovolcanoes in the Washington Cascades. It and Mount St. Helens are the only two volcanoes in the area known to have erupted in the last 13,000 years. And neither just flows lava: both tend to explode first, then flow lava.
The forested areas are composed primarily of Douglas fir, mountain hemlock, western red cedar, mixed pines and several lesser known species of fir. Among the mammals found in Glacier Peak Wilderness you'll find elk, deer, black bear, grizzly bear, gray wolf, mountain lion, mountain goat, pine marten and lynx. When the ice is gone from the lakes, the fishing for cutthroat trout is excellent. But in most years, May still sees between 10 and 20 feet of snow on the ground. Most trails and passes are snow-free by mid-August but that always depends on the previous winter's snowfall. Snow can fall at any time of the year... and on the western sides of the mountain crest, that often adds up to 45 feet.
There are eight significant glaciers on Glacier Peak. Not long ago there were eleven but climate change and increasing summer temperatures have melted three of them completely since 1978. To approach Glacier Peak, most folks take Forest Service Road #23 to the White Chuck River Trailhead, then hike 5 miles to the bottom of the Sitkum Glacier and begin the ascent. Apparently the mountain can be skied but the slopes are rated "black diamond" for both ascent and descent.
Climbers have logged more than 140 routes on the peaks and faces in Glacier Peak Wilderness. Some of the faces offer more than 1,000 feet of steep vertical, some offer climbs rated as high as 5.10 (on the Yosemite decimal scale).
There are at least 100 trails comprising some 450 miles of route through the wilderness. Some are maintained but most are not. The Pacific Crest National Scenic Trail crosses Glacier Peak Wilderness for about 60 miles, but large sections of the trail (including several bridges and one stream ford) were destroyed in a flood in October, 2003 and, for the most part, have not been replaced. The crossings of the Upper White Chuck River and the Suiattle River are both dangerous in the best of times. There are five other trails that provide access to the PCT and they also suffered varying degrees of damage in that flood event. Kennedy Hot Springs, a popular hot mineral springs in the wilderness, was buried in a mudslide during that flood and was obliterated. The Suiattle River Trail is a 10.8 mile route that connects the western edge of the wilderness with the Pacific Crest Trail but it also took a nasty hit from that flood in 2003.
Glacier Peak Wilderness is bordered by Stephen Mather Wilderness (part of North Cascades National Park) to the north and Henry M. Jackson Wilderness to the south.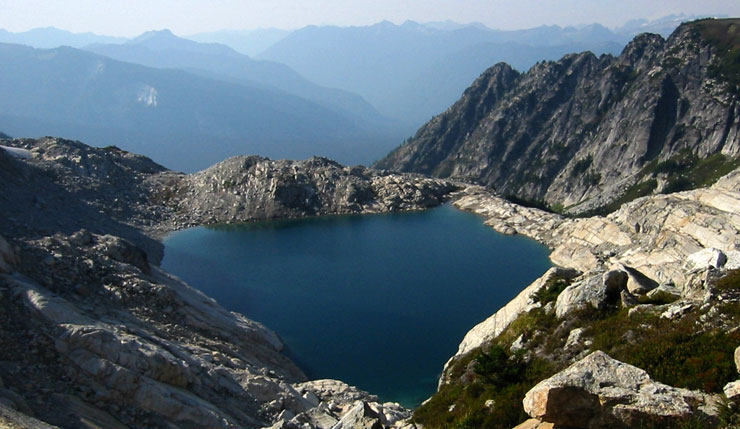 Triad Lake in Glacier Peak Wilderness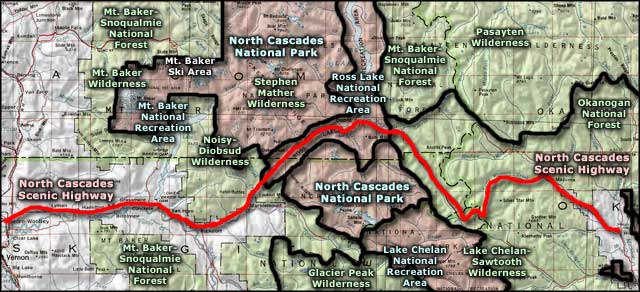 Related Pages
Map courtesy of National Geographic Topo!