North Cascades National Park
Cascade Pass, North Cascades National Park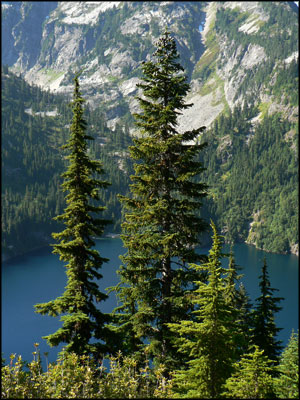 Thornton Lakes
North Cascades National Park is a 504,781-acre property in the North Cascade Mountains of Washington. Together with the Ross Lake and Lake Chelan National Recreation Areas, it makes up the bulk of the North Cascades National Park Service Complex. To the west and south is Mount Baker-Snoqualmie National Forest, to the east and south Okanogan-Wenatchee National Forest. North Cascades abuts the Canadian border and on the other side of that is British Columbia park land.
North Cascades National Park is separated into a north and south unit by Ross Lake National Recreation Area. To the east (on the other side of Ross Lake) is Pasayten Wilderness, to the south Lake Chelan-Sawtooth Wilderness, to the southwest Glacier Peak Wilderness, to the west Noisy-Diobsud Wilderness and to the northwest Mount Baker Wilderness, Mount Baker National Recreation Area and the Mount Baker Ski Area.
It is estimated that almost half of North Cascades National Park is treed in old growth timber. A major impetus for establishing the park was the protection of that timber: the old growth forest is only there because the landscape is so rugged and sooner or later, the timber companies were going to scar the countryside building roads and removing the valuable trees.
The vast majority of the park (504,614 acres) has been designated as part of the Stephen Mather Wilderness and there are very few maintained buildings or roads within the park boundaries. Most folks who visit come to fish, hunt, hike or climb the mountains. Most visitors arrive in the area via Washington State Route 20, also known as the North Cascades Scenic Highway, a beautiful drive through the mountains that is usually closed in winter because of the massive amounts of snowfall in the area. Heavy rainfall in the area can also cause debris flows and mudslides that block the road.
More than 1,630 species of vascular plants have been identified on North Cascades National Park. Estimates of fungal and non-vascular plants species more than double that. The primary reasons for this massive number of species lie in the extreme variation of rock and soil types, slope, elevation, relative exposure and annual precipitation. The park is also home to 200 species of birds that either breed in the North Cascades or pass through with the seasons. There are also more than 75 species of mammals, including grizzly bear, gray wolf, mountain lion, moose, black-tailed deer, elk, lynx, black bear, pine marten, coyote and wolverine.
Generally, the North Cascades Visitor Center in Newhalem is open daily from 9 am to 6 pm. The Park and Forest Information Center in Sedro-Woolley is open daily from 8 am to 4:30 pm. The wilderness Information Center in Marblemount is open Sunday through Thursday, 7 am to 6 pm and Friday-Saturday from 7 am to 8 pm. The Golden West Visitor Center in Stehekin is open daily from 8:30 am to 5 pm. The Chelan Ranger Station is open Monday through Friday (except for federal holidays) 7:45 am to 4:30 pm. The Glacier Public Service Center in Glacier is open daily from 8 am to 4:30 pm. The Methow Valley Ranger District in Winthrop is open Monday through Friday (except federal holidays) from 7:45 am to 4:30 pm. The Skagit Information Center in Newhalem is open Friday through Sunday, 9 am to 5 pm. I say "generally" because schedules are liable to change with seasons, individual weather events and Congressional budget cuts...
Entry to North Cascades National Park is free to all. Most developed camp sites are actually in the are available on a first-come, first-served basis. Reservations are available only for the group sites at Goodell Creek and Newhalem Creek and in Loop C at Newhalem Creek. The Colonial Creek and Newhalem Creek campsites run $12 per site per night, the Goodell Creek campsites $10 per site per night. Hozomeen and Gorge Lake campsites are free. Backcountry camping requires possession of a free permit. (Prices subject to change without notice.)
Something to be aware of: parking on and use of National Park Service property does not require possession of a Northwest Forest Pass. Parking at a parking area (or camping) on adjacent National Forest Service property does require possession of a Northwest Forest Pass. Northwest Forest Passes are available in many public and private places, $5 for a day, $30 for a year.
There are about 400 miles of hiking trail in North Cascades National Park. Because the countryside is so rugged, you'll find that virtually every route from Point A to Point B has several sharp switchbacks in it. Many trails follow the long, forested valley bottoms, then twist and turn back on themselves as they ascend (and descend) the steep passes and ridges. There are more than 127 alpine lakes hidden away in the countryside with more than 300 glaciers clinging to the peaks, spires, horns and ridges above. Folks hike the area year round but the common hiking season runs from April through October, the peak season in the dry spells between mid-June and late September. The higher elevation trails tend to hold snow well into July, sometimes into August. Peak snowfall is November through March. If you're going to be overnight anywhere in the park, you'll need a free backcountry permit in your possession. Backcountry permits are designed to limit the human impact in many areas of the park that tend to become overcrowded and abused and to disperse visitors throughout the park region and spread the impact in a manner that is, hopefully, less damaging to the soils, vegetation and wildlife.
The Pacific Crest National Scenic Trail crosses the south unit of the park for about 13 miles, mostly along the Bridge Creek Trail. The Pacific Northwest Trail spends 60 miles between Okanogan-Wenatchee National Forest and Mount Baker-Snoqualmie National Forest skirting Ross Lake, following Big Beaver Trail into the Little Beaver drainage and crossing Whatcom and Hannegan Passes in the north unit of North Cascades National Park.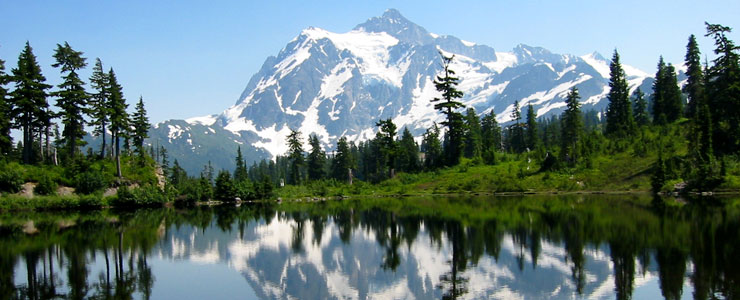 Mount Shuksan across Picture Lake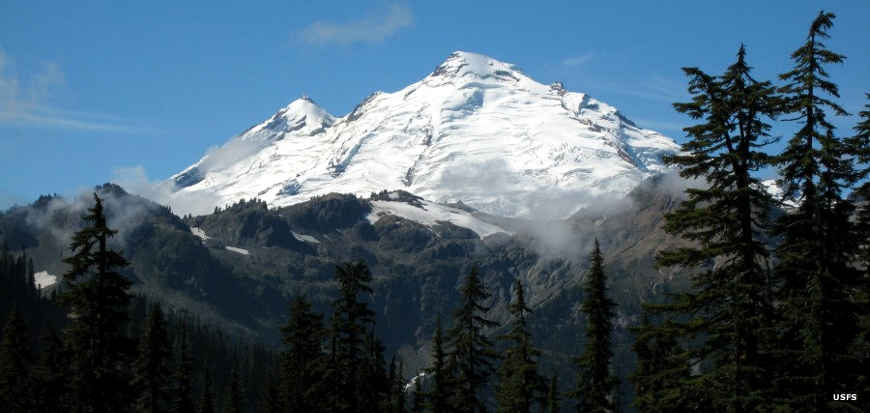 Mount Baker from the Pacific Northwest Trail
North Cascades National Park
National Park Service
Photo of Cascade Pass courtesy of Daniel Hershman,
CCA 2.0 License
Upper left photo courtesy of Walter Siegmund,
CCA-by-SA 3.0 License
Lower photo is in the public domain
Bottom photo courtesy of the US Forest Service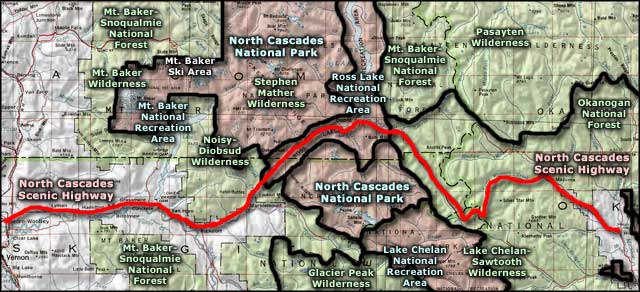 Related Pages
Map courtesy of National Geographic Topo!