Okanogan-Wenatchee National Forest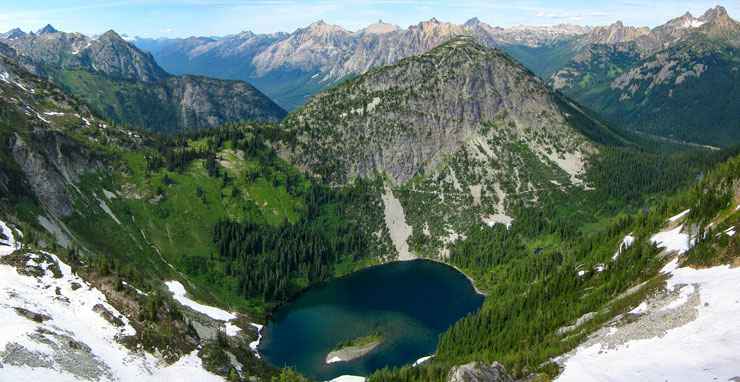 Okanogan-Wenatchee National Forest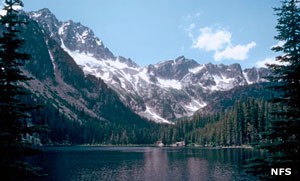 The Okanogan and Wenatchee National Forests were combined administratively in 2000 and officially became the Okanogan-Wenatchee National Forest in 2007. The combined forest includes more than 4 million acres and stretches north from Goat Rocks Wilderness to the Canadian border, a distance of about 180 miles. The western boundary of the forest is defined by the crest of the Cascades and the eastern boundary by the Okanogan, Columbia and Yakima River valleys.
Elevations on Okanogan-Wenatchee National Forest vary from below 1,000 feet to above 9,000 feet. Annual precipitation varies from more than 70 inches along the Cascades crest to less than 10 inches in the rugged shrub-steppe countryside along the eastern boundary. That means the vegetation and wildlife varies greatly, too. As far as the topography goes, the Cascades are a region of high, glaciated peaks rising above deep, lush valleys of old growth forest while the eastern areas are more of a rough, high-latitude desert sagebrush steppe.
Wilderness Areas on
Okanogan-Wenatchee
National Forest
There are more than 150 campgrounds and picnic areas on Okanogan-Wenatchee National Forest. Most campsites are offered first-come, first-served but virtually all the group campsites need reservations. There are also several cabins and a mountain lodge available for rent. Many campgrounds offer sites designed to accommodate camper trucks, trailers and RVs but none have hookups available. Generally, a developed campsite offers a picnic table and cook grill with drinking water and restrooms (often vault or pit toilets) nearby. Camping season varies with elevation but is generally from late May through late September.
Okanogan-Wenatchee National Forest also offers more than 1,285 miles of hiking trails. Some are in wilderness (meaning foot and horseback use only), most are not (meaning mixed use). There are also eight miles of barrier-free trails. The Pacific Northwest National Scenic Trail crosses through Okanogan-Wenatchee National Forest and Pasayten Wilderness on its east/west journey between the Pacific Ocean and Glacier National Park.
Visitors to Okanogan-Wenatchee National Forest will soon discover that stopping almost anywhere and spending more than about 15 minutes will require that you have a Northwest Forest Pass ($5 per day, $30 per year) in your possession. In virtually all areas where you might go hiking and camp in a dispersed setting, you will want to have a wilderness permit in hand, too. Some areas have limitations on the number of people allowed in the area, virtually all areas have a 14-day stay limit.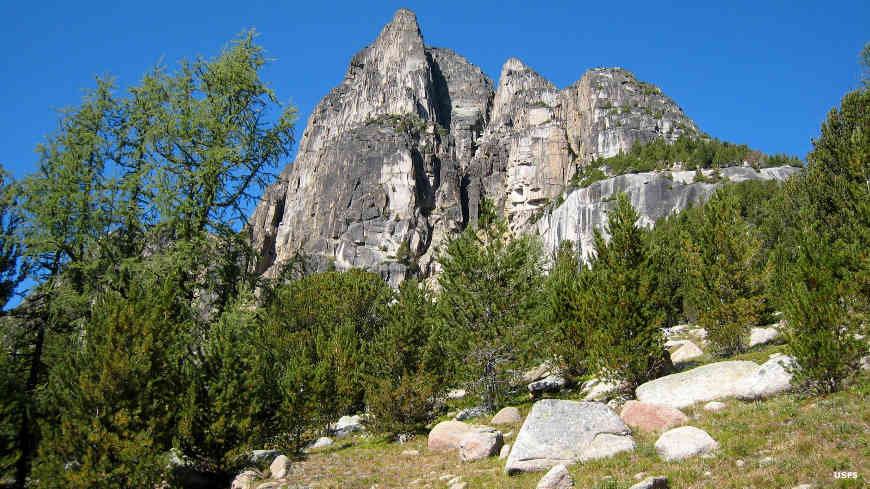 Cathedral Peak in Pasayten Wilderness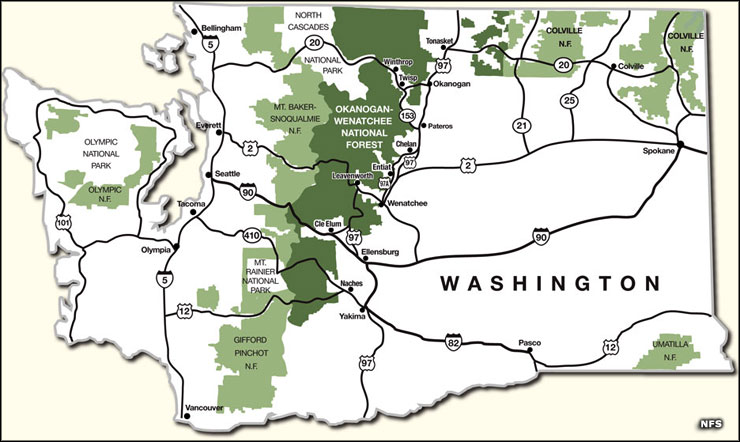 Okanogan-Wenatchee National Forest location map
Okanogan-Wenatchee National Forest
US Forest Service
View of Okanogan Valley courtesy of Miguel Vieira,
CCA 2.0 License
Other photos and map courtesy of the US Forest Service