Alpine Lakes Wilderness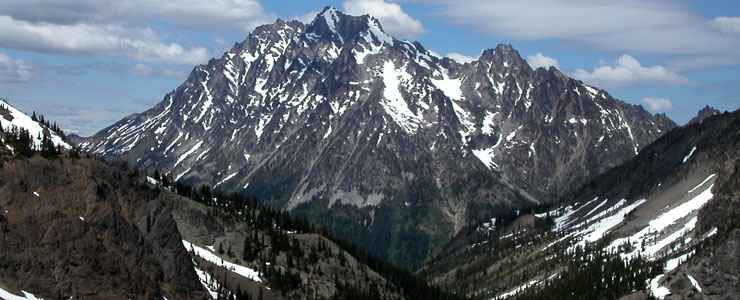 Mount Stuart in Alpine Lakes Wilderness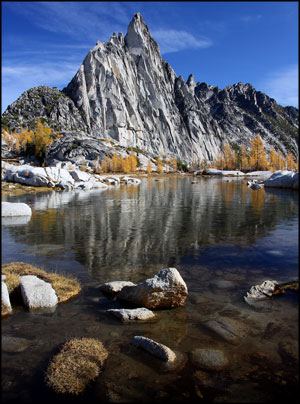 Alpine Lakes Wilderness is a 391,988-acre property spanning the North Cascades in northern Washington state. Spanning the mountains (and drainages) as it does, Alpine Lakes Wilderness also straddles the boundary between Mount Baker-Snoqualmie and Okanogan-Wenatchee National Forests. This is some of the most rugged topography in the Cascade Range: glacier-sculpting at its finest. Living up to the name, Alpine Lakes Wilderness has more than 700 mountain ponds and lakes scattered across its terrain, filling virtually every depression in the rock and dirt. The western slopes are wet with heavy covers of red cedar, Douglas fir, western and mountain hemlock and various other true firs while the drier eastern slopes are forested in whitebark pine, spruce, larch, lodgepole pine and Ponderosa pine. The higher western slopes see as much as 180 inches of precipitation per year, mostly as snow. The lower eastern slopes might see only 10 inches of precipitation per year.
Prior to receiving the wilderness designation, the Alpine Lakes area had been hit heavy by aggressive logging and mining operations that bulldozed numerous access roads into the woods around the wilderness. That's a major part of why the boundary of Alpine Lakes Wilderness is so irregular.
Elevations in the wilderness vary from a low around 1,000 feet to a high of 9,415 feet on the summit of Mount Stuart.
Among all the sheer rock faces scattered through the Cascades, the Cashmere Crags in the Enchantment Lakes region of southeastern Alpine Lakes Wilderness is rated among the best sites for rock climbing in the western half of the United States. The Crags are composed by hundreds of solid vertical granite spires, dozens of which offer routes rated from 5 to 5.11 and on faces that vary from 150 feet to 1,500 feet high.
The Pacific Crest National Scenic Trail enters the northern part of the wilderness area at Stevens Pass and generally follows the range crest south to Snoqualmie Pass, a distance of about 67 miles. There is a section that includes walking the Kendall Catwalk on Kendall Peak: a very exposed area to avoid in times of snow or ice. Hikers on the Trail need a wilderness permit before beginning. Visitors to Alpine Lakes Wilderness also need to have a wilderness permit before unpacking the car at the trailhead... especially between June 15 and October 15. No dogs are allowed and campfires are banned above 5,000 feet. Should you wish to visit the Enchantment Lakes area of Alpine Lakes Wilderness, you need to make your reservations several months in advance.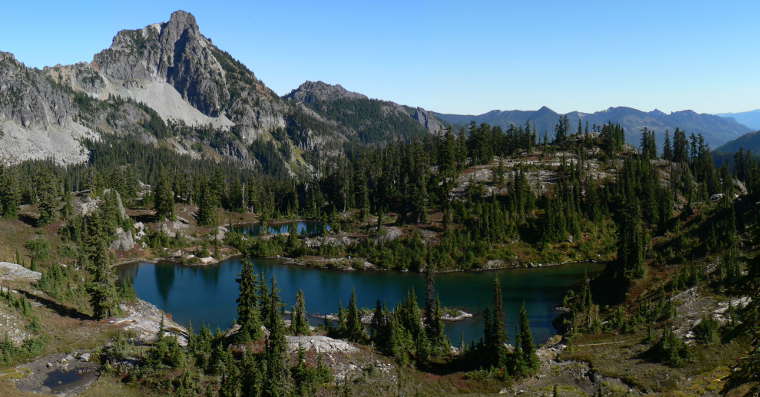 Lila Lake on Rampart Ridge with Hibox Mountain (6,547 feet) behind