William O. Douglas Wilderness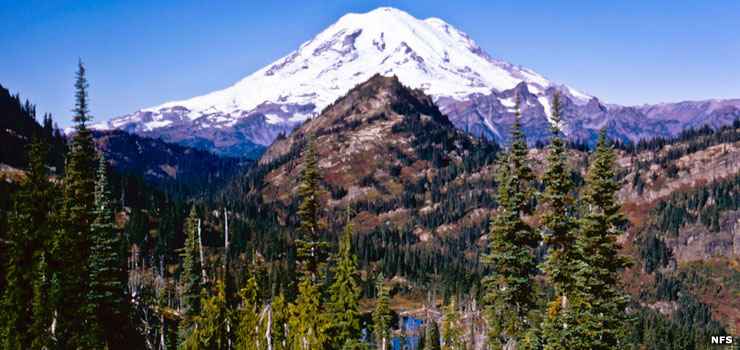 Mount Rainier from William O. Douglas Wilderness
William O. Douglas Wilderness is a 168,232-acre property in central Washington that straddles the boundary between Gifford Pinchot and Mount Baker-Snoqualmie National Forests. To the west is Mount Rainier National Park, to the north Norse Peak Wilderness. Goat Rocks Wilderness is across Highway 12 to the south.
The western side of William O. Douglas Wilderness receives as much as 120 inches of precipitation in a normal year while the eastern side might see only 20-to-24 inches. Snow usually starts to pile up in mid-November and can linger in the high country into mid-summer.
William O. Douglas Wilderness is an area of steep slopes, sharp ridges, scattered peaks and hundreds of potholes and small lakes. The wilderness serves as the headwaters of many streams that drain into the Naches River. The majority of the wilderness area is a dense conifer forest (hemlock, firs and cedars) but some peaks do stick up above treeline. The eastern edges of the wilderness drop to a more open (and drier) Ponderosa pine forest with bare, rocky ridges. The southern portion of the wilderness is spread across a large, park-like plateau where the forest thins a bit around hundreds of small lakes, ponds and potholes.
William O. Douglas Wilderness was created in 1984 and named for Supreme Court Justice William O. Douglas who grew up in the area and spent many summers in later life in a cabin he owned in Goose Prairie, Washington, a town that is now surrounded by the present wilderness (Goose Prairie is along a road corridor tunneled into the wilderness from the northeast along Bumping River to the Bumping Lake area). Bumping Lake is in a broad valley with high, broad ridges rising to the east and west.
Among the mammals in the area are black bear, elk, mule deer, red fox, gray wolf, mountain lion, bobcat, pine marten, fisher, wolverine, badger, porcupine and mountain goat.
There are about 66 trails crisscrossing William O. Douglas Wilderness for a total of about 250 miles. Only two trails are closed to equestrians: the Goat Peak Trail and the Spring Trail. The Pacific Crest National Scenic Trail follows the crest of the western ridge and meanders across the southern plateau for a total of about 13.5 miles.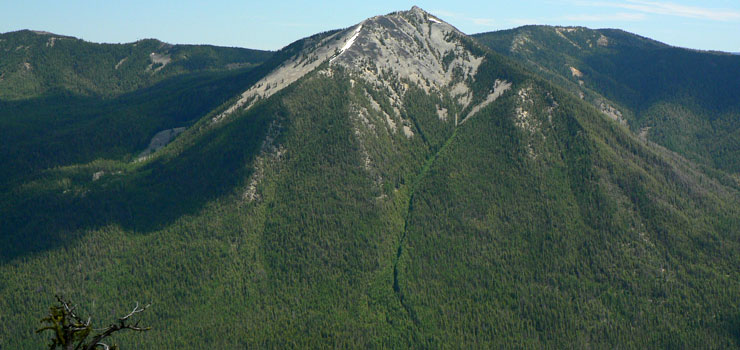 Old Scab Mountain in
William O. Douglas Wilderness
Upper photo courtesy of the US Forest Service
Lower photo courtesy of Walter Siegmund,
CCA-by-SA 3.0 License