Goat Rocks Wilderness
Volcanic palisades under Goat Rocks Wilderness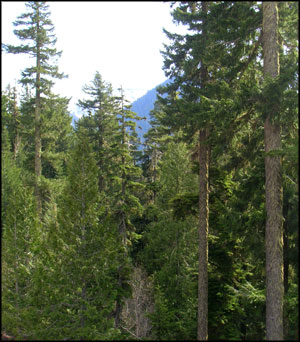 Goat Rocks Wilderness is a 108,096-acre property in the Cascade Mountains between Mount Rainier and Mount Adams. The wilderness straddles the boundary between the Gifford Pinchot and Okanogan-Wenatchee National Forest.
The Goat Rocks themselves are remnants of a large volcano that began to erupt about 2.5 million years ago. Eventually it built up to about the same size as Mount Rainier, then stopped erupting about half a million years ago. The old volcano straddled the crest of the Cascades but glaciation and other erosion have ground the terrain down to where there are only a few moderate summits left on both sides of the Cascade crest. Elevations range from about 2,980 feet on the shores of Packwood Lake to 8,201 feet on the summit of Gilbert Peak. The drainages cut into the rock are deep and often open into park-like sub-alpine meadows dotted with ponds and small lakes.
Annual snowfall in the area generally adds up to more than 25 feet and that snow often lingers into July and August. As most of the 120 miles of trails in Goat Rocks Wilderness are on the ridge tops above treeline, that can affect summer access to the area. The Pacific Crest National Scenic Trail crosses Goat Rocks Wilderness north/south for a bit more than 31 miles. In some of the high areas, it crosses potentially glacier-covered terrain, particularly in the Old Snowy Mountain (7,930 feet) area. There are at least 14 other trails in the wilderness that rise up from below to connect with the PCT.
Visitors to Goat Rocks Wilderness need to have a free wilderness permit in their possession before setting off into the woods. Non-Yakima Indians are allowed to follow the Pacific Crest Trail across their land (on the east and southeast sides of Goat Rocks Wilderness) but need tribal permission to go anywhere else on their property. Some trailheads require visitors to have a valid Northwest Forest Pass in their possession.
Among the mammals found in the wilderness are mountain goats, black bear, black-tailed deer, elk, wolverine, lynx, mountain lion, bobcat, gray wolf, coyote, pine marten, wolverine, marmot and porcupine.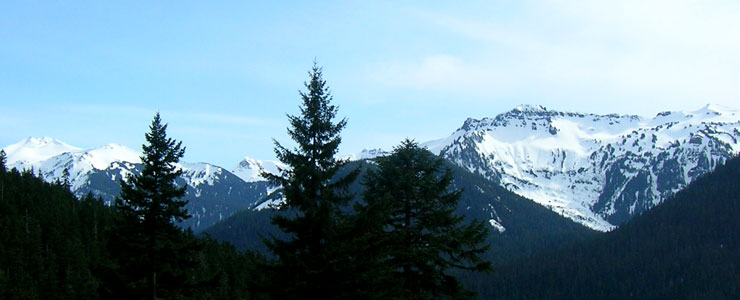 In the upper reaches of Goat Rocks Wilderness