Norse Peak Wilderness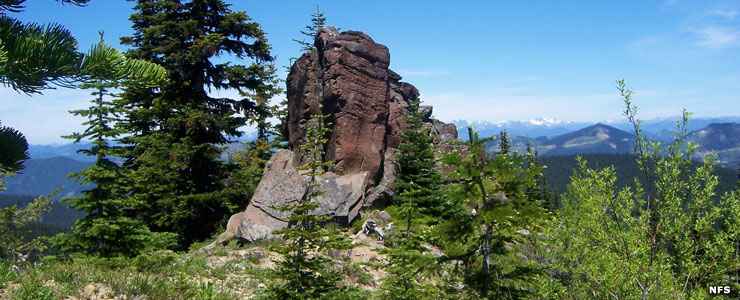 On the Lost Lake Trail in Norse Peak Wilderness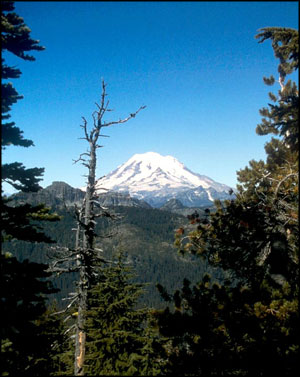 Norse Peak Wilderness is a 52,315-acre property straddling the boundary between Mount Baker-Snoqualmie and Okanogan-Wenatchee National Forests on the northeast side of Mount Rainier National Park. William O. Douglas Wilderness is across State Route 410 to the south. As Norse Peak Wilderness also straddles the crest of the Cascades, the western side is significantly wetter than the eastern side. That has a direct effect on vegetation and wildlife density and diversity.
Elevations in Norse Peak Wilderness vary from about 3,000 feet along the Greenwater River on the north to a high of 6,856 feet on the summit of Norse Peak in the southwest and 6,900 feet on the summit of Fifes Peak (a prominent remnant of an ancient volcanic cone) in the southeast.
The western slopes of Norse Peak Wilderness are treed in western hemlock, western red cedar and Douglas fir with a thick understory of mosses and ferns. The eastern slopes are treed in a mix of subalpine fir and mountain hemlock interspersed with multiple alpine meadows. Lower elevations on the east side are forested with spruce, Ponderosa pine and larch.
Among the mammals found on Norse Peak Wilderness are mule deer, elk, mountain goat, black bear, mountain lion, coyote, pine marten, wolverine, badger, porcupine and gray wolf.
The southwest portion of Norse Peak Wilderness shows evidence of mining (derelict cabins, mine shafts and tailings piles in the old Summit Mining District) from the old gold prospecting days (1885 to 1920).
Several trails give access to different parts of the wilderness. The historic Naches Pass Trail runs east-west just north of and parallel to the northern boundary of Norse Peak Wilderness. The Pacific Crest National Scenic Trail follows the crest of the Cascades north-south for about 27 miles across Norse Peak Wilderness. Most trails in the wilderness connect with the Pacific Crest Trail somewhere in the high country.
Most trailheads require that you have a valid Northwest Forest Pass on display on your dashboard when you park. The eastern side of the wilderness requires that you also register at the trailhead and carry a free wilderness permit.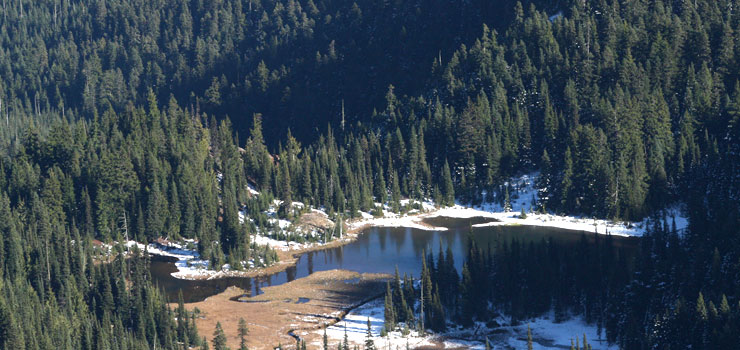 Placer Lake in Norse Peak Wilderness
Upper photo courtesy of the US Forest Service
Upper left photo courtesy of Carla Jaeger via Wilderness.net
Lower photo courtesy of Walter Siegmund,
CCA-by-SA 3.0 License