Glacier National Park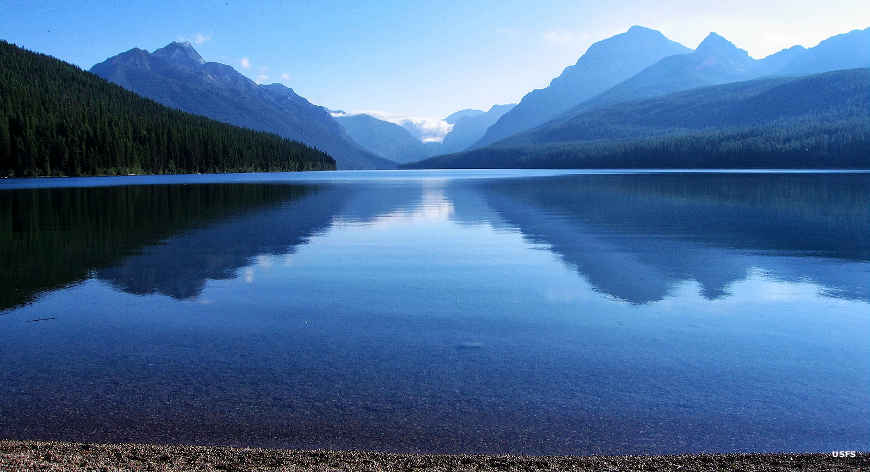 Bowman Lake, Glacier National Park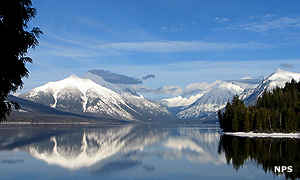 Glacier National Park is often called one of America's "Crown Jewels," and rightly so. This is a place where you can still experience pristine, primeval forests, spectacular lakes reflecting rugged, glacier-carved mountains, high alpine meadows filled with a cacophony of wildflowers... and wildlife galore. This is the Rocky Mountains the way we dream them to be. This is also an area where the temperature can reach into the 90's this morning and we can see snowfall this afternoon.
Archaeological surveys have determined that the area of Glacier National Park has been inhabited by humans for as long as 10,000 years. When the European invaders first arrived in the early 1800's, the eastern slopes and the prairies were Blackfeet country while the western slopes and mountain valleys were occupied by the Kootenai and Salish peoples. Before the 1800's came to a close, these tribes had all been confined to much smaller reservations. In 1891, the Great Northern Railway completed its line over nearby Marias Pass, allowing homesteaders and miners to flood into the area. 1895 saw the federal government bow to pressure from these new-comers, and buy the mountainous area east of the Continental Divide from the Blackfeet. Miners in search of riches overran the area but hardly anything was found and the "rush" was over in just a few years. Still, there are mine shafts (and various mining trash) in some areas of Glacier National Park.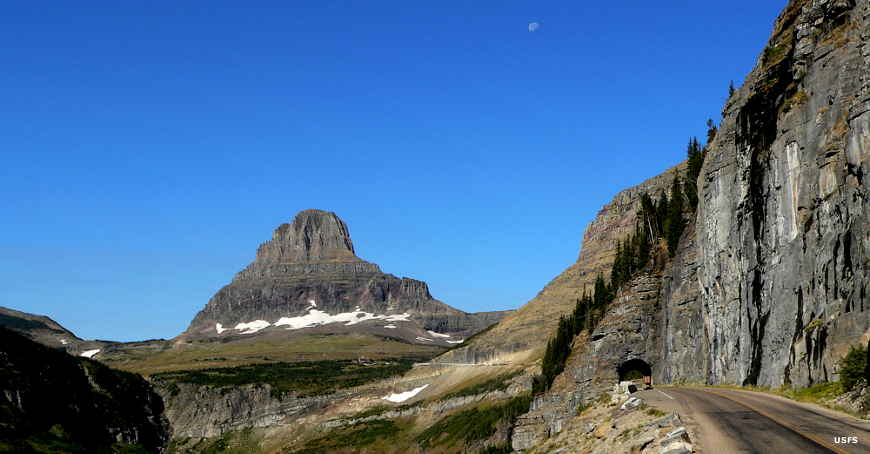 Along Going to the Sun Road
Around 1900, a move began to turn the area into a national park. Since 1895, visitors had been able to exit the train at West Glacier (then known as Belton), take a stagecoach ride up the valley to Lake McDonald and then take a boat ride for another 8 miles across the lake to the Snyder Hotel. There were no roads but the lakes were easily navigated and tour operators were already flourishing.
What is now Glacier National Park became a Forest Reserve in 1900, but that left the property still open to mining and homesteading. The bill giving Glacier full National Park status was finally signed by President Taft in 1910, making Glacier the 10th National Park in America.
In those early days, many visitors would arrive at the east or west portals to the Park and then either hike or ride horseback for several days across the park, staying at different "chalets" that had been built for the purpose by the Great Northern Railway. Eventually, there was too much traffic and that forced the construction of Going to the Sun Road. It took 11 years to build this engineering marvel and the road was finally opened to vehicular traffic in 1932. That year also saw the declaration of Glacier National Park and the adjoining Waterton Lakes National Park (in Canada) as the Waterton-Glacier International Peace Park. Both parks were designated as a World Heritage Site in 1995 and both are also designated International Biosphere Reserves.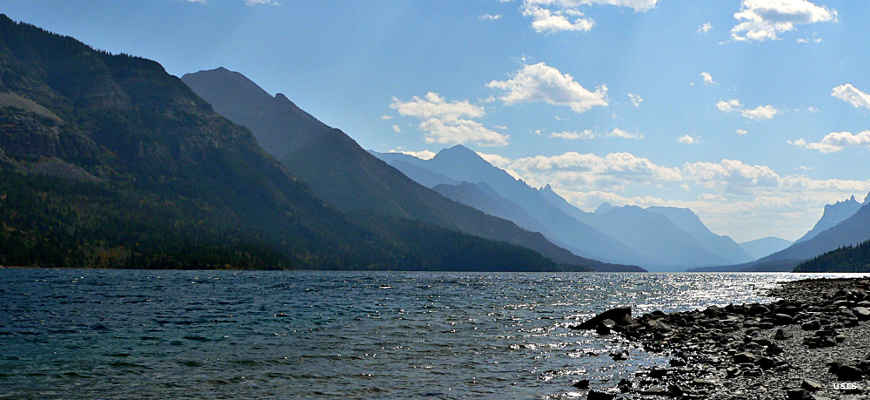 Waterton Lake
Glacier National Park preserves and protects more than 1,000,000 acres of forests, glacier-carved peaks and valleys, lakes and alpine meadows in an area the Blackfeet term "the Backbone of the World." The headwaters of rivers that empty into the Atlantic, Pacific and Arctic Oceans are here. More than 260 species of birds, including golden eagles, loons and harlequin ducks, have been documented here. In addition to the grizzly bears, lynx, wolverine, elk and gray wolves, there are more than 70 species of mammals on the property. To help visitors see and experience all this, the Park maintains more than 750 miles of hiking trails. A hike in Glacier will take you through terrain that was scraped and carved by the advancing and retreating glaciers of ten and twelve thousand years ago when so much of this landscape was last carved (some valleys show evidence of glacial activity going back millions of years). You can even take a walk yourself on the surface of ice that still survives, 10,000 years after the end of the last Ice Age. The geological story exposed here is like no other on Earth, with visible evidence of geological faults, folds and uplifts, the stories of ancient seas overlying the area and places where the ancient crust of the planet has been pushed up and over younger rock.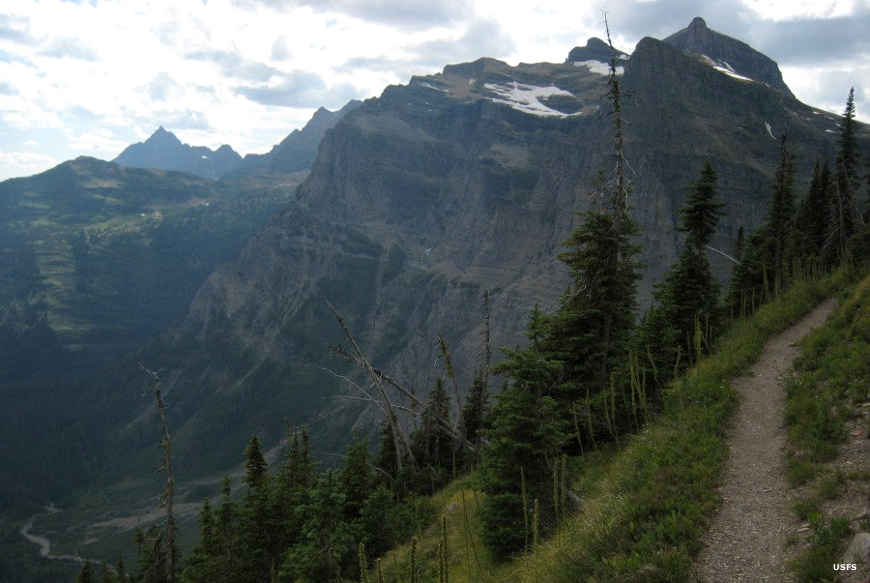 The Pacific Northwest National Scenic Trail near Brown's Pass
Hiking Trails
Not everyone who goes to Glacier National Park takes a hike, but many do. And there's more than 750 miles of hiking trails to accommodate them, including about 100 miles of the Continental Divide National Scenic Trail. Actually, the Continental Divide National Scenic Trail in Glacier National Park has some lower routes that you might consider using when the higher routes are buried in snow (that's why so many miles of trail in the Park).
The Pacific Northwest National Scenic Trail has its eastern terminus near the Chief Mountain Customs office. From there the trail heads west across Glacier and on to the Pacific Ocean on the west side of Washington's Olympic Peninsula.
It's highly recommended that before you set out on your hike, you check with a park visitor center in regards to up-to-the-minute information, warnings and recommendations. You might also want to know if there are any wildlife "problems" that you need to be aware of. The visitor center bookstores also offer a complete selection of field guides, trail guides and topographic maps to assist you in further enjoying your hike.
The Hidden Lake, Trail of the Cedars, Sun Point, Forest and Fire, Running Eagle Falls and Swiftcurrent Nature Trails are all self-guided walks that offer interpretive signage and brochures. Trail of the Cedars and Running Eagle Falls Trail are also universally accessible.
Glacier National Park is a wonder to behold... and experience.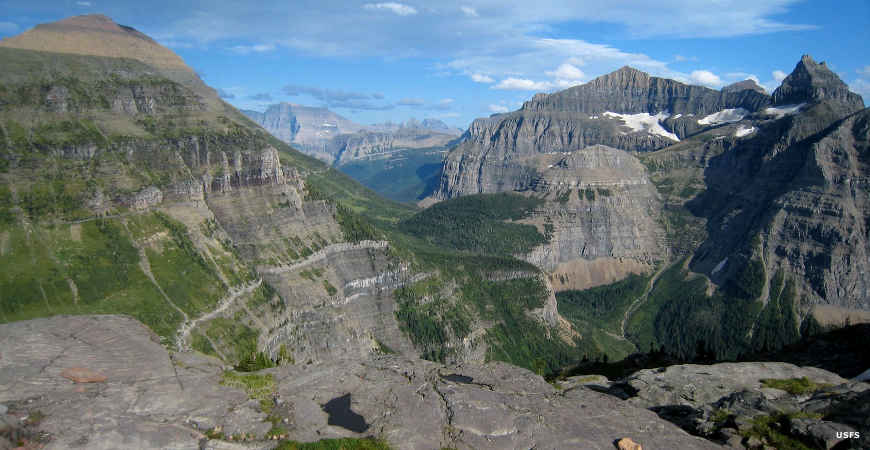 A view from Brown's Pass
Camping Options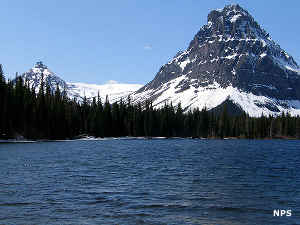 There are 13 developed campgrounds (although 3 are classed as "always primitive") at Glacier National Park. Some campgrounds are open before and after the summer season, but all amenities are shut off and the camping is classified "primitive." The Apgar and St. Mary Campgrounds are open in the winter, but you'll probably find all services shut off (which action makes them "primitive"). A large part of Glacier National Park simply can't be reached with a vehicle in the winter because most roads aren't plowed. In the summer time, Glacier is a very popular place, and most of the campgrounds fill early, every day. Kintla Lake is probably the least visited of the campgrounds and often has spaces available into the late afternoon. Reservations are available at Fish Creek and St. Mary Campgrounds but you might want to call well ahead.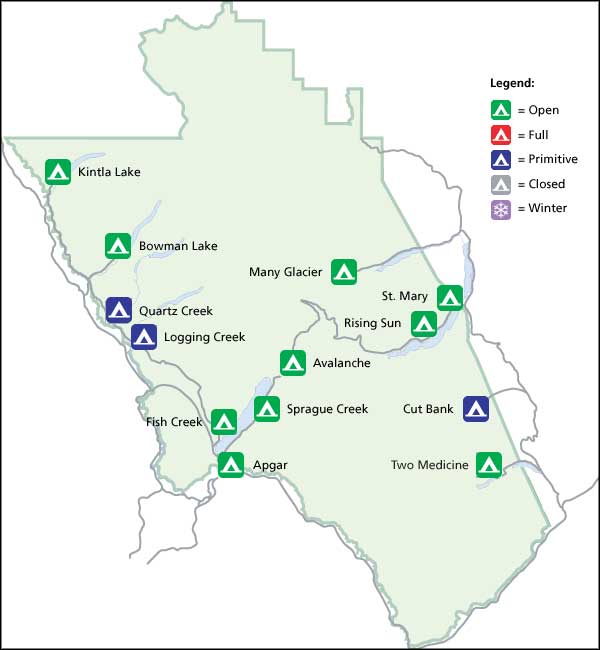 Glacier National Park
National Park Service
Large photos courtesy of the US Forest Service
Other photos and maps courtesy of the National Park Service