Lake Chelan-Sawtooth Wilderness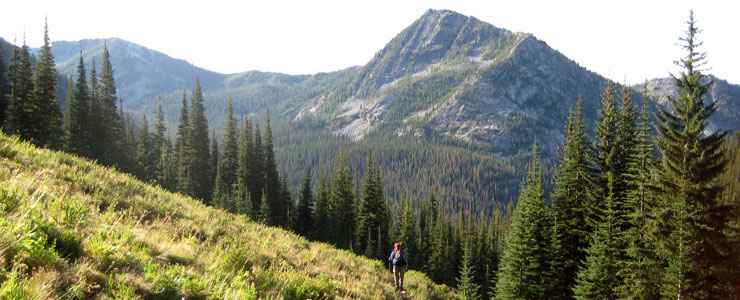 Hiking on Lake Chelan-Sawtooth Wilderness
Lake Chelan-Sawtooth Wilderness is a 151,435-acre property on Okanogan-Wenatchee National Forest in central Washington. To the northwest is Lake Chelan National Recreation Area and Stephen Mather Wilderness.
Lake Chelan-Sawtooth Wilderness rises immediately from the northeastern shoreline of Lake Chelan to cross the crest of Sawtooth Ridge (a northwest/southeast trending ridgeline) and drop into the valley of the Twisp River. Elevations range from a low of about 1,100 feet to a high around 9,000 feet. The topography rises relatively slowly from the south, then drops off sharply once it crosses the crest: the north faces are dramatic. There is also a steep, dramatic drop above the shores of Lake Chelan. Summers are hotter and winters colder than in western Washington.
The streams on Lake Chelan-Sawtooth Wilderness have cut deep ravines through the area over the millenia. There are 63 lakes on the property, most small and un-named, many tucked into high glacial cirques with no trail access. Being east of the main crest of the Cascades, the climate is drier and the forest more open. Among the mammals found in the wilderness are black bear, mountain lion, bobcat, lynx, gray wolf, coyote, wolverine, pine marten, black-tailed deer and elk.
There are about 194 miles of trails in the Lake Chelan-Sawtooth Wilderness. Most of them are steady climbs (moderate-to-strenuous) into high basins and glacial cirques with small fishing lakes at the end. Trailheads on Lake Chelan can only be accessed via private boat or via the regularly scheduled passenger ferry. From Stehekin (the northern terminus of the ferry) the Lakeshore Trail follows the lake south out of town for four miles before entering the wilderness area and continuing along the lakeshore for another 14 miles. There are a couple trails that enter the northwest section of Lake Chelan-Sawtooth Wilderness from Lake Chelan National Recreation Area but those trails have seen significant (and unrepaired) damage from weather events over the last decade. From the east, the easiest access is gained via the Twisp River Road. From the south, access is available via the Cooper Mountain and Glade Creek Roads. As most ridgetops (except for Sawtooth Ridge itself) are essentially open meadows and the forest is relatively open without a thick understory, bushwhacking is reasonably easy. You will want a good compass, good topo map and perhaps a good GPS device. You'll also want to have a Northwest Forest Pass in your possession before heading into the woods.
Those parts of the wilderness that are easily accessed for a day trip also tend to be crowded on the weekends...
I'm sad to report that wildfires in the summer of 2015 have virtually burned off this wilderness area.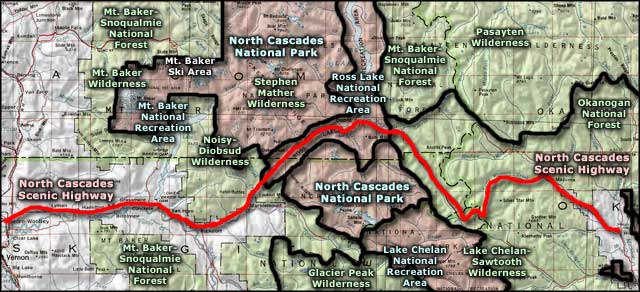 Related Pages
Map courtesy of National Geographic Topo!