Stephen Mather Wilderness
Stephen Mather Wilderness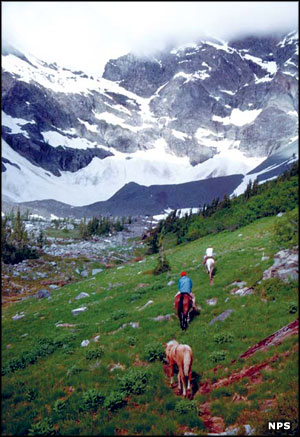 Stephen Mather Wilderness is a 634,614-acre property in north-central Washington. The wilderness is composed of the major parts of North Cascades National Park, Ross Lake National Recreation Area and Lake Chelan National Recreation Area. Mount-Baker-Snoqualmie National Forest is to the east and west and Okanogan-Wenatchee National Forest to the south. Pasayten Wilderness is to the east and northeast, Lake Chelan-Sawtooth Wilderness to the south, Glacier Peak Wilderness to the southwest, Noisy-Diobsud Wilderness to the west and Mount Baker Wilderness to the northwest.
Stephen Mather Wilderness is one of the wildest wilderness areas in the 48 contiguous states. The countryside is extremely rugged and generally heavily treed below treeline. There are jagged rocky peaks and sharp glaciated ridges sticking up everywhere, offering some excellent alpine climbing. The countryside has been heavily eroded by large glaciers that left narrow stream drainages and large U-shaped valleys. Snowfall begins early, ends late and piles up huge.
Mammals found in Stephen Mather Wilderness include black bear, grizzly bear, gray wolf, wolverine, pine marten, lynx, elk, black-tailed deer, coyote, mountain goat, moose and bighorn sheep.
Supposedly there are about 390 miles of trails in the wilderness but very little was ever developed and even less is maintained. The busiest trail in the whole area is probably that 13-mile section in the southeastern part of the wilderness where the Pacific Crest National Scenic Trail crosses from Pasayten Wilderness to Lake Chelan National Recreation Area, then to Glacier Peak Wilderness. You don't have to go far to get away from it all but if you want to see the center of Stephen Mather Wilderness, it's going to take several days and some excellent route finding skills through remote and essentially trailless territory.
I'm sad to report that wildfires in the summer of 2015 burned off significant portions of this wilderness area.
Upper photo courtesy of Terry Fernsler, via Wilderness.net
Upper left photo and map courtesy of the National Park Service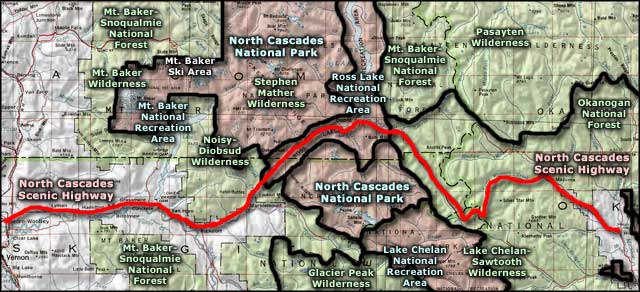 Related Pages
Map courtesy of National Geographic Topo!