Pasayten Wilderness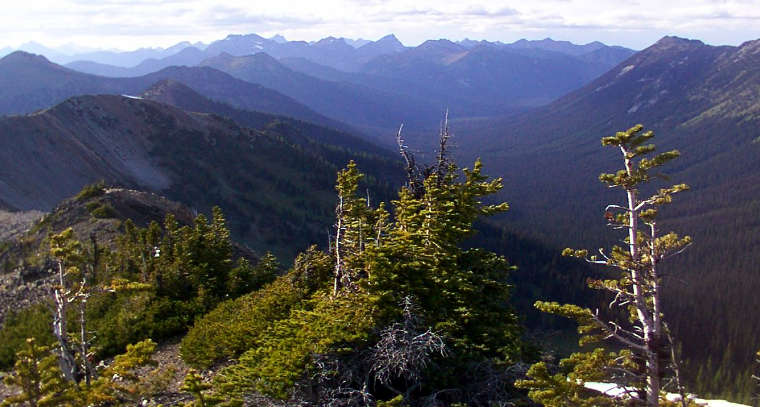 Looking over the Pasayten Wilderness from Slate Peak Overlook
Pasayten Wilderness is a 531,539-acre property surrounding the three forks of the Pasayten River in north-central Washington. The wilderness straddles the boundaries of the Okanogan-Wenatchee and Mount Baker-Snoqualmie National Forests in the north Cascades. The northern boundary of the wilderness is against the US-Canada border with Manning and Cathedral Provincial Parks on the British Columbia side. To the west is Ross Lake National Recreation Area, and beyond that North Cascades National Park. The northern terminus of the Pacific Crest National Scenic Trail is on Pasayten Wilderness.
The eastern part of Pasayten Wilderness is characterized by grasslands and tundra on park-like plateaus separated by deep drainages, the western part by even more rugged countryside with excellent views of the northern Cascade Mountains. On the eastern side of Pasayten Wilderness you'll typically find pine, fir and larch for trees, on the west side cedar, fir and western hemlock.
There are almost 150 peaks on the Pasayten that reach 7,500 feet or more in elevation. There are also more than 160 lakes and ponds on the property. If you look, you're likely to see grizzly bear, moose, deer, bighorn sheep, mountain goat and gray wolf in the woods. Pasayten Wilderness also has the largest population of lynx in the 48 states.
There are more than 600 miles of trail in the wilderness. Most of them fool folks into thinking they are easy hikes because at the trailheads, they are. But once you get into the mountains, the steepness goes up and the ease of hiking goes down, quickly. There are about 32 miles of the Pacific Crest National Scenic Trail crossing the wilderness north/south. The Boundary Trail starts from a trailhead near the southeast corner of the wilderness and wanders around along the Canadian border for more than 73 miles before merging with the Pacific Coast Trail. The Pacific Northwest National Scenic Trail also crosses Pasayten wilderness east/west, even sharing several miles with the Pacific Crest Trail along the way.
Groups traveling in the Pasayten Wilderness are limited to a maximum of 12 people and no more than 18 head of saddle or pack stock. Geocaching on the wilderness is not allowed. The Pasayten also requires registration (self-issued recreation permits). Permits are available at the forest headquarters office, visitor center and at most trailheads.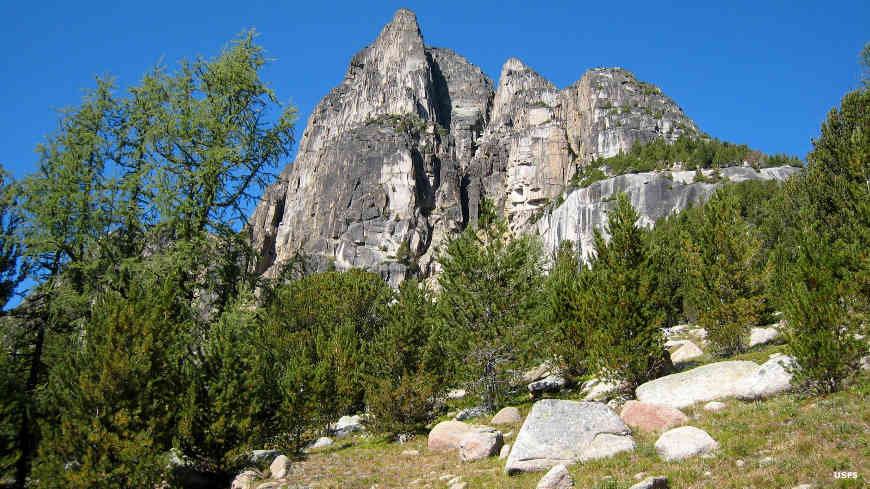 Cathedral Peak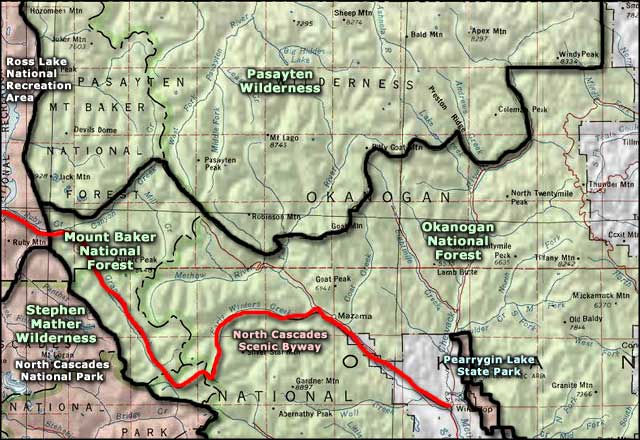 Pasayten Wilderness
US Forest Service

- Okanogan-Wenathcee and Mount Baker-Snoqualmie National Forests
Upper photo courtesy of Wikipedia userid Brianhe,
CCA-by-SA 3.0 License
Lower photo courtesy of the US Forest Service