Muddy Mountains Wilderness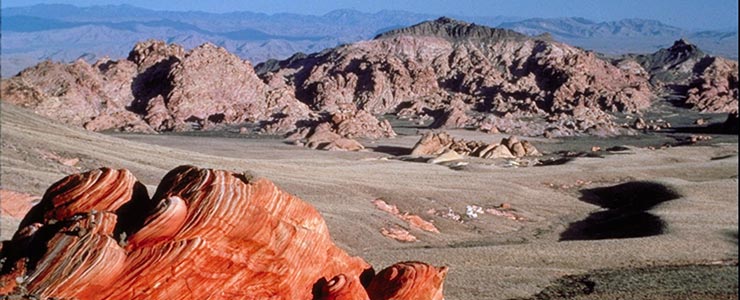 The Muddy Mountains
Muddy Mountains Wilderness is a 48,019-acre property located about 20 miles northeast of Las Vegas between Interstate 15 and Lake Mead. Part of the property is contained within the Lake Mead National Recreation Area so management is shared between the Bureau of Land Management and the National Park Service. Nearby is Valley of Fire State Park and some of those colorful arches, bridges and other wild rock formations are also found in Muddy Mountains Wilderness.
The Muddy Mountains are a geologically interesting area with millions of years of geological strata exposed and some classic examples of block faulting and geological overthrust. The Muddy Mountains themselves are very rugged, composed of limestone cliffs and deep canyons: the result of an overthrust fault putting layers of older limestone above layers of younger sandstone. The lower areas offer some very colorful landscapes: yellow, red, gray, green, pink, magenta, buff and tan-colored sandstones. Elevations range from a high around 5,400 feet (at the top of Muddy Mountain) to a low around 1,700 feet.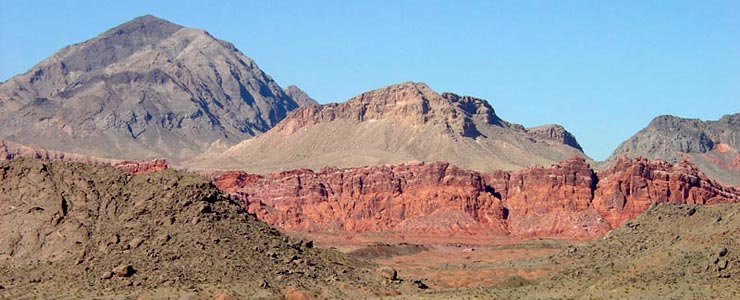 In the Bowl of Fire
Vegetation in the Muddy Mountains Wilderness is very Mohave Desert: yucca, Joshua tree, desert willow, creosotebush, blackbrush and low desert shrubs and grasses. There is some desert catalpa found in the wetter washes and the rare bear poppy and Las Vegas buckwheat grow in the lower gypsum soils.
For big mammals you might see desert bighorn sheep and wild burros and horses. Among the reptiles are desert tortoise, side-blotched lizard, desert banded gecko, Great Basin collared lizard, Western chukwalla, Great Basin whiptail and, of course, several species of rattlesnakes.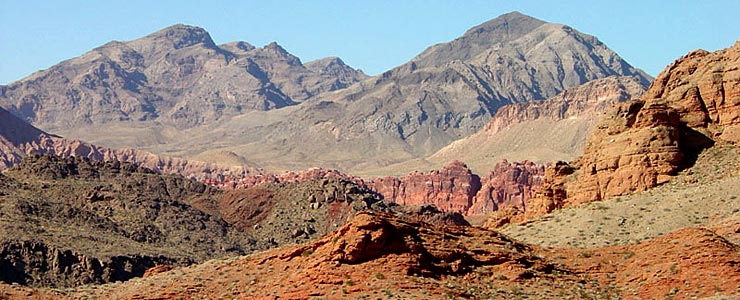 The Bowl of Fire
There are some really scenic views to be found in the Gale Hills, Bowl of Fire and Hidden Valley areas. Another interesting spot is Anniversary Narrows: a small slot canyon in the limestone. The seven miles of designated trails found in Muddy Mountains Wilderness tend to lead to these more colorful areas.
There are also significant archaeological resources found in the Muddy Mountains Wilderness, enough to list most of the property on the National Register of Historic Places. Some of the ancient artifacts found in the area date back at least 4,000 years. There is even an area of the property that was crossed by the Old Spanish Trail.
There are several 4WD "roads" that come close to the southern boundary of Muddy Mountains Wilderness, originating from North Shore Drive. The Bitter Springs Back Country Byway runs along a couple sections of the boundary on the northeast side of the property.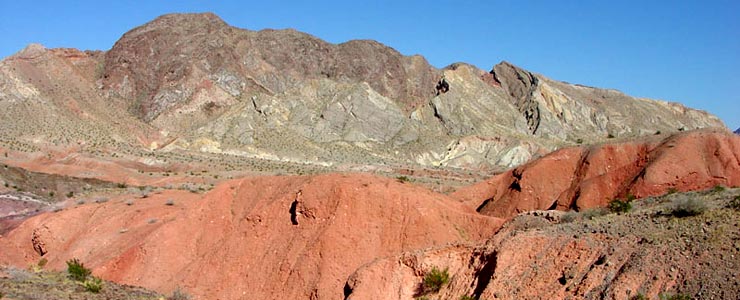 The Gale Hills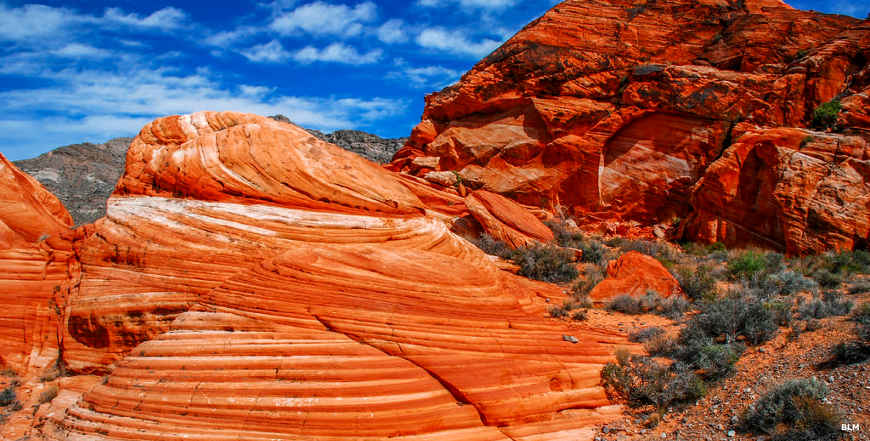 Layered Aztec sandstone in the Muddy Mountains area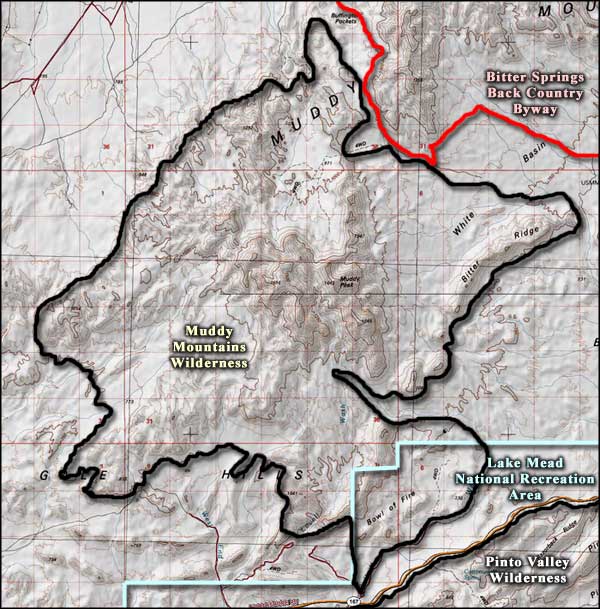 Muddy Mountains Wilderness
Southern Nevada District Office -

Bureau of Land Management
Photos courtesy of the Bureau of Land Management
Bottom photo courtesy of Chip Carroon, BLM,
CCA 2.0 License
Map courtesy of National Geographic Topo!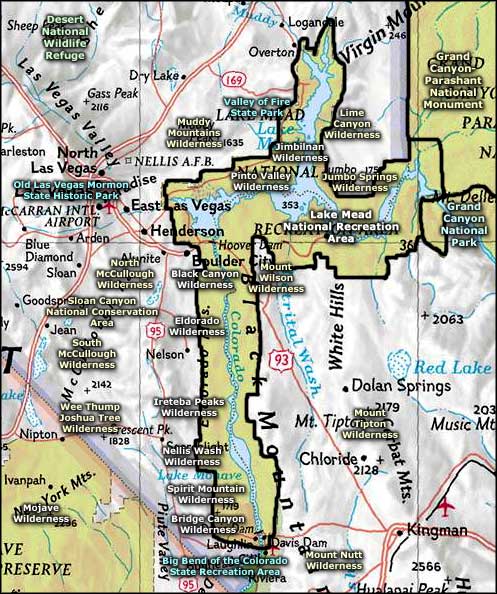 Related Pages
Map courtesy of National Geographic Topo!