Valley of Fire State Park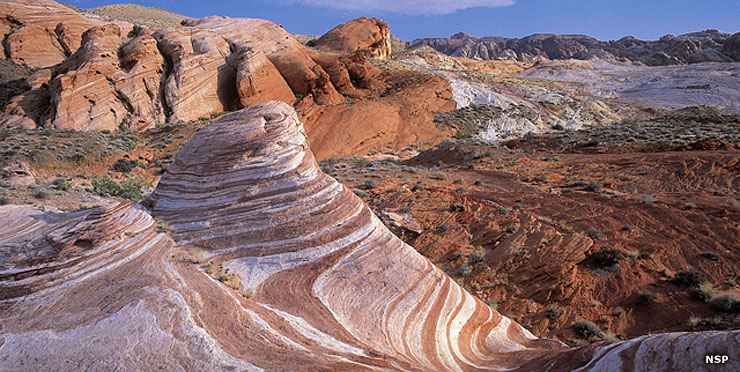 Rock formations at Valley of Fire State Park
Facilities & Amenities

Camping
RV Dump Station
Flush Restrooms
Group Camping
Picnicking
Group Picnicking
Visitor Center
Trails
Nature Study
Max. RV size: 50'
Pets allowed
Back in 1935, Nevada dedicated its first (and still largest) state park: the 34,880-acre Valley of Fire. The park is named for the fantastic red sandstone formations scattered all over the place. These sandstone formations are the remains of sand dunes that shifted across this landscape about 150 million years ago during the ages of the dinosaurs. Throw in some heavy duty faulting of the area, some complex uplifting and then follow it with extensive wind and water erosion and voila: this incredible Mojave Desert landscape.
Some of the sites of interest include Atlatl Rock (with Indian petroglyphs depicting an "atlatl"), Arch Rock, Piano Rock, the Enterprise, Beehives and Seven Sisters rock formations, Elephant Rock, Duck Rock, Fire Canyon, Silica Dome, White Domes (an 11 mile round trip from the visitor center), and Rainbow Vista (a scenic overlook giving great views of the multi-colored sandstone formations below).
Valley of Fire State Park has a full service visitor center, complete with exhibits on the prehistory and history of the area, and the ecology and incredible geology of this section of the Mojave Desert. There are 2 campgrounds in the park (near Atlatl Rock and nearby at Arch Rock) with a combined total of 72 campsites. Some of the RV sites at Atlatl Rock Campground offer power and water hookups, while the campsites near Arch Rock tend to be more secluded (and less "plugged-in"). All of the campsites offer water, fire grills, shaded picnic tables, and restrooms nearby. All campsites are first come, first served. There are also several shaded picnic areas with restrooms in the park. The Valley of Fire Road that leads through the park and connects everything is a designated Nevada Scenic Byway.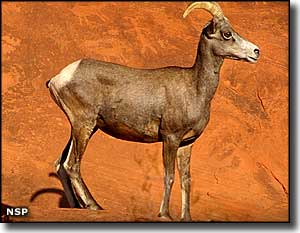 This area being clearly desert, the plant community is dominated by widely spaced clumps of brittlebush, burro bush and creosote bush. Beaver tail and cholla cactus are also relatively common. Wet spring sees blooms of desert marigold, desert mallow and indigo bush. The larger animals on the property tend to be nocturnal and aren't often seen by visitors. What a visitor would more likely see are the coyotes, spotted skunks, kit foxes, blacktailed jackrabbits and antelope ground squirrels. There are also plenty of snakes and lizards to go around. Should you come across one of the rare (and protected) desert tortoises, look but keep your distance and don't touch. Spring and fall are the preferred seasons for visiting the park and both seasons are when you'll have your best chance of seeing wildlife. Spring and fall are also when you'll find the most birds...
Valley of Fire State Park is east of Exit 75 on Interstate 15, about 55 miles northeast of Las Vegas at an elevation that ranges from about 2,000' to about 2,600'. Echo Bay on Lake Mead is only 6 miles further east (part of the Lake Mead National Recreation Area).
Ancient Pueblo peoples from the nearby fertile Moapa Valley visited this area seasonally for hunting and gathering purposes from about 300 BCE to about 1150 CE. They might have come for religious ceremonies, too, because in several places they left behind some fine examples of rock art.
If you've seen movies like Transformers, The Professionals, Star Trek Generations (this is where Captain Kirk fell to his death), Domino or Total Recall (all the outside Mars scenes), then you've seen some significant glimpses of Valley of Fire State Park.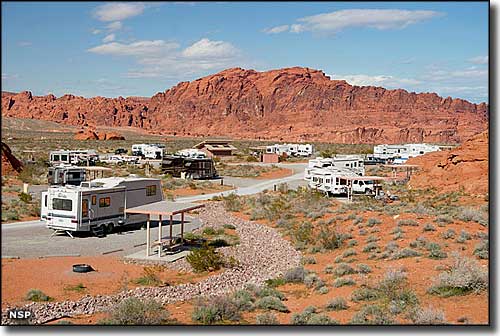 The RV camping area at Atlatl Campground
A picnic table in Valley of Fire State Park
Typical small red rock canyon
Valley of Fire State Park
Nevada State Parks
Upper photos courtesy of Nevada State Parks
Other photos courtesy of TheArmchairExplorer,
CCA-by-SA 3.0 License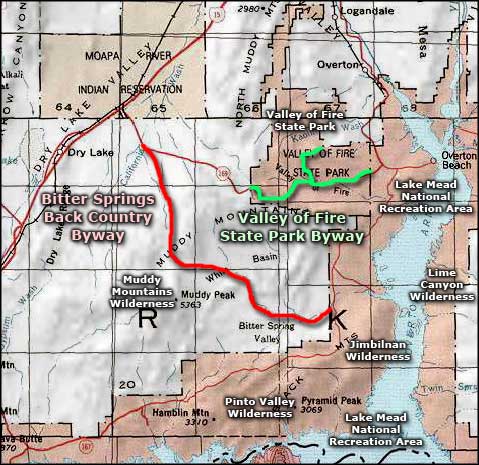 Related Pages
Map courtesy of National Geographic Topo!