Ireteba Peaks Wilderness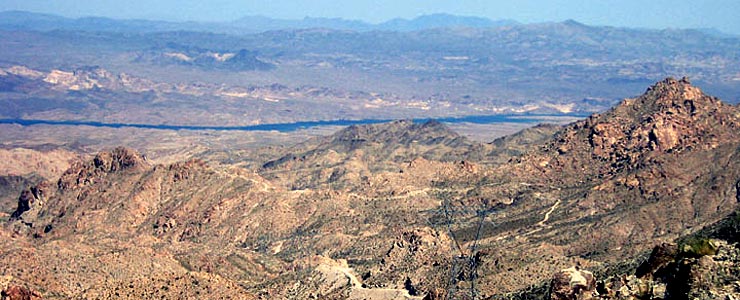 The view east cross Ireteba Peaks Wilderness
Ireteba Peaks Wilderness is a 32,745-acre property that extends eastward from the top ridge of the Ireteba Peaks to the west bank of the Colorado River. Most of the wilderness area is part of Lake Mead National Recreation Area but the Ireteba Peaks themselves are on the adjacent Bureau of Land Management property.
The Ireteba Peaks themselves are pretty rugged and cut with short, narrow canyons but the countryside east of those mountains is more a mix of rolling hills and almost flat alluvial fans that reach down to the edges of Lake Mohave. The one major interruption in that flow rises to a knife-like ridge on Opal Mountain, just west of the river. This is Mohave Desert country and the vegetation is mostly cholla, yucca and various other cacti mixed with a sparse creosotebush scrub. Wildlife on the property includes desert bighorn sheep, desert tortoise and the usual assortment of lizards, insects, arachnids and several species of rattlesnake the Mohave is so famous for.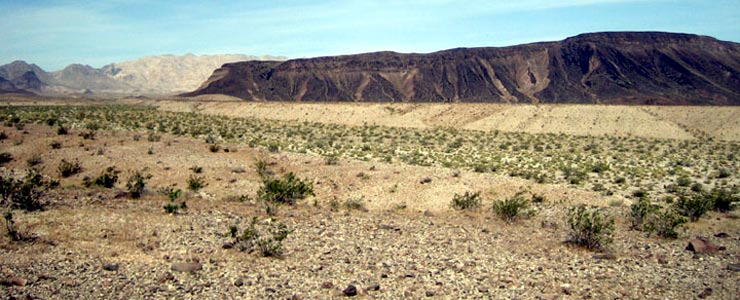 Surface water is extremely scarce and summer temperatures like to hover around 120°F in the daytime and drop precipitously at night.
Most use of the wilderness occurs among the granite boulders along the northern edge (near the power line right of way), on the eastern slopes of the Ireteba Peaks (where the views are best) and among the coves and canyons that front on Lake Mohave. There are no established trails but the sandy washes make foot travel reasonably easy.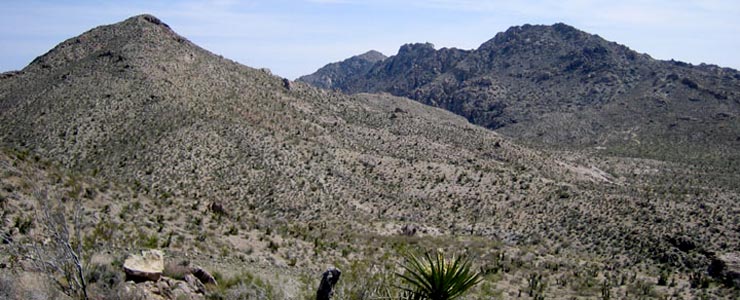 The Ireteba Peaks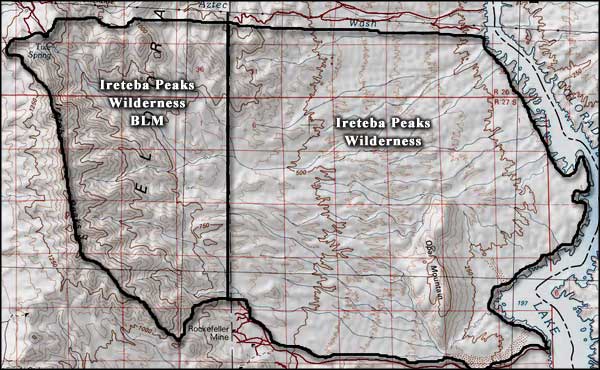 Ireteba Peaks Wilderness
Lake Mead National Recreation Area -

National Park Service
601 Nevada Way

,

Boulder City

,

NV

89005
Visitor Center:

702-293-8990
Photos courtesy of the National Park Service
Map courtesy of National Geographic Topo!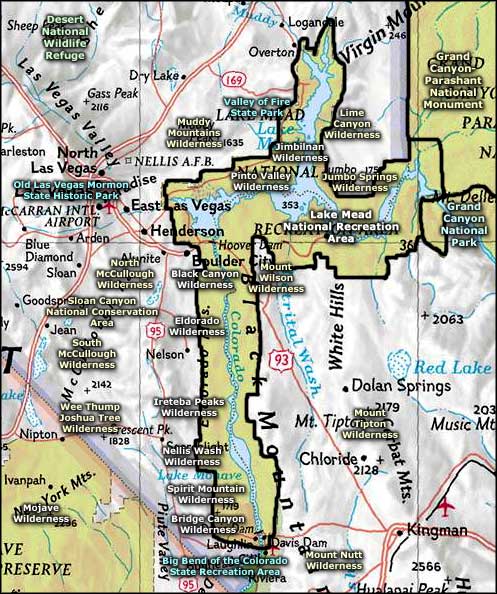 Related Pages
Map courtesy of National Geographic Topo!