Spirit Mountain Wilderness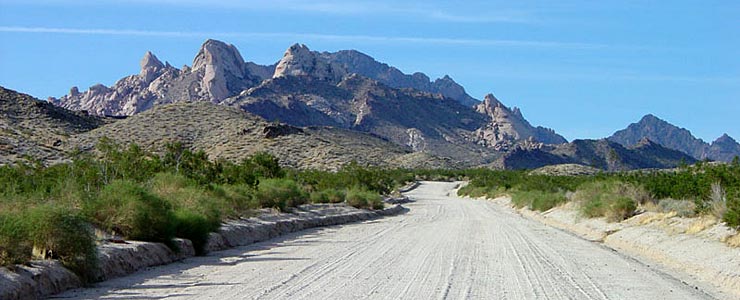 View from the road in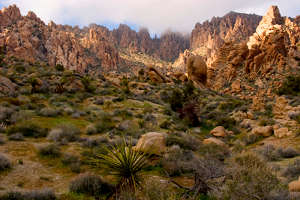 Spirit Mountain Wilderness is a 33,518-acre property, mostly part of Lake Mead National Recreation Area but the western edge of Spirit Mountain (5,639') itself is on BLM land that has also been designated as part of the wilderness area. Part of the reason for this is that Spirit Mountain has special spiritual and cultural significance to many of the Native American tribes in the area and they wanted to see the whole mountain protected. For Native Americans of the Mohave and Sonoran Desert regions, Spirit Mountain is central to their creation stories. The Chemehuevi and Hopi also hold the mountain sacred but it is not part of their creation stories nor is it a spiritual birthplace for them. The area around Spirit Mountain has been listed on the National Register of Historic Places and is also a designated Traditional Cultural Property of the BLM and National Park Service.
Spirit Mountain Wilderness is separated from Nellis Wash Wilderness to the north by a 4WD road corridor running down Empire Wash to Lake Mohave. Spirit Mountain Wilderness is also separated from Bridge Canyon Wilderness to the south and southwest by another 4WD road corridor. From the north boundary of Spirit Mountain Wilderness there is a 4WD road tunneled into the wilderness area leading to the still active White Rock Mine site.
Through most of Spirit Mountain Wilderness you'll find steep canyons and rugged granite boulders. The Newberry Mountains themselves are rugged granite with fins, spires, pinnacles and just plain chunks of rock stuck up in the air. The vegetation is typical of the Mohave Desert: yucca, blackbrush, creosotebush and desert willow. There are also a few smoke trees on the property, this being the farthest north they will naturally grow (smoke trees are native to the Sonoran Desert). The higher elevations also sport a few pinyon trees and junipers. For wildlife you might come across desert bighorn sheep, mule deer, coyote, bobcat, mountain lion, Gila monster and the usual species of rattlesnake.
The Newberry Mountains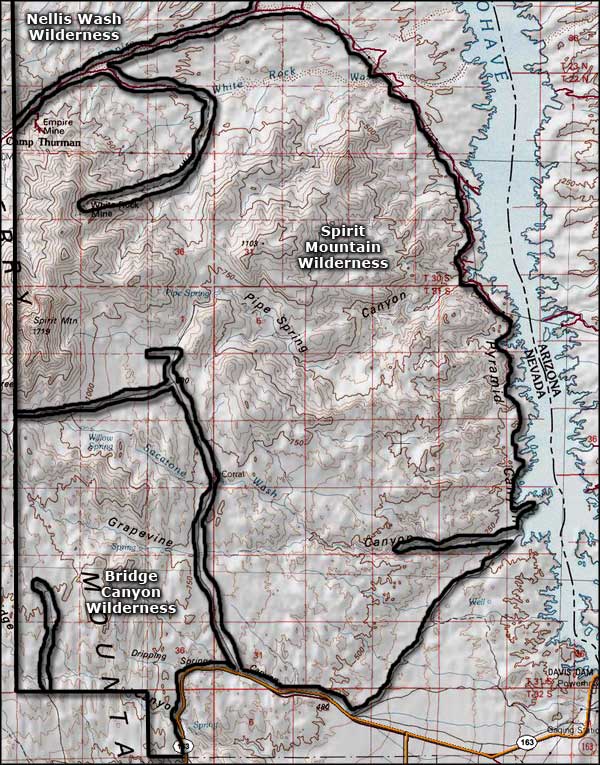 Spirit Mountain Wilderness
Lake Mead National Recreation Area -

National Park Service
601 Nevada Way

,

Boulder City

,

NV

89005
Visitor Center:
702-293-8990
Upper left photo courtesy of Crystal DiPietro, via Friends of Nevada Wilderness.org
Other photos courtesy of the Bureau of Land Management
Map courtesy of National Geographic Topo!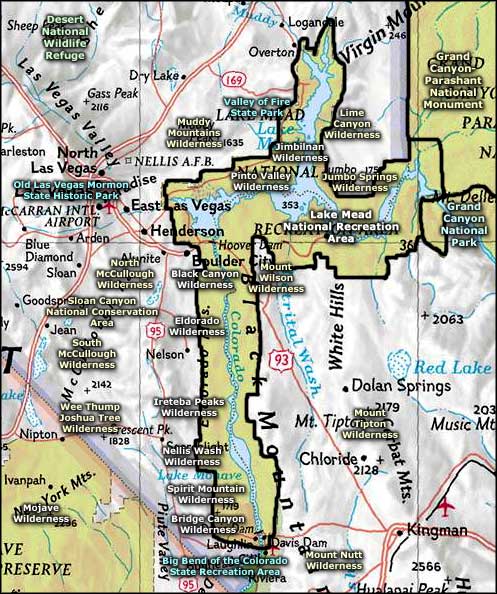 Related Pages
Map courtesy of National Geographic Topo!