Sloan Canyon National Conservation Area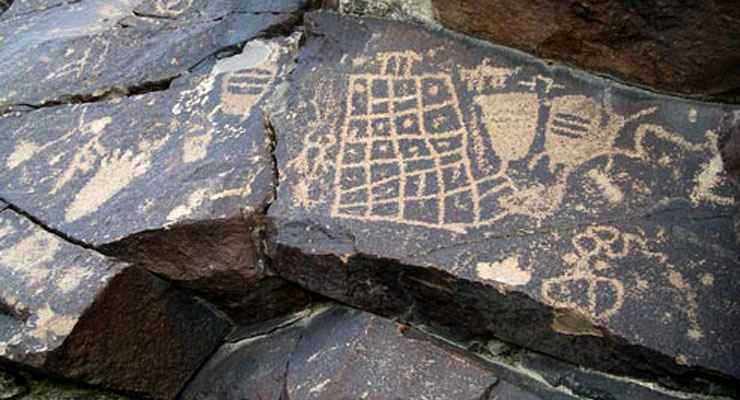 Rock art panel in Sloan Canyon Petroglyph Site
Sloan Canyon National Conservation Area contains some 48,438 acres of mountainous desert terrain on the southern outskirts of Henderson, Nevada. The North McCullough Wilderness is wholly contained within Sloan Canyon National Conservation Area but the real crown jewel of the property is the Sloan Canyon Petroglyph Site with its more than 300 rock art panels. The 1,700 individual design elements in the rock art were created by native cultures that date back to the Archaic era, several thousand years ago.
The landscape at Sloan Canyon National Conservation area varies from lowland dry lake beds to rugged volcanic peaks more than 5,000' above sea level. The vegetation is typical Mohave Desert scrub: Joshua trees, yucca, creosotebush, chaparral, mesquite, cactus and various wildflower species.
There is only one entrance to the northern half of Sloan Canyon National Conservation Area and only street-legal vehicles are allowed to pass through that entrance (as in: no OHVs). No camping, shooting or OHVs are allowed in the northern portion of the property. Hikers, bikers and horseback riders are strongly encouraged to keep their activities on the already existing trails. In the area of the Petroglyph Site, only hiking is allowed. Within the boundary of North McCullough Wilderness only foot and horseback traffic is allowed.
To get there: Get off Interstate 15 at Exit 25 (for Sloan). Go left at the stop sign on Las Vegas Boulevard for about 0.1 mile, then turn east on a dirt opposite the north-bound freeway entrance under the power line. Follow that road along the power line for about 4 miles. The power poles are numbered and just past pole #12084 there will be a sign saying "Sloan Canyon National Conservation Area" beside a two-track dirt road on the right. Go south on that road for one mile (keep to the right at the fork). The road dead ends at the entrance to Petroglyph Canyon.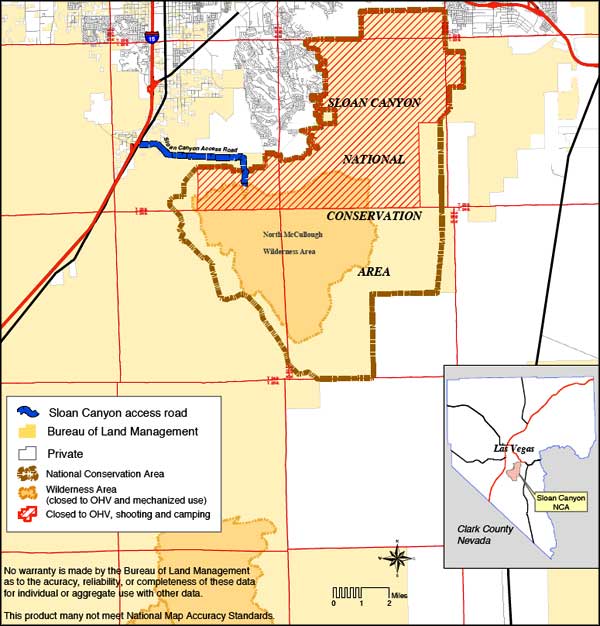 Sloan Canyon National Conservation Area area map
Sloan Canyon National Conservation Area
Bureau of Land Management

- Southern Nevada District Office
4701 North Torrey Pines

,

Las Vegas

,

NV

89130
702-515-5000
Office hours: 7:30 am to 4:30 pm, Mon. through Fri.
Upper photo courtesy of Chris Barns, via Wilderness.net
Map courtesy of the Bureau of Land Management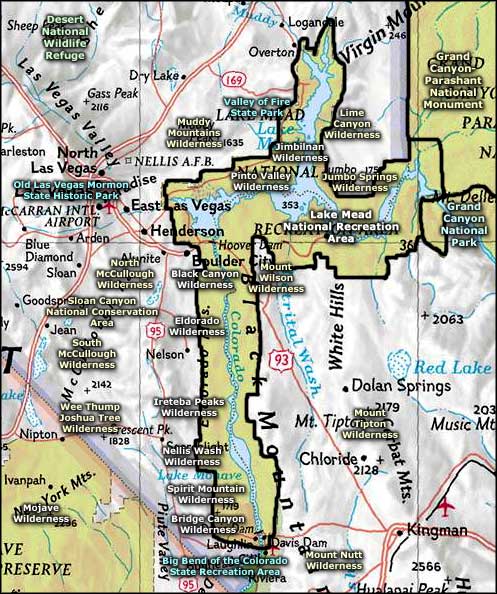 Related Pages
Map courtesy of National Geographic Topo!