Nellis Wash Wilderness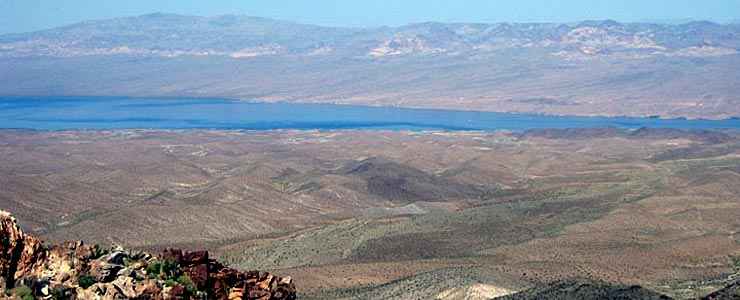 Looking east across Nellis Wash Wilderness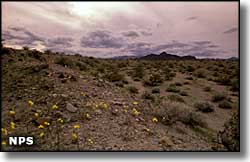 Nellis Wash Wilderness is a 16,423-acre property wholly contained within Lake Mead National Recreation Area. Nellis Wash Wilderness is bounded on the west by the National Recreation Area boundary, on the east by a power line right-of-way and on the south by a 4WD road running down Empire Wash to Lake Mohave. Nellis Wash Wilderness is separated from Spirit Mountain Wilderness to the south by that road down Empire Wash.
Nellis Wash Wilderness lies in the eastern foothills of the Newberry Mountains. The topography is mostly alluvial fans spreading eastward from the mountains toward Lake Mohave. The topography is composed of gently rolling hills separated by wide slightly sloping washes. There was a time when the Newberry Mountains saw some significant mining activity but most of that ended long ago. There are still a few mining claims in the area that haven't been extinguished yet.
The vegetation at Nellis Wash Wilderness is typical of the Mohave Desert: yucca, cholla, creosotebush scrub, all of it spread out somewhat thinly because of the general lack of water. Large wildlife isn't all that abundant either but there are plenty of reptiles, insects, arachnids and snakes. Summer temperatures often top 120°F in the heat of the day and drop as much as 60°F at night.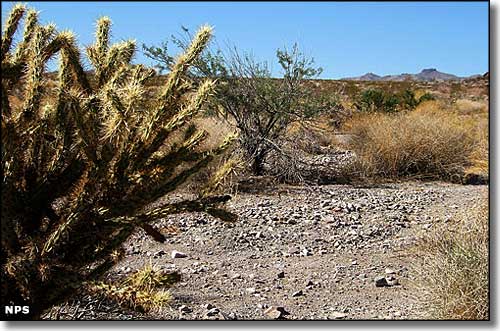 A typical view in Nellis Wash Wilderness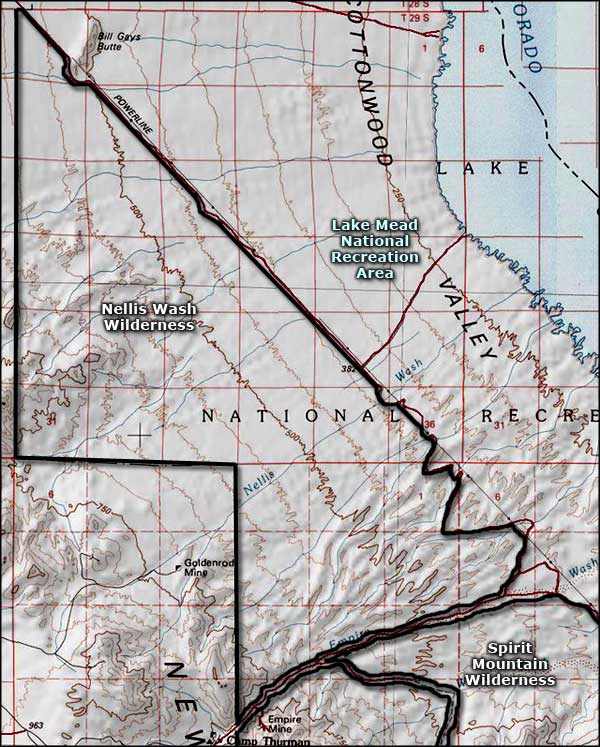 Nellis Wash Wilderness area map
Nellis Wash Wilderness
Lake Mead National Recreation Area
601 Nevada Way

,

Boulder City

,

NV

89005
Visitor Center:
702-293-8990
Top photo courtesy of John Tesar, National Park Service
Other photos courtesy of the National Park Service
Map courtesy of National Geographic Topo!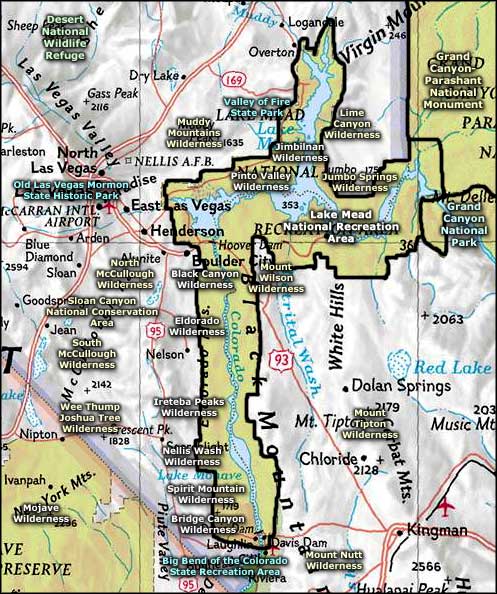 Related Pages
Map courtesy of National Geographic Topo!