Bridge Canyon Wilderness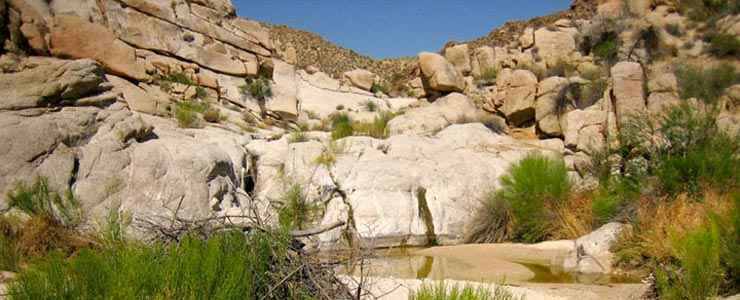 A small spring in Bridge Canyon Wilderness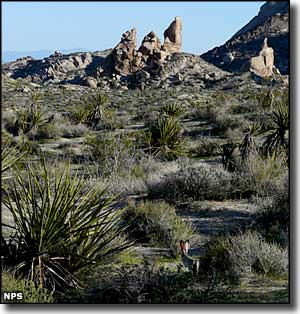 Bridge Canyon Wilderness is a 7,761-acre property located in the very southwest corner of Lake Mead National Recreation Area. To the west and south is a mix of BLM and private land, to the east and north is Spirit Mountain Wilderness. All that separates Bridge Canyon from Spirit Mountain is a 4WD dirt road (it leads to a small mining claim that hasn't been extinguished yet).
Bridge Canyon Wilderness contains part of the Newberry Mountains, a rough granite range filled with gendarmes, spires, outcroppings, steep canyons, caves and intermittent springs and seeps. Archaeological evidence says this area has seen human traffic for at least 10,000 years.
Bridge Canyon Wilderness lies at the junction/overlap of the Mojave, Sonoran and Great Basin vegetation communities. Grapevine Wash and Sacatone Wash both have enough regular water flow to support stands of large cottonwoods in spots. In other areas along the streambeds you'll find cattails, canyon grape and rushes. Outside the riparian zones you'll find yucca, ocotillo, Joshua tree, mesquite, sagebrush and rabbitbush. The canyons tend to be studded with large boulders and everything slopes gently east to the Colorado River.
There are coyotes, mule deer and desert bighorn sheep in the area. There are enough smaller mammals (rodents in particular) to support sharp-shinned hawks, long-tailed hawks and a few peregrine falcons. For reptiles you might see Gila monster, Western chuckwalla, side-blotched lizard and various species of rattlesnake. This is also prime desert tortoise habitat.
From the parking area near Grapevine Canyon it's an easy walk to one of the Southwest's more significant petroglyph sites. Beginning at the mouth of the canyon, you'll find hundreds of panels of rock art as you head "upstream." Archaeologists think Grapevine Canyon was part of an ancient "spirit walk" that leads westward to Spirit Mountain, a place that has high religious significance for many Native Americans.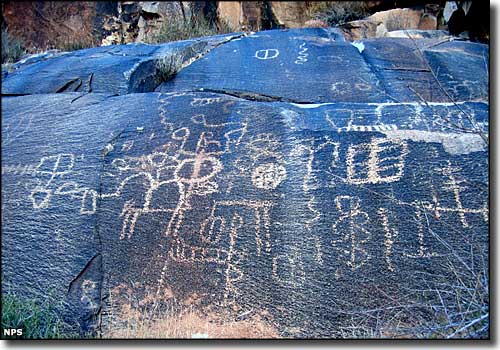 Rock art found at Bridge Canyon Wilderness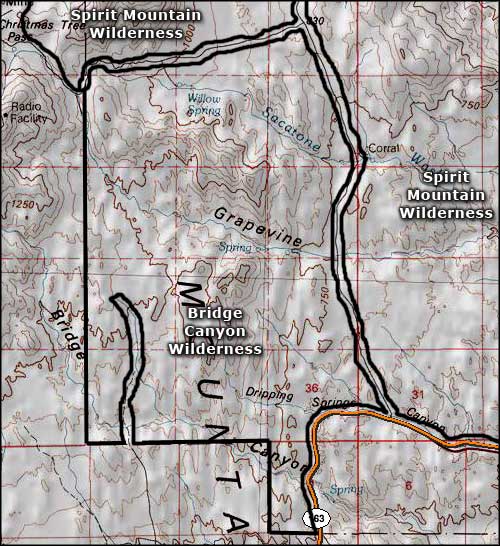 Bridge Canyon Wilderness area map
Bridge Canyon Wilderness
Lake Mead National Recreation Area
601 Nevada Way

,

Boulder City

,

NV

89005
Visitor Center:
702-293-8990
Upper and lower photos courtesy of John Tesar, National Park Service
Upper left photo courtesy of the National Park Service
Map courtesy of National Geographic Topo!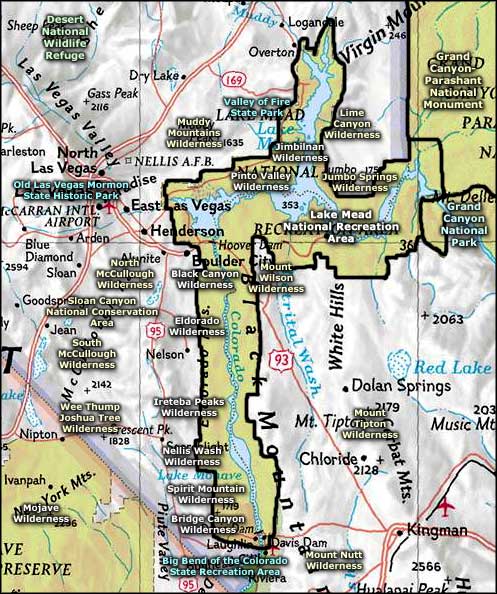 Related Pages
Map courtesy of National Geographic Topo!