Nordhouse Dunes Wilderness

Along the lakeshore in Nordhouse Dunes Wilderness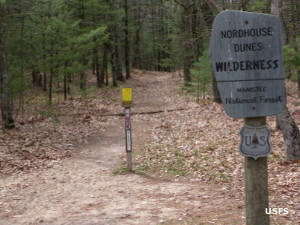 Nordhouse Dunes Wilderness
The only wilderness area in Lower Michigan, Nordhouse Dunes Wilderness is a 3,450-acre property in the Ludington Dunes Ecosystem. The sand that makes up the dunes began to be deposited on the floor of Lake Michigan during the Ice Ages, perhaps 13,000 years ago. As water levels in the lake varied up and down, the sand became exposed and wind and waves began to pile it up on the lake shore. Today's Ludington Dunes were formed between 3,500 and 4,000 years ago and are now the world's largest fresh water inter-dunal pond system. The dunes are mostly covered in grass interspersed with small stands of juniper, jack pine and hemlock. Some of the dunes rise as much as 140 feet above the lake shore.
The sandy shore along Lake Michigan varies in width and is the home of the Piping Plover, a Federally Endangered shorebird that nests among pebbles on the ground. The wilderness borders Ludington State Park to the south, along the coast of Lake Michigan. The Lake Michigan Recreation Area is to the north, also along the coast of Lake Michigan.
There is a limited trail system, about 14.5 miles in total, but much of it is poorly marked and hard to follow. The Nordhouse Dunes Trail (about 1.4 miles long) offers the best glimpse into the dunes themselves. Most of the trail system is accessible from the Lake Michigan Recreation Area on the north side of the wilderness. There is also a parking area at the Nurnberg Trailhead on the southern boundary.
Nordhouse Dunes Wilderness
Huron-Manistee National Forest

Photos and map courtesy of the US Forest Service