Deep Creek Wilderness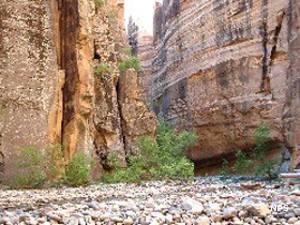 Deep Creek meets the North Fork
of the Virgin River
Deep Creek Wilderness is a 3,291-acre property on the northeastern side of Zion National Park. To the north is Deep Creek North Wilderness, separated only by a narrow road corridor. Deep Creek Wilderness shares its 3-mile southern boundary with Zion Wilderness and most folks access Deep Creek Wilderness by hiking up the trails along the North Fork of the Virgin River from the trail head at the northern end of the Zion Canyon Scenic Drive.
Visitors to Deep Creek Wilderness might come across mule deer, elk, black bear, mountain lion, bobcat, jackrabbit, badger, marmot and kit fox in their journeys. You might also see bald eagles and other raptors, wild turkey, chukar partridge, screech owl and Mexican spotted owl. Elevations vary from 6,000' to about 6,500'. That means most of the property is in the Utah juniper, pinyon pine, mountain mahogany and sagebrush life zone, with maybe a few Ponderosa pines at the highest elevations.
Deep Creek is a perennial stream and in narrow spots along the slot canyon, hiking could be quite the adventure. Deep Creek (4.83 miles on the BLM-administered wilderness and another 0.86 miles in Zion National Park) is now a federally designated Wild & Scenic River. Over the millenia, Deep Creek has eroded its way down through about 2,000' of Jurassic-age Navajo sandstone, exposing multicolored layers of sedimentary rock. Side canyons are not as deeply cut but when the water flow is high, hanging waterfalls are everywhere. There is an aquifer within the sandstone and outflow from that contributes to the seeps and springs that cut the canyons. Two other streams cross corners of the property, tributaries of the North Fork of the Virgin River, all also designated Wild & Scenic Rivers.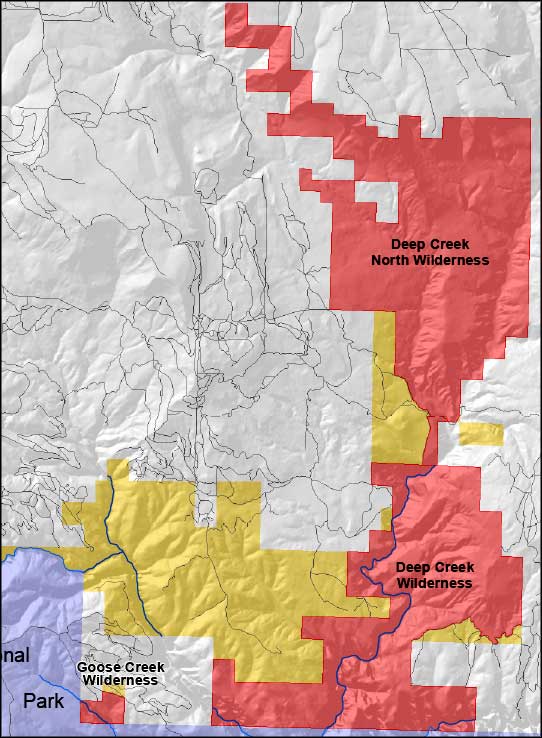 Deep Creek Wilderness
Bureau of Land Management

- St. George Field Office
Upper map courtesy of the Bureau of Land Management
Upper left photo and lower map courtesy of the National Park Service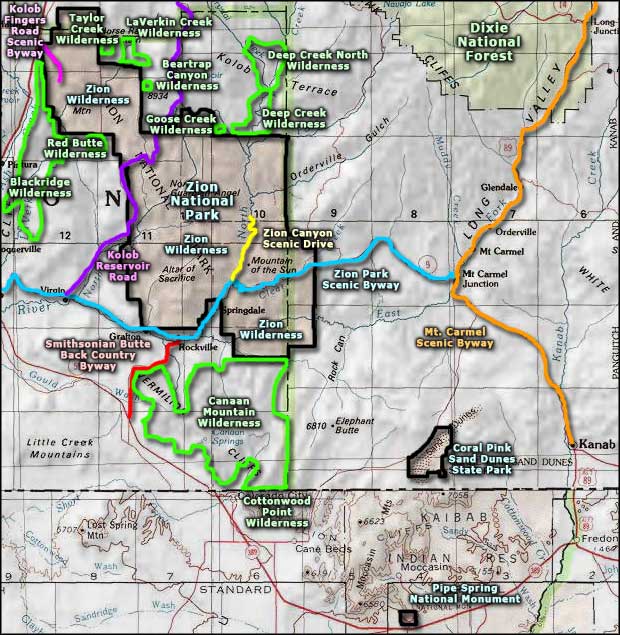 Related Pages
Map courtesy of National Geographic Topo!