Zion Canyon Scenic Drive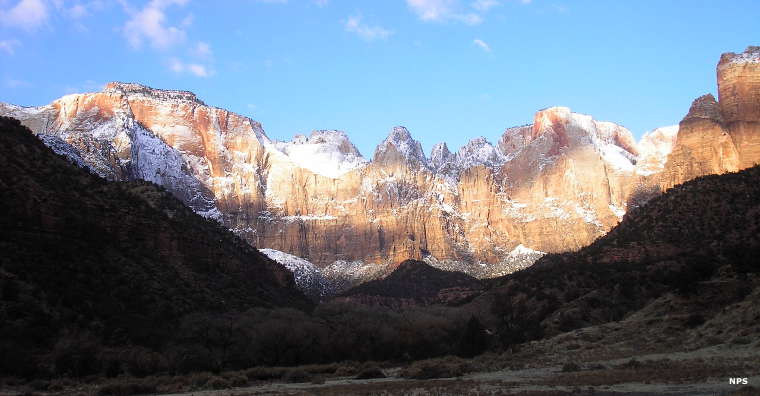 Towers of the Virgin, along the Zion Canyon Scenic Drive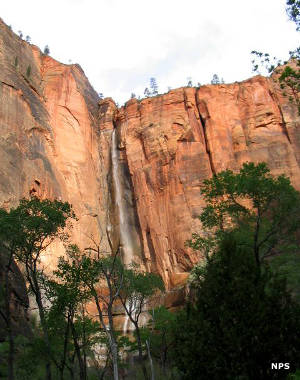 The Zion Canyon Scenic Drive is about 7 miles long and winds north/south through Zion Canyon parallel to the North Fork of the Virgin River, entirely within Zion National Park. It's not a long, winding road but it is made dangerous by all the visual distractions along the way... A lot of folks make it safer by riding the Zion Canyon Shuttle, a tour bus service that begins at the Zion Canyon Visitor Center and runs the whole length of Zion Canyon Scenic Drive. When Zion National Park is busy (generally from early May to late September, early October, traveling the Zion Canyon Scenic Drive requires that you leave your vehicle parked at the main Zion Visitor Center and board one of the free park buses for the journey anyway. The buses stop at virtually every pullout along the way so getting off or on one is no big deal. The good thing about this is it cuts down on the vehicular congestion in the centerpiece of the park and makes traveling the route so much easier and safer.
Zion Canyon Scenic Drive cuts north from the Zion Park Scenic Byway on the east side of the bridge over the Virgin River. There are pullouts and parking areas that give access to viewpoints, footbridges across the river and various trail heads along the way. Halfway point on the Scenic Drive is Zion Lodge, a good place to stop and check out what's available in the canyon. There's also a gift shop, restaurant and restrooms.
The Scenic Drive ends at the Temple of Sinawava in a beautiful grotto with a high waterfall gracing one wall. The trail head for the Narrows Trail is there at the parking area: the Narrows Trail continues up the canyon of the Virgin River but it's a route that is about 60% in the water and hikers need to be prepared to swim sections of the trail.
For those folks who have the time and the inclination, along the road are trail heads leading to the East Rim and West Rim Trails. Also to East Mesa, Cable Mountain, Deertrap Mountain, Hidden Canyon, Emerald Pools and Sand Bench. Day hikes can be taken at any time but overnight hikes require a back country permit. The rock climbing is virtually all technical and anyone on a technical route also needs a permit.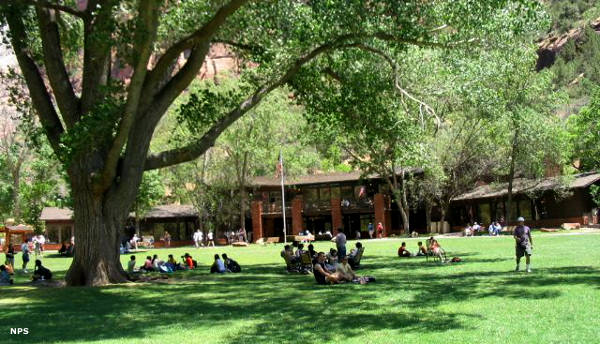 Zion Lodge, along the Zion Canyon Scenic Drive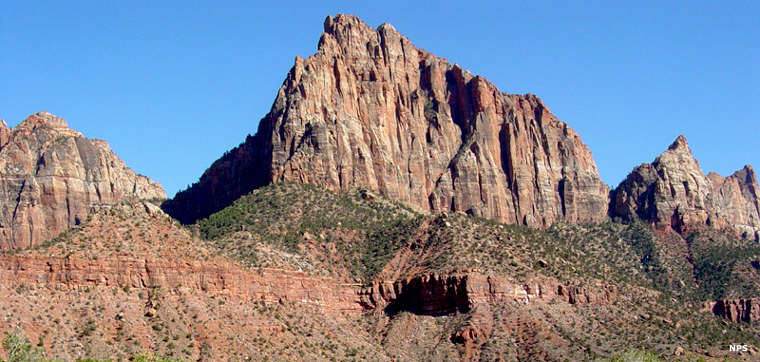 The Watchman
Zion National Park
National Park Service
Photos courtesy of the National Park Service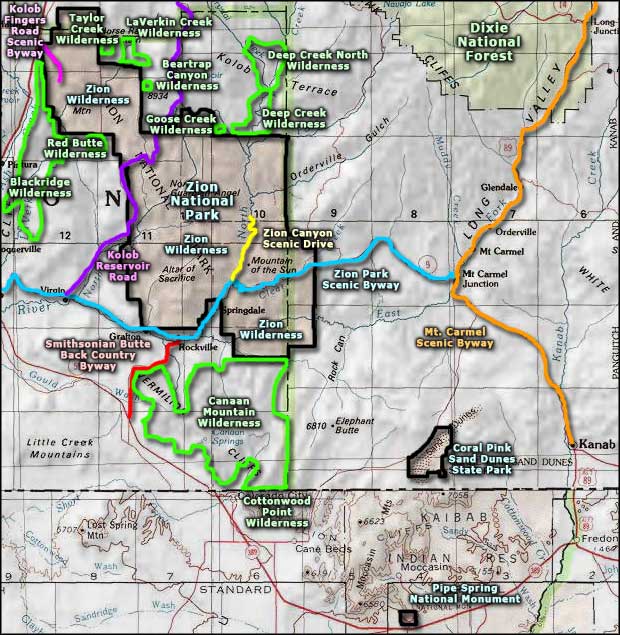 Related Pages
Map courtesy of National Geographic Topo!