Red Butte Wilderness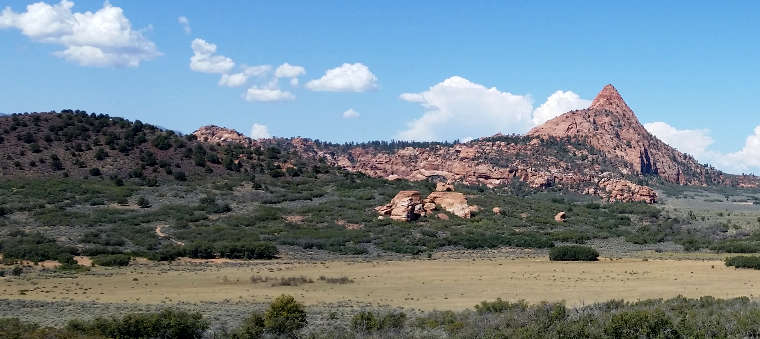 Red Butte Wilderness from the south
Red Butte Wilderness is a 1,535-acre property against the border of Zion National Park in the Kolob Canyons area. Red Butte Wilderness is bordered on the north by Zion Wilderness. The property is named for the prominent Red Butte, a promontory that rises about 1,800 feet above the surrounding countryside to the north of Kolob Reservoir Road, about 10 miles north of the Virgin River. Access to the unit from the southeast is achieved by using the Lamareau Tank service road from Kolob Reservoir Road. There's also a jeep trail running north from Rock Spring that gives access to the west side of the wilderness.
Red Butte Wilderness is a natural extension of the Kolob Canyons area of Zion National Park: deeply eroded canyons topped with conifer forest. The general vegetation in the middle elevations of the property consists of sagebrush and chaparral mixed with scattered Utah juniper and pinyon pine.
For large mammals you might find mule deer, elk, mountain lion, bobcat and black bear. There are seven species of raptors known to nest in the canyon walls in this area, among them are bald eagles, peregrine falcons, American kestrels, Cooper's hawks and red-tailed hawks.
Red Butte is an obvious landmark as seen from Kolob Reservoir Road and it often attracts technical rock climbers. The rest of the wilderness is handy for hikers and backpackers, although there is a severe shortage of marked or maintained trails.
At the boundary of Zion National Park, Red Butte Wilderness is separated from Blackridge Wilderness by a 1/2 mile wide strip of private property.

Red Butte and Blackridge from the end of the Kolob Fingers Road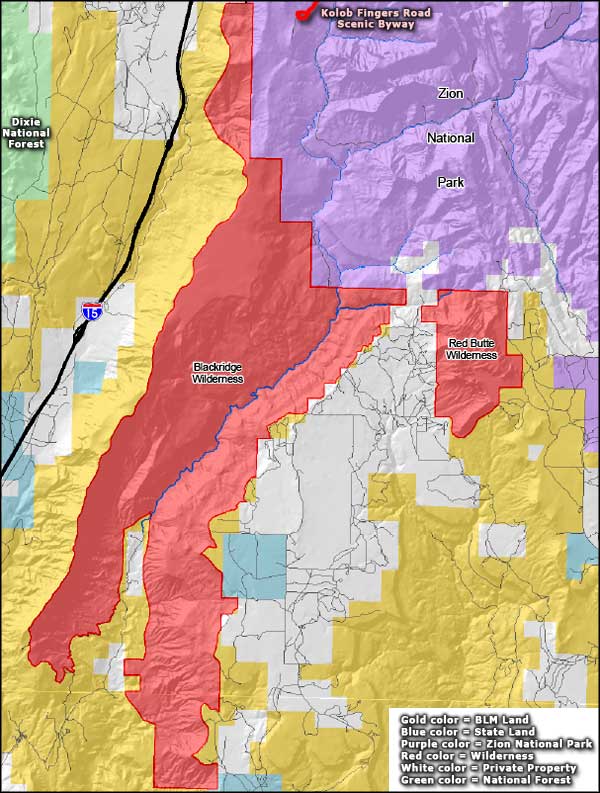 Map of the Red Butte Wilderness area
Red Butte Wilderness
Bureau of Land Management

- St. George Field Office
Photos courtesy of TheArmchairExplorer,
CCA-by-SA 4.0 License
Location map courtesy of the Bureau of Land Management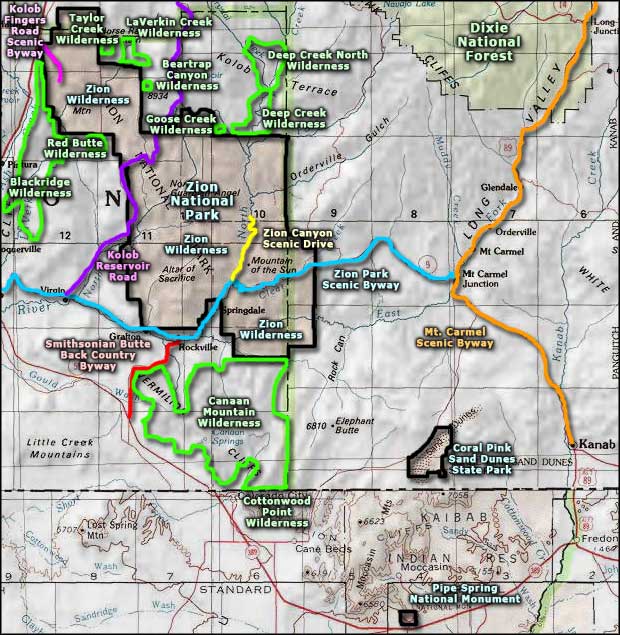 Related Pages
Map courtesy of National Geographic Topo!