Canaan Mountain Wilderness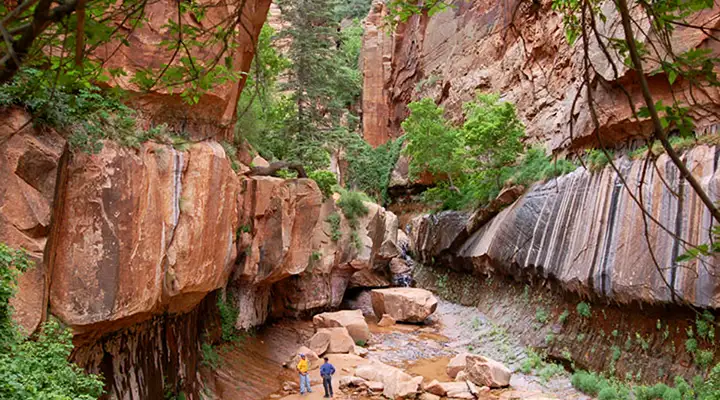 Hikers in Water Canyon at Canaan Mountain Wilderness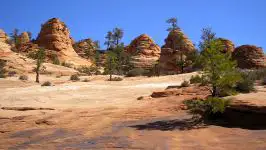 Canaan Mountain Wilderness is comprised of about 44,447 acres of red rock country in southern Utah. Just to the north is Zion National Park (the Zion Wilderness section), to the south is Cottonwood Point Wilderness (in Arizona). The Smithsonian Butte Backcountry Byway winds around part of the northwest boundary.
Canaan Mountain is a heavily eroded 8-mile by 10-mile block of Navajo sandstone, bounded by 2,000-foot high cliffs. The landscape is a mix of slot canyons, natural arches, hoo-doos and high vertical cliffs. The very highest areas offer some shade under stands of Ponderosa pines but the lower elevations only offer stunted pinyon pines, Utah junipers, scrub oak and sagebrush. Some of the canyon walls seep water which feeds into small gardens of columbine, maidenhair fern and monkeyflower. There is also enough (just barely) water to support a population of cottontail, jackrabbit, coyote, mule deer, black bear, ring-tailed cat and mountain lion.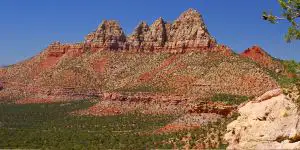 From Hildale, at the southern end of the property, there are a couple of access trails that lead to more trails that follow steep canyons up into higher country. The Sawmill Trail is the longest trail on the property, running sort-of east/west along the upper sections of a plateau following an old logging road. The northern section of the wilderness only offers one trail and that trail provides access to Eagles Crag, a 5,200-foot high chunk of spectacular rock. All the routes on Canaan Mountain Wilderness are primitive at best: nothing is maintained and little is marked.
Canaan Mountain Wilderness
Bureau of Land Management

- St. George Field Office
Upper photo courtesy of Don Banks, Bureau of Land Management
Lower large photos courtesy of TheArmchairExplorer,
CCA-by-SA 4.0 License
Other photos and map courtesy of the Bureau of Land Management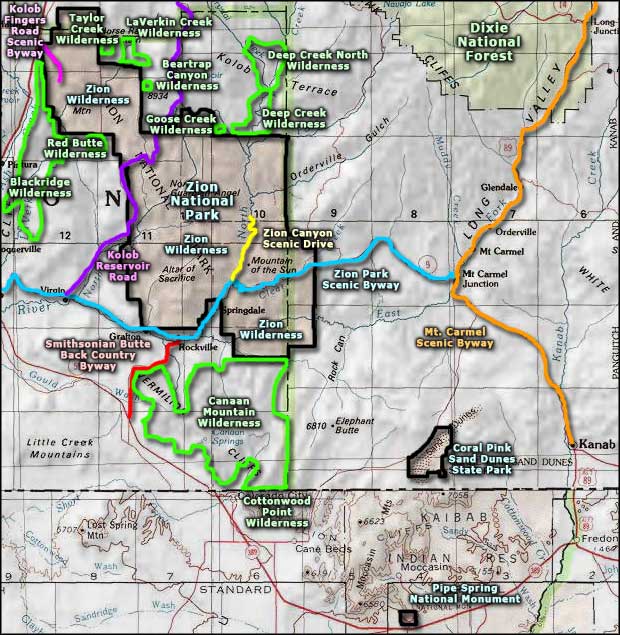 Related Pages
Map courtesy of National Geographic Topo!