Dead Mountains Wilderness
Typical scene in Dead Mountains Wilderness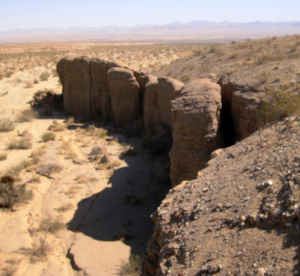 Along the edge of a wash
Dead Mountains Wilderness is a 47,158-acre property in the Mojave Desert of southern California. The northeast boundary of the property is the California-Nevada state line.
Central to the wilderness is the Dead Mountains range itself. The high point is about 3,598 feet above sea level at the summit of Mount Manchester. The property drops off to the west across alluvial fans and washes to Piute Wash. To the east the property drops across alluvial fans and washes toward the Colorado River. The low point is around 2,000 feet above sea level.
The Dead Mountains are composed mostly of a dark volcanic material and the bajadas around them tend to be colored in shades of red and black. Vegetation in the wilderness is typical of the Mojave Desert: creosote bush scrub in the lower elevations, mixed desert scrub higher up. The Dead Mountains is also the northernmost wilderness in the California Desert Conservation Area in which smoketrees grow.
Wildlife in the wilderness include bighorn sheep, coyote, cougar, bobcat, black-tailed jackrabbit, kangaroo rat, ground squirrel, quail, roadrunner, prairie falcon, red-tailed hawk, golden eagle, rattlesnake and several species of lizards. The eastern and northeastern regions of the wilderness have also been classed as habitat critical to the survival of the threatened desert tortoise.
Most folks access the Dead Mountains Wilderness by going north out of Needles on the River Road for about 16 miles. On the left will be a rock cairn next to the dirt Mojave Road. The Mojave Road travels northwest, paralleling the state line and the northeast boundary of the wilderness.
Some miles to the southwest is Bigelow Cholla Garden Wilderness, some miles to the south alongside the Colorado River is Chemehuevi Mountains Wilderness.
Prehistoric rock art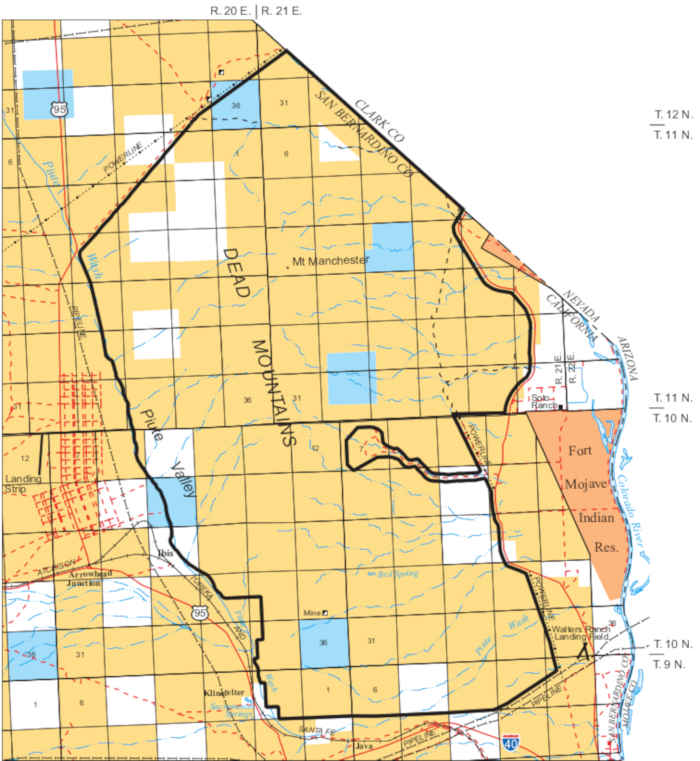 Dead Mountains Wilderness
Bureau of Land Management

- Needles Field Office
Upper photo courtesy of TheArmchairExplorer,
CCA-by-SA 4.0 License
Upper left photo and map courtesy of the BLM