Chemehuevi Mountains Wilderness

Chemehuevi Mountain, in the Chemehuevi Mountains Wilderness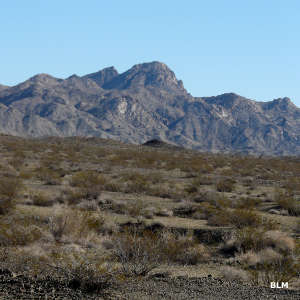 Chemehuevi Mountains Wilderness is an 85,864-acre property in the eastern Mojave Desert. About half the eastern boundary of the property is against the boundary of Havasu National Wildlife Refuge, just off the Colorado River. The other half is against the Chemehuevi Indian Reservation. The rest of the wilderness area is completely encircled by roads and powerline and pipeline corridors.
The majority of the wilderness area is taken up with the Chemehuevi Mountains, a rugged range laid out in the shape of a horseshoe with the opening to the east. The central valley in the horseshoe is composed of low, rolling hills covered with a dense fabric of cholla, other cactus, ocotillo and the occasional agave. The wide bajadas that encircle the mountains on the outside are vegetated with creosote bush scrub. The major body of the mountains is granitic, in some places almost white granite. However, a few miles up from the Colorado River, the rock turns dark and forms spires and blocks obviously of volcanic origin.
A number of springs and seeps have been found in the area. The broad, sandy, tree-lined Trampas and Red Rock Washes cross the wilderness area east/west.
Wildlife in the area includes bobcat, cougar, bighorn sheep, wild burros, mule deer, coyote, black-tailed jackrabbits, kangaroo rats, quail, ground squirrels, rattlesnakes, and various species of lizards. The far southwestern portion of the wilderness contains habitat critical for the survival of the threatened desert tortoise.
Most folks seem to get there by going south from Needles on US Highway 95 for about 10 miles to a dirt pipeline road that travels east along the northern boundary of the wilderness. The wilderness boundary itself is set back to the south about 30 feet from that dirt road.
Camping is allowed with a 14-day stay limit. After that, the campsite needs to be moved at least 25 miles away.
A few miles to the west is Stepladder Mountains Wilderness.

Another part of the Chemehuevi Mountains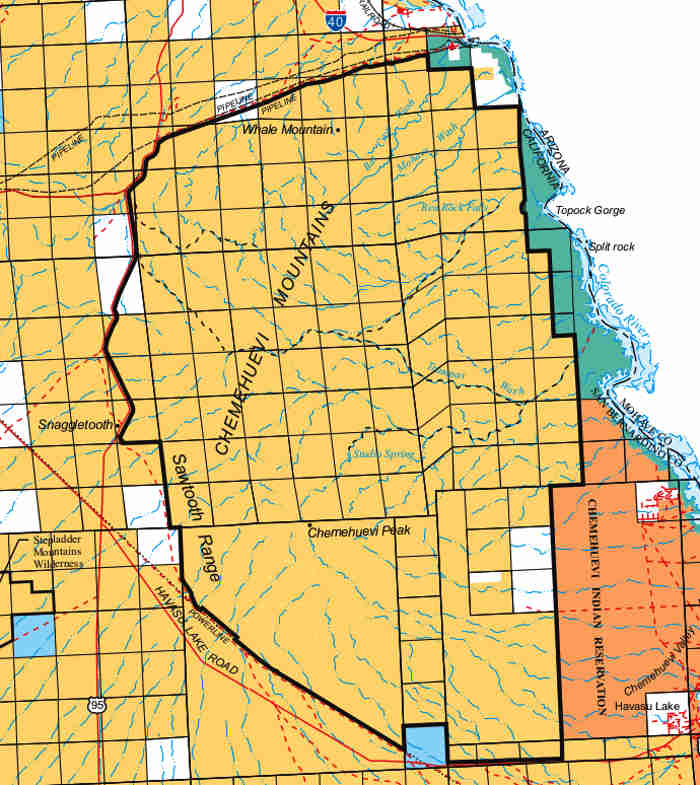 Chemehuevi Mountains Wilderness
Bureau of Land Management

- Needles Field Office
Lower photo courtesy of Chris Barns, BLM,
CCA 2.0 License
Other photos and map courtesy of the BLM