Stepladder Mountains Wilderness

Stepladder Mountains Wilderness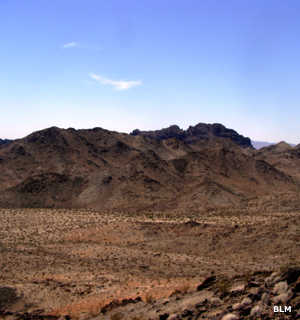 In Stepladder Mountains Wilderness
Stepladder Mountains Wilderness is an 83,195-acre property in the Mojave Desert of southern California. The Stepladder Mountains themselves only occupy about 15% of the wilderness area, the rest is filled with long alluvial plains called bajadas (materials eroded from the core of the mountains and washed down over the millenia). It's perfect habitat for the threatened desert tortoise.
The Stepladder Mountains are a low, volcanic range that runs north-south for about 10 miles on the western side of the wilderness. To the west are long alluvial fans and their associated drainage washes dropping to Homer Wash. To the east are also long alluvial fans and washes, dropping to Chemehuevi Wash and then south.
The primary vegetation in the area is a creosote bush scrub that gives way slowly to mixed desert scrub as the elevation rises. Some of the washes are wet enough to support small stands of catclaw acacia, smoketree and palo verde. The wilderness also sports a small stand of Crucifixion thorn and a dense clump of teddy-bear cholla.
Wildlife in the area includes cougar, bobcat, coyote, desert tortoise, ground squirrel, quail, roadrunner, rattlesnake and several species of lizards.
Stepladder Mountains Wilderness was included in Mojave Trails National Monument when that was created in February, 2016. To the south, across a road corridor, is Turtle Mountains Wilderness. Bigelow Cholla Garden Wilderness is to the north, Piute Mountains Wilderness to the northwest and Chemehuevi Mountains Wilderness to the east.

The Stepladder Mountains from a distance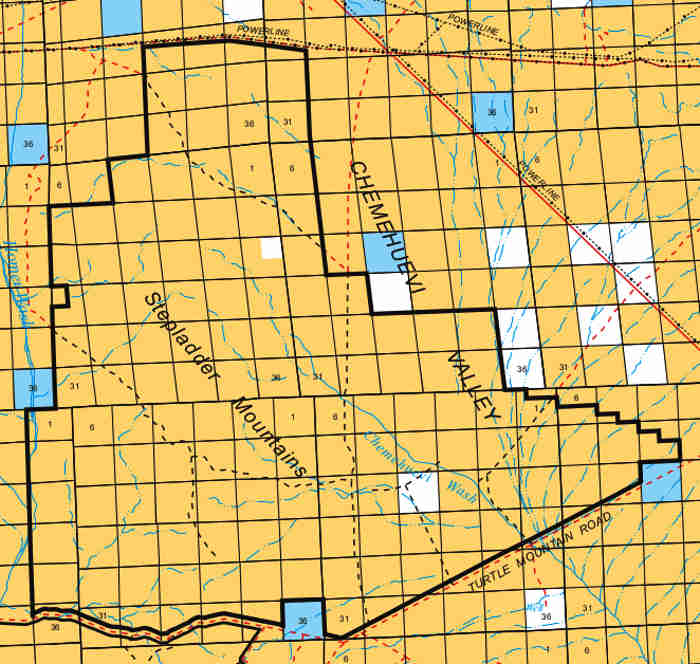 Stepladder Mountains Wilderness
Bureau of Land Management

- Needles Field Office
Upper and lower photos courtesy of Chris Barns, BLM,
CCA 2.0 License
Upper left photo and map courtesy of the BLM