Badger Creek Wilderness
Along the Divide in Badger Creek Wilderness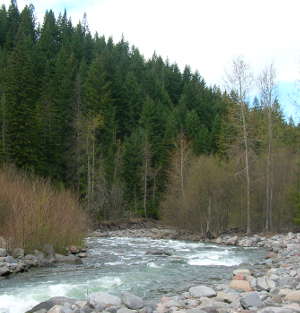 Badger Creek
Badger Creek Wilderness is a 29,057-acre property in Mount Hood National Forest. The original wilderness declaration happened in 1984, then new acreage was added in 2009. Mount Hood Wilderness is just to the west, across Oregon Highway 35.
The highest point in the wilderness is Lookout Mountain (6,525'). The wilderness area drops off to the east and south from there, from the subalpine forests to the dry and arid pines, oaks and grasslands. The wilderness is drained by three creeks: Badger Creek, Tygh Creek and Little Badger Creek. The creeks (and the glaciers before them) have eroded steep (30-to-70° slopes) canyons through the countryside. The streambeds are dominated by mountain hemlock.
There are about 55 miles of trails in the wilderness, including the 11.9-mile Badger Creek National Recreation Trail which runs beside the creek its whole route.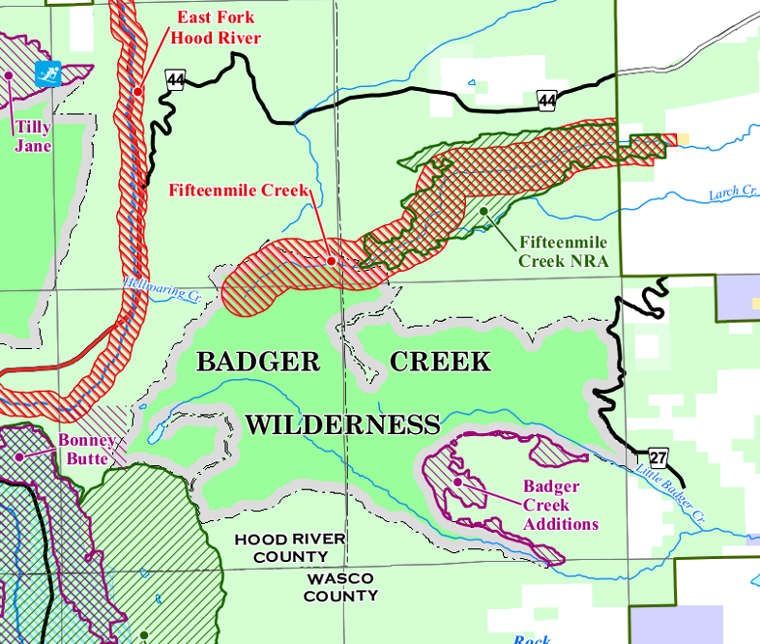 Upper photo and maps courtesy of the US Forest Service