Mount Evans Wilderness
Abyss Lake, on the southwest side of Mt. Evans
The 74,401 acre Mt. Evans Wilderness was created under the Colorado Wilderness Act of 1980. The south half is on the South Platte Ranger District of Pike National Forest and the north half is on the Clear Creek Ranger District of Arapaho-Roosevelt National Forest.
Because of its close proximity to Denver (just look to the east and there's the city laid out below), this Wilderness has a less remote feel than most. Mt. Evans (14,264') and Mt. Bierstadt (14,060') attract a lot of traffic, especially on summer weekends and long holidays. The Mt. Evans Scenic Byway, a non-wilderness corridor to the top of Mt. Evans, is the highest paved highway in North America. Despite this, the area offers glacier-carved landscapes with steep, rock walled glacial cirques containing alpine lakes and moraines left behind when the ice packs receded. The Wilderness contains large areas of alpine tundra as well as small regions of arctic tundra (rare south of the Arctic Circle). Typical Colorado alpine tundra is dry and brittle once the snow recedes but arctic tundra holds numerous small pools of water. 2,000-year-old Bristlecone pines, bighorn sheep and mountain goats are common sights on Mount Evans. Wilderness elevations range from 8,600' to 14,264'. Approximately 105 miles of trails provide access to the Wilderness.
Required Registration: Beginning in the spring of 2005, the Forest Service implemented a mandatory self-issuing permit system. The permits are available free at each trail head. As you enter the Wilderness, fill out the provided permit and deposit the white paper copy in the slot in the lower front of the register box. Keep the yellow tag in your possession and follow the Wilderness regulations found on the back.
Mount Evans itself is named for John Evans, Colorado's second territorial governor. Evans had originally named Mount Evans for his wife, Rosalie, but it was later renamed in his honor and a nearby 13,575' summit was then named Mount Rosalie. Neighboring Mount Bierstadt is named for Albert Bierstadt, a well-known landscape painter of the American West from the late 1800s.
Maps
The following maps cover the Mount Evans Wilderness:
National Forest Maps

Arapaho-Roosevelt National Forest
Pike National Forest

National Geographic/Trails Illustrated

#104 Idaho Springs, Georgetown, Loveland Pass

USGS 7-1/2 minute Quadrangles

Georgetown
Harris Park
Idaho Springs
Meridian Hill
Mount Evans
Mount Logan
Shawnee
Mount Bierstadt from the summit of Guanella Pass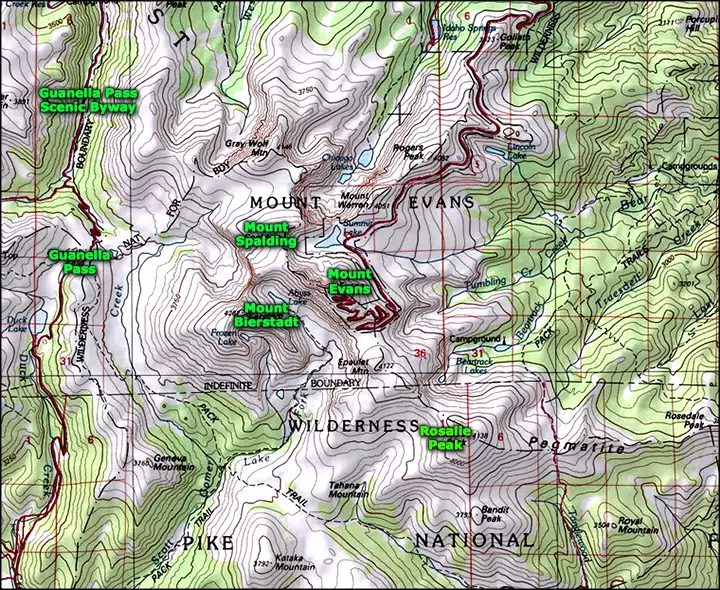 The heart of Mount Evans Wilderness
Mt. Evans Wilderness
Arapaho-Roosevelt & Pike National Forests -

US Forest Service

Photo of Abyss Lake courtesy of the US Forest Service
Photo of Mount Bierstadt courtesy of Sally Pearce
Map courtesy of National Geographic Topo!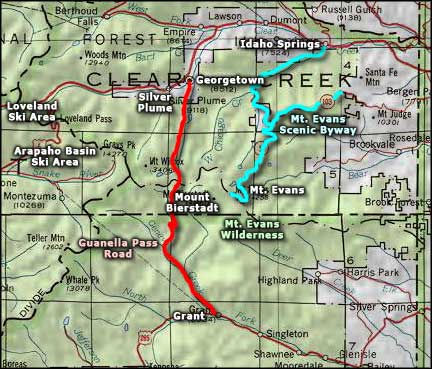 Related Pages
Map courtesy of National Geographic Topo!