Towns and Places in Colorado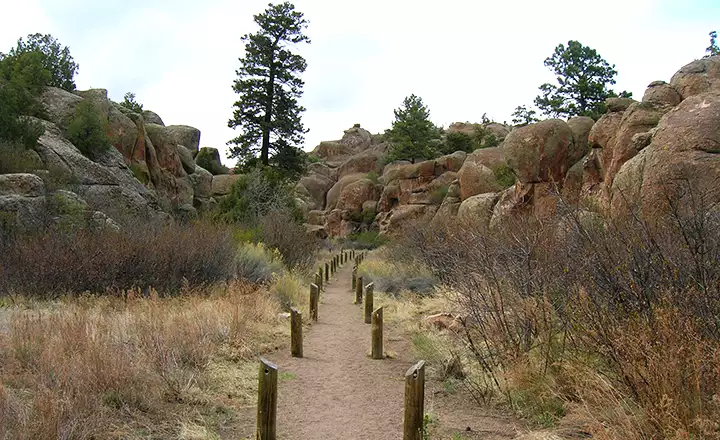 At the entrance to Penitente Canyon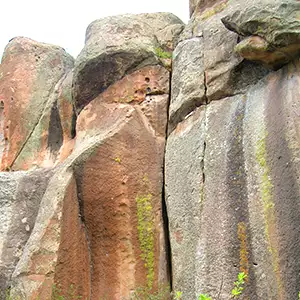 When I say "Towns and Other Places in Colorado," I'm indicating that there's a lot of material to work with. There are incorporated cities, incorporated towns, unincorporated towns, and unincorporated rural areas. We have Native American settlements and mining/ranching ghost towns. Some places have been occupied for over 1,000 years, others went from boom to bust in less than 10 years. They are "Towns and Other Places."
What I am trying to do here is to give you, my reader, a small snapshot of what is really here. 100 years ago, this countryside and some of its' inhabitants were the main characters in some pretty wild ten-cent novels sold all over the world. A lot of those novels were transmogrified into television series and moves. If you're like me: raised in America and educated in public schools, quite a few of us ended up with a very slanted view of the Wild West and what it was really like. What I am showing on these pages is the present reality. Combine that with some historical facts and a different picture of the realities of the Wild West emerges... then again, all the blah, blah facts and history don't make much difference: this is still gorgeous and wild countryside with quite a few quaint little towns and some small cities scattered around. Then there's the Front Range megalopolis...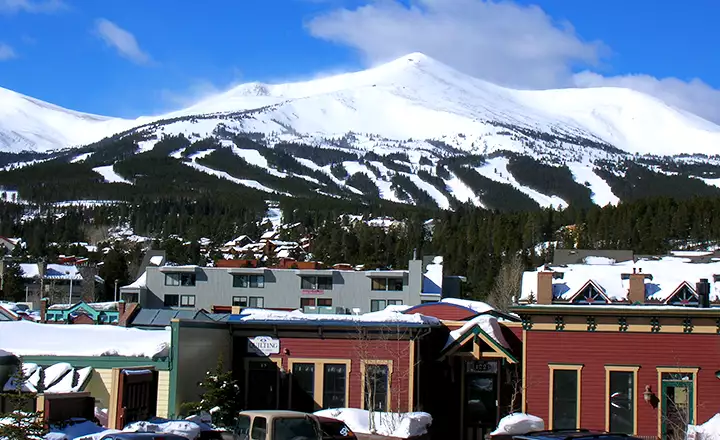 Breckenridge, Colorado
Some of the towns in our area are going through a kind of urban renewal where they rebuild downtown in a replica of what it was like in Victorian days, except this time, the streets are brick and pavement instead of dirt and mud, and there isn't horse manure or cow patties all over the place. Some towns, like Cripple Creek, Black Hawk and Central City, are being rebuilt as a kind of throwback to the early days of saloons and poker tables. It was originally touted as a means of "saving our Victorian architectural heritage" but in some cases it's not working out like that. What it has done, though, is offer local limited stakes gaming and raised money for the Colorado Historical Society to invest in preserving other historical sites and artifacts. There are casinos operating on a couple of Colorado's Native American reservations, too, but those don't offer the proximity to the Front Range population centers that Cripple Creek, Central City and Black Hawk offer. Colorado also offers the Colorado Lottery and participation in a multi-state Powerball and "Mega Millions" program through many commercial outlets around the state. These days, that seems to be the only retirement plan that many folks have in place...
Las Animas and Huerfano Counties in Colorado, and Colfax County in New Mexico, all had significantly larger populations in 1900 than in 2020. That was because of the coal mines. Most of those were closed by 1957 and almost all those folks left. The population of southeastern Colorado and northeastern New Mexico also took a large hit with the Great Depression and the years of the Dust Bowl. Another several years of drought in the late 1950s, early 1960s wiped out quite a few of the remaining ranch/farm towns and left lots of broken down relics around, outside of the major towns in the area. Scattered across the mountainous areas of Colorado there are the remains of boom-and-bust mining camps from the 1800s. On the eastern plains are the remains of many towns that just dried up and blew away during the Dust Bowl and droughts of the 1950s and 1960s, along with the ruins of other towns that were decimated in the aftermath of the commodities market manipulations of the mid-1950s. Colorado just doesn't have a history of financial stability since the Europeans arrived... and even the Native Americans tell stories of past wet and dry periods that caused massive migrations of the tribes across this beautiful landscape.
Now, we're seeing a wave of baby-boomers looking at the neighborhood with an eye to spending the rest of their lives in a mostly unpopulated, mostly unpolluted but quickly being bought up countryside.
That's why I built this website: what you see here is based mostly on my own explorations. And, as you can see, I'm a bit in love... that's how this site got out of hand...
---
2020 Colorado Population Demographics
2020 Census Numbers
Total Population: 5,773,714
Males: 2,944,594
Females: 2,829,120
Under 18: 1,259,031
18-24: 525,141
25-34: 892,273
35-49: 1,146,242
50-64: 1,053,902
65 & older: 808,337

Population by Race:
White: 4,089,202
African-American: 201,737
Asian: 139,028
American Indian, Alaskan Native: 56,010
Native Hawaiian, Pacific Islander: 6,623
Other: 364,140
2 or more: 172,456
Hispanic or Latino: 1,263,391
Non Hispanic or Latino: 4,510,323

---
Colorado by Counties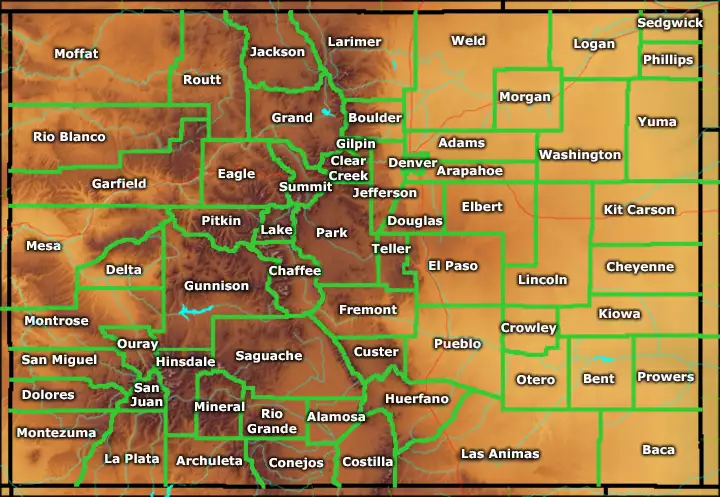 The map above shows all the counties in Colorado except one: Broomfield. Broomfield is a city/county right next to Denver and is just too small an area to show on the map. You can use either of lists below to see more. These pages have a bit of data (some more than others) and pannable, zoomable maps on them. Most also have links to whatever other information I have about those counties that is located within this website.
---
Towns and Other Places in Colorado
Slowly I add new names to the list below. Museum listings and other Touristic Activities show up on some of these pages. What you see here is mostly the results of my own explorations.