Commerce City, Colorado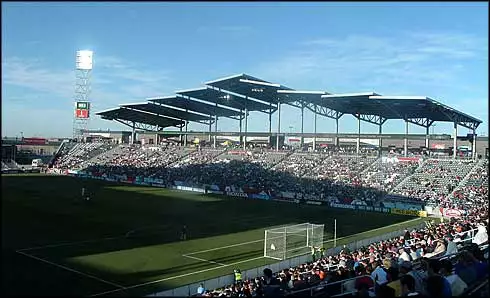 Dick's Sporting Goods Park, home of Major League Soccer's Colorado Rapids
Commerce City seems to be booming with an estimated 60%+ population growth just since the year 2000. The city is a mix of residential and industrial areas with the Mile High Greyhound Park dog racing track inside the city limits. The city is also home to a Suncor Energy oil refinery capable of processing 90,000 barrels of crude oil per day (the largest oil refinery in the Rocky Mountain region). The Colorado Rapids of Major League Soccer fame have their home at the Dick's Sporting Goods Park (opened in 2007) in Commerce City.
Among the first "permanent" establishments in what is now Commerce City were a couple of large cemeteries. Riverside Cemetery was established in 1876 at what is now the corner of East 52nd Avenue and Brighton Boulevard. In 1892, the United Hebrew Cemetery Association established the Rose Hill Cemetery in the heart of what is now historic Commerce City.
This part of Adams County saw the establishment and abandonment of several towns: Derby (a Burlington Railroad station - laid out in 1889, vacated in 1891), Irondale (named after an iron foundry - 1889, incorporated in 1924, unincorporated in the 1930's) and then Adams City (laid out in 1903, vacated in 1922). Commerce Town was incorporated in 1952 to prevent the City and County of Denver from swallowing the area whole. Then Commerce Town annexed part of the Derby area in 1962 and gained enough population to qualify as a city under the Colorado statutes. That's when the name was changed to Commerce City.
The 12,500-acre Rocky Mountain Arsenal National Wildlife Refuge is just east of Commerce City.