Barr Lake State Park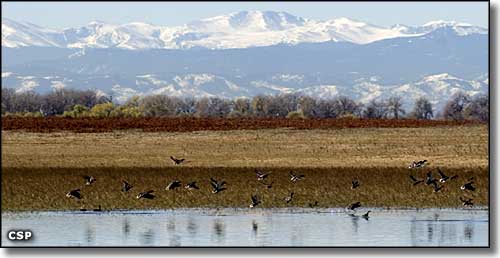 Barr Lake on a fall morning
Barr Lake State Park is just a few miles northeast of Denver near Brighton. Barr Lake State Park offers something for everyone from the bicyclist to the naturalist, bird-watcher, hiker, horseback rider, boater and fisherman. This is a park to drive to, not "drive through." With the centerpiece being a 1,900-acre, cottonwood-lined lake with marshes and many aquatic plants, this 2,715-acre park harbors a wildlife refuge on the whole southern half of the lake with more than 350 species of birds to be seen at different times of year. There is a level, 8.8-mile, multi-use trail that circles the lake and passes by the wildlife refuge and several wildlife viewing stations that are small shelters to screen the viewer from the birds and also give some protection from the weather. A 1.3-mile walk connects the Nature Center with the Gazebo Boardwalk where you'll find a spotting scope and excellent views of the rookery. At least one pair of nesting bald eagles stays here and raises new broods every year, but other bald eagles do come in for the winter. You can learn more about them through the displays in the Barr Lake Nature Center. Barr Lake also serves as the headquarters for the Rocky Mountain Bird Observatory, a research, education and conservation organization.
Powerboats are limited to gasoline motors of less than 10 horsepower or electric trolling motors. That helps to make this lake a nice refuge for fishing, canoeing and kayaking. You'll find channel catfish, rainbow trout, largemouth bass, smallmouth bass, bluegill, walleye, tiger muskie and wiper in these waters. The wildlife refuge part of the lake is marked by a line of buoys stretching across the lake. The boat ramp is adjacent to the north parking lot. Barr Lake State Park also offers 3 picnic areas with tables and grills, plus the Meadowlark Picnic Pavilion, a reservable group picnic area.
On weekends from mid-May through September you can catch a ride on the Eagle Express: a 13-passenger motorized cart that carries bird watchers over Barr Lake''s many trails with naturalist/bird watching guides. Usual times are on Saturdays from 10 am to Noon, and on Sundays from 11 am to 1 pm. Meeting place is the Nature Center.
In the late 1880's, Barr Lake was promoted as the "finest fishing area in the west." However, not too many years later, the fishery was being destroyed by agricultural and industrial pollutants. This also had a negative effect on the bird-watching in this premier area but laws enacted in the 1960's finally began to curb the pollution problem.
Barr Lake is owned and operated by the Farmers Reservoir and Irrigation Company. Along the eastern edge of the lake is the Denver-Hudson Canal, owned and operated by the Henrylyn Irrigation District. Colorado State Parks operates Barr Lake State Park under a perpetual easement with these 2 companies but the lake is managed for irrigation purposes first and recreation second.
Barr Lake State Park Rules & Regulations
The park is open daily, 5 am to 10 pm.
Pets must be controlled on leashes of 6 feet or less. No pets allowed in the wildlife refuge.
Vehicles are allowed in designated areas only.
No diving, swimming or wading allowed.
Fires are allowed only in the provided grills.
Due to safety hazards, no one is allowed on the dam face or on other irrigation structures.
Waterfowl hunting is allowed only during the regular, legal waterfowl seasons. And even then, it is restricted to certain days in the week (Wednesdays and Saturdays from October through February) and to blinds located in the area north of the dam. Registration with the park office is required. No other hunting or trapping is allowed.
Also prohibited is the collecting of any living or dead wood, plants, insects or wildlife, etc.
In the wildlife refuge, visitors are required to stay on designated trails. And all boating, fishing, pets and fires in the wildlife refuge are prohibited.
Upper photo of Barr Lake State Park courtesy of Colorado Parks and Wildlife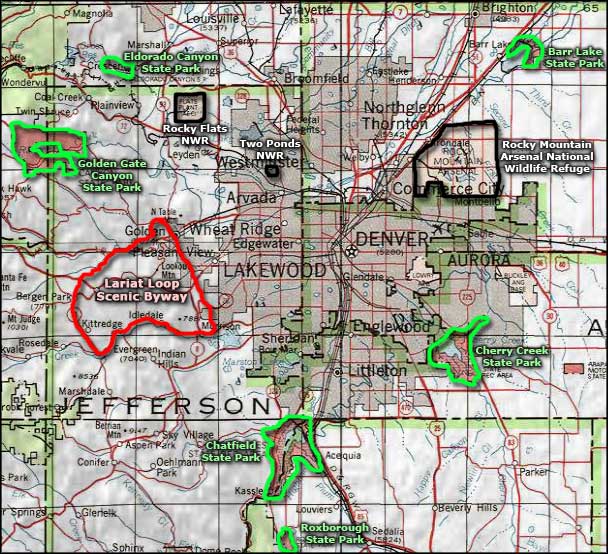 Related Pages
Map courtesy of National Geographic Topo!