Eldorado Canyon State Park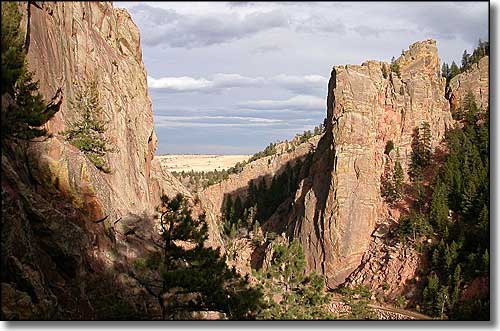 Redgarden Wall on the left, The Bastille on the right
Near the entrance to Eldorado Canyon State Park
Located just outside Boulder on South Boulder Creek, Eldorado Canyon State Park is one of those places known world-wide for its rock climbing opportunities: there are more than 500 established technical rock climbing routes inching their ways up these beautiful, sheer, golden sandstone cliffs. As enticing as those rock walls are, there are also some 11 miles of hiking and mountain biking trails here, many of which connect directly with the trails of the City of Boulder system. There are several good picnic spots and the fishing in South Boulder Creek is excellent. In winter this is a favorite spot for snowshoeing and cross-country skiing. From May to September, Eldorado Canyon State Park sees full capacity crowds on weekends and holidays, so: fair warning!
A town named Eldorado Springs was established near the entrance to Eldorado Canyon around 1900. The town was primarily a resort for the elite and in addition to warm artesian springs, visitors were offered lush hotels with names like the Eldorado, the Grand View and the Crags Hotel. Many well-to-do Denver residents and other celebrities enjoyed the environs until a fire in 1912 wiped out everything. There was also a fellow named Ivy Baldwin who, between 1906 and 1949, regularly performed tight rope acts on a line stretched across the canyon 580' in the air.
Eldorado Canyon State Park Rules & Regulations
Stay on designated trails and help reduce erosion.
Keep all pets under control and on a 6 foot or shorter leash at all times.
Collecting or rocks, flowers, dead or downed wood or any other natural materials is not allowed.
This is a day-use only park, open from dawn to dusk all year round.
Neither camping nor swimming are allowed.
Open fires are allowed only in the grills or fire rings provided.
Mountain biking and horseback riding are allowed only on the park roadway and certain selected (marked) trails.
Carrying or use of firearms is allowed only when legally hunting in designated areas during established seasons.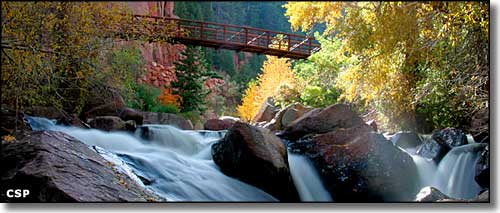 Eldorado Falls
Eldorado Canyon State Park

Upper photo of Eldorado Canyon State Park courtesy of Wikipedia userid OMCV
Lower photo of Eldorado Falls courtesy of Colorado Parks and Wildlife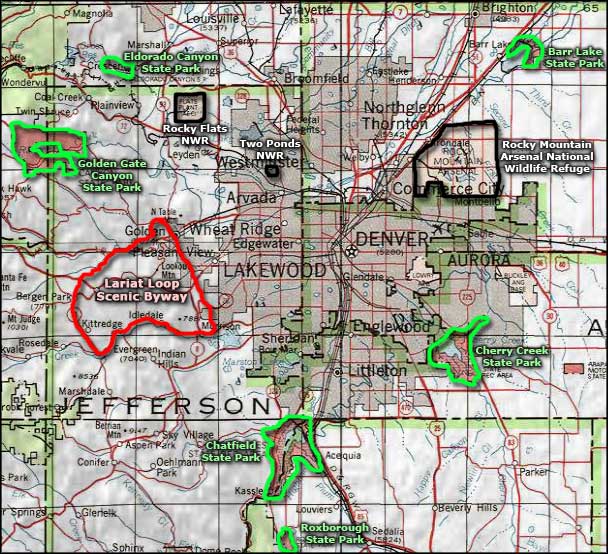 Related Pages
Map courtesy of National Geographic Topo!