Lariat Loop Scenic Byway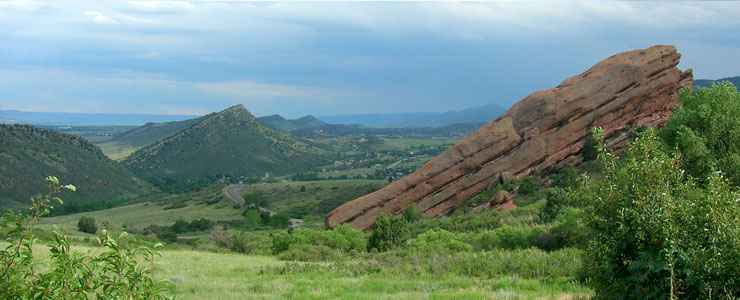 The view looking south from Red Rocks, along the Lariat Loop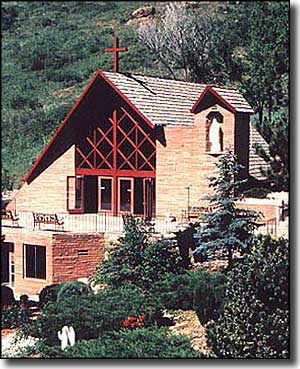 The Lariat Loop Scenic Byway is a 40-mile loop that includes the Bear Creek Canyon Scenic Mountain Drive and the Lariat Trail Scenic Mountain Drive, two roads built by the City and County of Denver in 1912-1914 to help bring the city's populace to the Denver Mountain Parks System. The route runs through Evergreen, Morrison and Golden, all towns established as supply centers for miners working the mountains west of Denver in the mid-to-late 1800's. The route also passes Lookout Mountain outside of Golden, home of the Buffalo Bill Museum and Grave. Lookout Mountain Drive is a spectacular engineering feat that challenges drivers and mountain bikers alike.
In areas along the Lariat Loop you'll find dozens of open space parks, museums, heritage sites, art galleries and historic structures. You'll also find lots of access to hiking and biking trails that lead into the canyons, meadows and foothills that make up the countryside here on the Front Range of the Rocky Mountains. Red Rocks Park and Amphitheatre, a world-class entertainment venue, is located along the Lariat Loop just outside Morrison.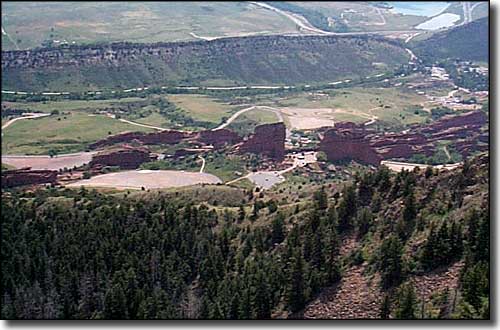 Red Rocks Amphitheatre in Morrison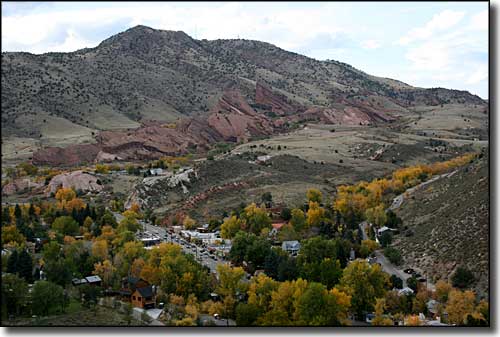 A view of Morrison and the Red Rocks/Dakota Wall from the summit of Mt. Morrison
Top photo courtesy of TheArmchairExplorer,
CCA-by-SA 3.0 License
Bottom photo courtesy of Joe
Other photos are in the public domain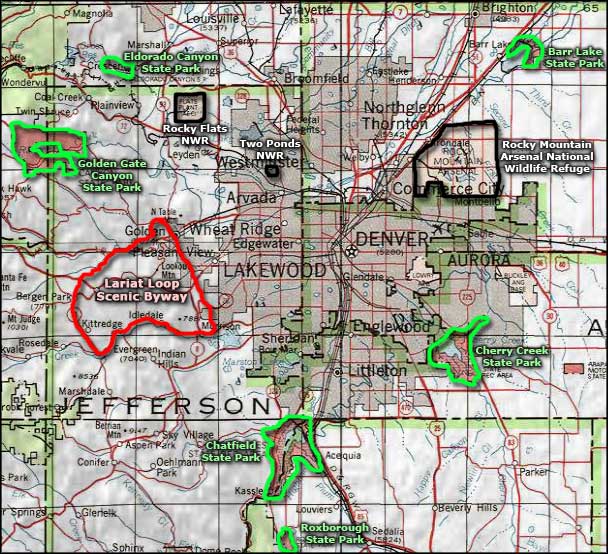 Related Pages
Map courtesy of National Geographic Topo!