Lyons, Colorado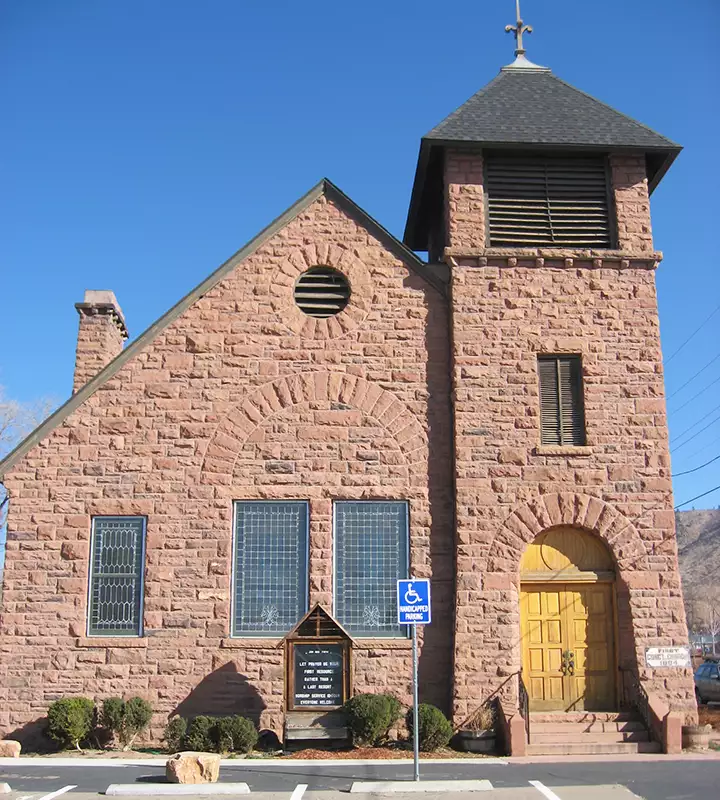 The First Congregational Church in Lyons, built of local red sandstone in 1884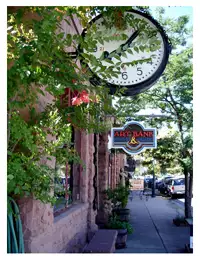 Lyons is a small town located at the junction of U.S. Highway 36 and State Route 7, two of the main conduits to Rocky Mountain National Park. The town is named for Edward S. Lyon, an early settler who bought 160 acres from H.F. and Isabelle Sawyer in 1880 and he platted the townsite in 1882. Edward came to the area from Putnam, CT on the advice of his doctor.
The town of Lyons is located at the confluence of the South and North St. Vrain Rivers in a valley with red sandstone mountains on three sides and flat plains stretching away to the east. Because of the nearness and hardness of that red sandstone, many of the historic buildings in town are built of it. When the Denver, Utah & Pacific Railroad narrow gauge track arrived in 1884, the sandstone business really grew with some rock being shipped as far as Chicago and New York for building those famous historic brownstone houses. Some of the sandstone went into building the Colorado University campus in Boulder.
When gold was found up the hill in South St. Vrain Canyon, wide gauge tracks were laid into Lyons and the town became a major shipping point for gold ore and sandstone products via the Union Pacific, Chicago, Burlington & Quincy, Burlington & Missouri, and Burlington Northern Railroads. The sandstone quarries still play a part in the town's economy but the only railroad left is Burlington Northern Santa Fe. The old stone railroad depot was closed in 1966, then reopened in 1977 as the Lyons Public Library. The largest industry in the area now is the CEMEX plant just east of town.
Presently, Lyons is distinguished as the "Double Gateway to Rocky Mountain National Park." The town also has 2 large open space projects nearby: the Hall Ranch Open Space with 3,206 acres and 12 miles of hiking, biking and equestrian trails, and the Heil Valley Ranch Open Space with 4,923 acres of back country and developed trails. Those two ranches are connected to each other and to Lyons by the Picture Rock Trail.
A Lyons-to-Boulder trail is now in the planning stages but when built, will most likely parallel the Northern Colorado Water Conservancy District irrigation ditch between Lyons and Boulder Reservoir.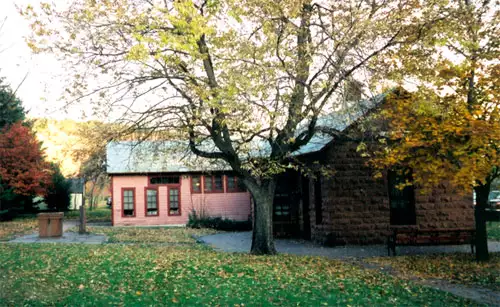 The former railroad depot, now Lyons Public Library