Indian Peaks Wilderness
Storm moving in on the Arapaho Pass Trail
Indian Peaks Wilderness became part of the National Wilderness Preservation System in 1978. Indian Peaks got its name from the many peaks within the area that were named after American Indian tribes of the west.
The 76,711-acre Indian Peaks Wilderness is located within Arapaho-Roosevelt National Forest with Rocky Mountain National Park on the northern boundary and with the James Peak Wilderness on the southern boundary. Indian Peaks is one of the most heavily visited wilderness areas in the United States.
Elevations vary from about 8,400' to just over 13,500'. Almost 35% of Indian Peaks Wilderness is above treeline, with 7 peaks rising above 13,000'. There are more than 50 lakes scattered across this pristine countryside. There are also 28 hiking trails stretching some 133 miles. Everywhere you go here you can see evidence of glacial carving from the last Ice Age and there are still several permanent snowfields in these mountains.
Because of the close proximity of Indian Peaks to the Denver-Boulder Metroplex, there are all kinds of special regulations that apply in this Wilderness. Permits specifying which back-country zone you intend to stay in are required for all overnight use in the Indian Peaks Wilderness from June 1 through September 15. Day use or camping by any and all organized groups (hiking clubs, scouts, etc.) requires permits all year round. There are no campfires allowed east of the Continental Divide nor are campfires allowed around most of the lakes west of the Continental Divide. And except for picnicking and walking around, nearly everything that happens north of the boundary with Rocky Mountain National Park requires a permit. The good thing about this: the permits are free and they help to cut down on the overcrowding.
Lake Isabel, in the Four Lakes Back Country Zone of Indian Peaks Wilderness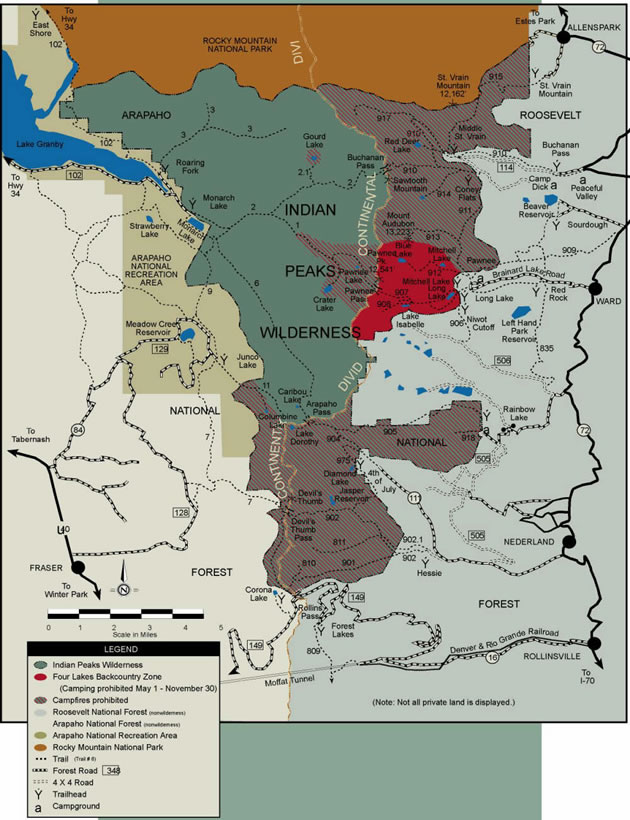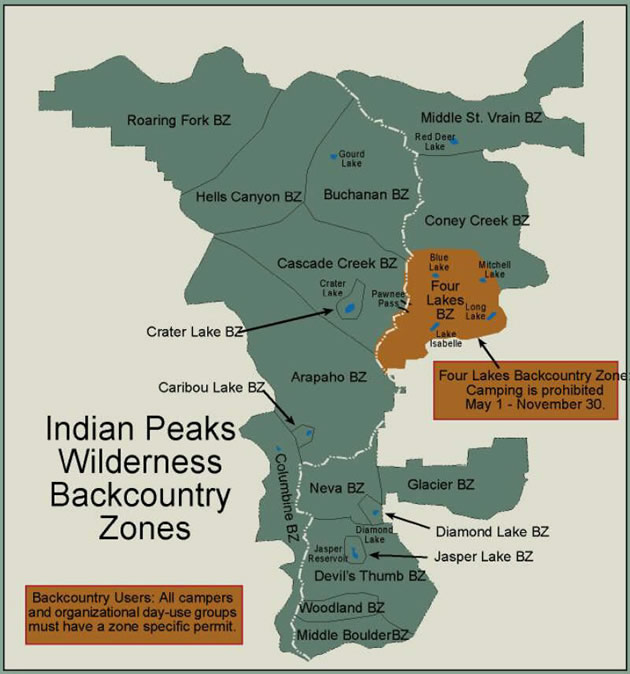 Indian Peaks Wilderness
Arapaho-Roosevelt National Forest -

US Forest Service
2150 Centre Avenue

, Building E,

Fort Collins

,

CO

80526
970-295-6600

Photos courtesy of Phil Armitage
Maps courtesy of the US Forest Service