Louisville, Colorado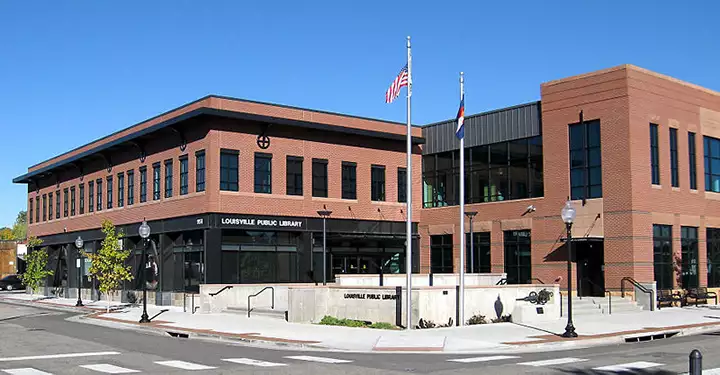 Louisville Public Library, built in 2006
Louisville is one of those cities in Boulder County that started out as housing for miners, then transitioned into a suburban residential community after the mines closed in the 1950's. Louisville is in the heart of what once was known as the Northern Colorado Coalfield, an area that produced a lot of low-grade, sub-bituminous coal. Louisville was named for Louis Nawatny, a local landowner at the time who platted the town on his own property and then named the settlement after himself.
Over the years, some 30 coal mines operated off-and-on within the city limts of Louisville. The 1920's saw a lot of labor unrest and violence in the area. Louisville was not a "company town" and was often the target for bullets fired by various of the strike-breaking organizations brought in by the mine owners during times of labor unrest. Because of that situation, many of the original homes in Louisville had dirt basements for the residents to use for hiding from the random machine gun bullets fired into the town from various of the towers and tipples on some of the mine sites around Louisville (apparently, the method most often employed to "protect" mine property was to randomly fire a few rounds into the town to remind the townspeople as to who was in charge).
Eventually, that high sulphur, sub-bituminous, self-igniting coal became too uneconomical to mine, the coal mines all shut down and Louisville slowly evolved into the city that is now highly recognized for its excellent quality of life (CNN/Money and Money magazine rated Louisville #5 on their list of top 100 best places to live in the U.S. in July 2005; Best Places to Raise Your Family ranked Louisville #1 for best place to raise a family in May 2006; and CNN/Money and Money magazine rated Louisville #3 on their list of top 100 best places to live in the U.S. in August 2007).
All the above said, I think most of Louisville may have been essentially burned off the earth in a catatrophic wildfire a few years ago.