Kit Carson County, Colorado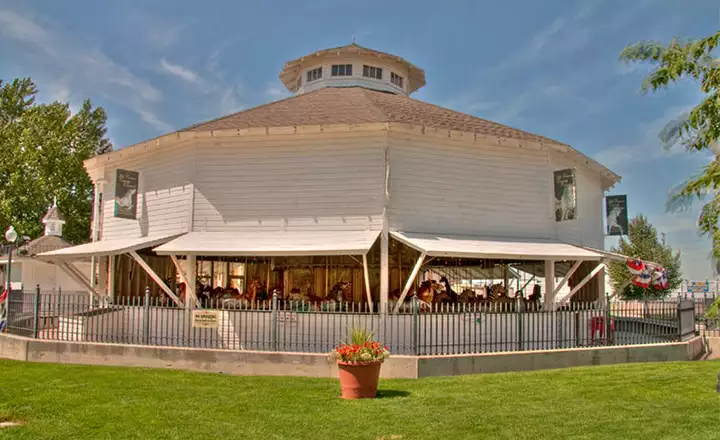 Carousel #6 at Kit Carson County Fairgrounds
Kit Carson County is in the Great Plains area of eastern Colorado with Kansas to the east. Named for Kit Carson, famous explorer, mountain man and Army scout, Kit Carson County contains 2,161 square miles of land and 1 square mile of water. The county seat is Burlington.
The towns in Kit Carson County were all established along the railroad line that crosses the county east-west. Today, the tracks are still there and still in use, but most traffic is on US Highway 24 or Interstate 70, both of which parallel the tracks.
In 1905, the Philadelphia Toboggan Company delivered Carousel #6 to Elitch Gardens in Denver and the carousel functioned perfectly there until the amusement park acquired a new one in 1928. Then Carousel #6 was sold to Kit Carson County. The price of $1,200 included delivery to Burlington by train. By the time the package arrived in Burlington, the Great Depression had hit and the carousel was put into storage until 1937 when it was finally erected and put back into service. The carousel (and its workings) have been restored several times over the years since it was designated a National Historic Site in 1976 and a National Historic Landmark in 1987. At this point in time, it is the only surviving antique carousel in America with its original paint on the scenery and on the animals. It is also the only surviving carousel made by the Philadelphia Toboggan Comany retaining all of its original horses and other animals (which made it a "menagerie" carousel). The carousel is located at the Kit Carson County Fairgrounds and is still in operation.