Breckenridge, Colorado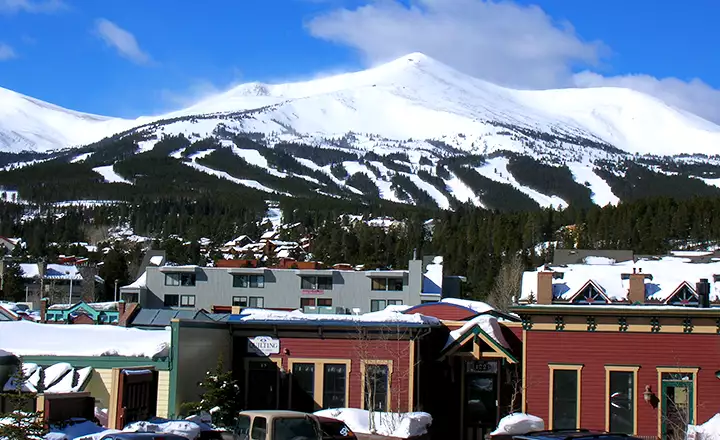 A typical view in Breckenridge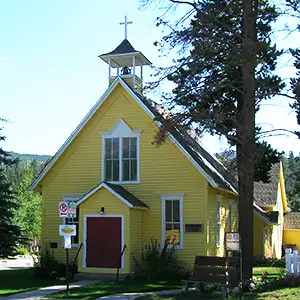 The Town of Breckinridge was formally chartered by General George E. Spencer in 1859, named for President James Buchanan's Vice President, John Cabell Breckinridge. When the Civil War began, Breckinridge's sympathies were clearly with the South and the US Senate expelled him for treason. Embarrassed, the little town of Breckinridge, Colorado quietly changed its name to Breckenridge.
The main part of town was established with Main Street on the east side of and parallel to the Blue River. On the west side of Blue River was "West Breckenridge," an area for inexpensive housing, industry and the red light district. The mining was good and Breckenridge blossomed for several years but by the mid-1860s, the gold veins that fueled its' growth petered out and the population dropped for several years. Then the new technology of hydraulic mining arrived and another boom started. By 1879, Breckenridge was an important hard-rock mining and supply center. The town was formally incorporated in 1880. At that time there were 18 saloons and 3 dance halls lining Main Street while Ridge Street boasted a grocery store, post office, hotel, dry goods store, drug store and an assay office.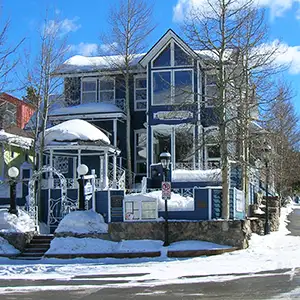 In 1884, a major fire destroyed many buildings on Main and Ridge Streets but because of the easy availability of lumber, everything was rebuilt in wood (very few masonry buildings were ever built in Breckenridge). There were quite a few fires in Breckenridge over the years but what did the most damage to the old buildings in town was the gold dredge.
As in the Alma - Fairplay area on the other side of Hoosier Pass from Breckenridge, the gold-dredging boom lasted from 1898 to 1942, although the population of Breckenridge declined from about 1,000 in 1900 to 254 in 1942. Breckenridge never quite descended to the level of becoming a ghost town: in 1961, Rounds and Porter (a Wichita, Kansas lumber company) opened the Breckenridge Ski Area and a new type of business boom began. When the Eisenhower Tunnel on I-70 was opened in 1973, the ski and tourism business in Breckenridge skyrocketed. As busy as the ski area is in the winter, the highest numbers of tourists actually come to Breckenridge in July and August.
The permanent population of Breckenridge rose from 393 in 1960 to 3,126 at the end of 2002. Housing construction and commercial development have occurred at a very similar growth rate. Breckenridge has been the permanent county seat of Summit County since the town was first established and is looking forward to a very prosperous future.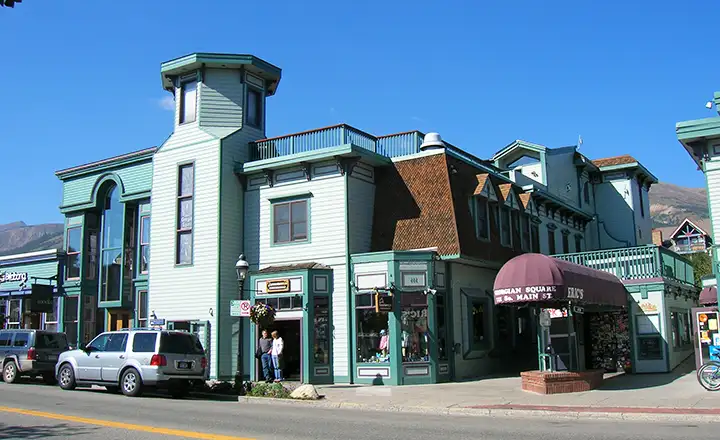 There's some different Victorian architecture in this town, and lots of it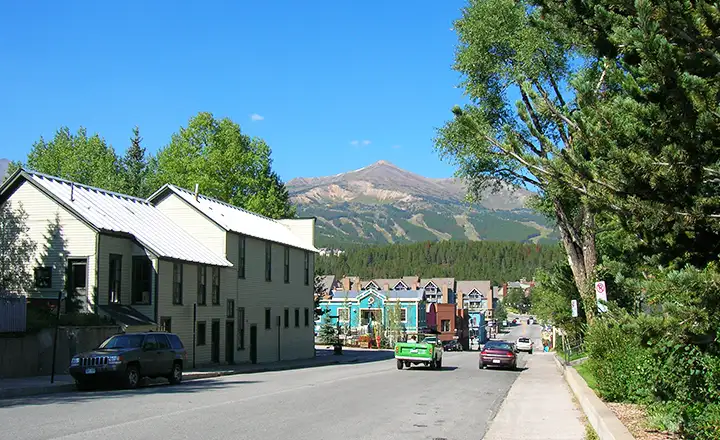 A view looking south across Breckenridge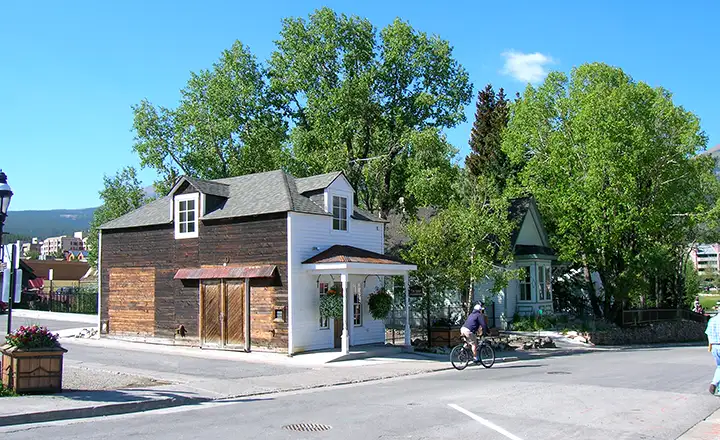 An interesting remodel style...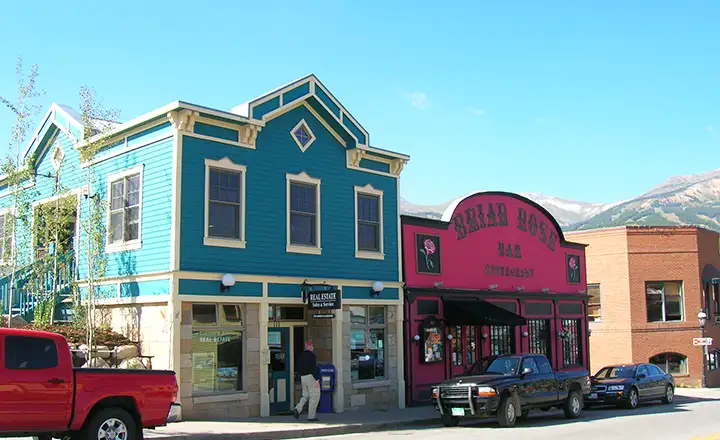 On Main Street in Breckenridge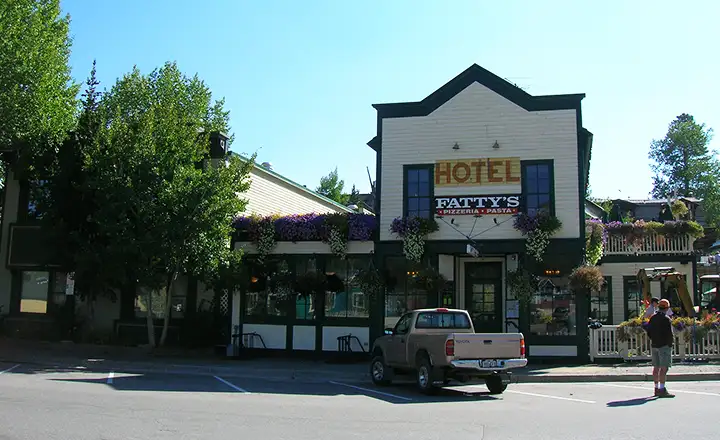 Obviously, times have changed for this former hotel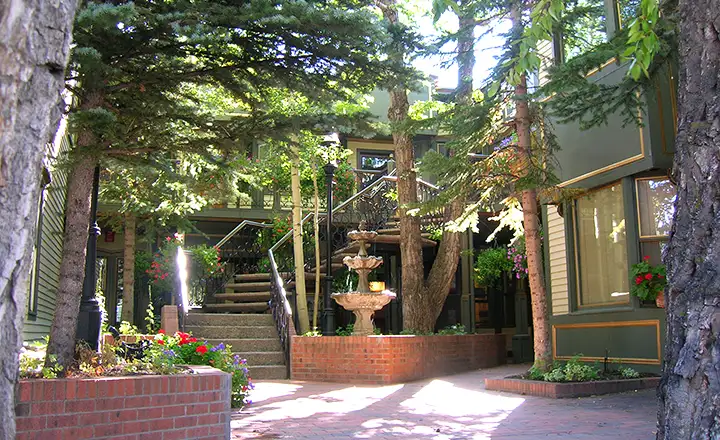 A private courtyard I stumbled across about 2 blocks off Main Street
---
A Few Facts About Breckenridge
POPULATION:
Breckenridge: 4,540 (includes some outlying areas)
Summit County: 27,994
TOWN SIZE:
7 miles long and 2 miles wide
13.93 square miles
2,200 developed acres
1,100 undeveloped acres (30% of town-owned land is zoned for open space)
400 acres of town-owned parks
TOURISM STATISTICS:
Restaurants and Bars: 79
Shops/Boutiques: 180
Liquor Stores: 5
Grocery/Convenience Stores: 5
Historic District: 249 Structures
Hotels/Inns/Bed & Breakfasts: 501
Number of pillows: 20,002
Condo units: 2,745
Condo beds: 5,000
Hotel units/bedrooms: 436
Hotel beds: 800
CLIMATE (Temperatures in Farenheit)

Winter Temperatures: 28° daytime / 15° nighttime
Summer Temperatures: 70-80° daytime / 50° nighttime
Average days of sunshine per year: 300

OTHER AMENITIES:

Dentists: 5
Medical clinics: 5
Pharmacies: 2
Golf courses (public): 1
Skating rinks (public): 1 year-round / 3 winter
Tennis courts: (public) 2 indoor / 12 outdoor (summer)
Museums, art galleries: 16
Library: 1
Fitness facilities (public): 2
Ball fields: 3
Soccer fields: 2
Outdoor amphitheater: 1 - Riverwalk Center
Public Parking Lots: 13

Breckenridge is home to the largest Historic District in the State of Colorado. The Gold Pan Saloon, established in 1859, is the oldest continuously operated bar west of the Mississippi.
In 1887, "Tom's Baby," a 13.5 pound gold nugget, was discovered near Breckenridge.