Fort Garland, Colorado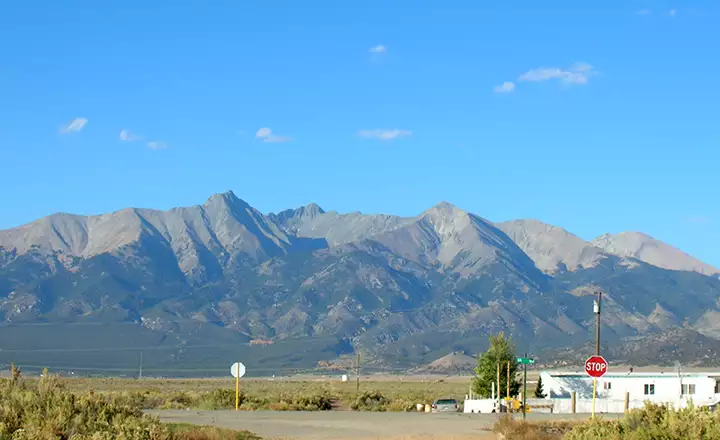 Looking north in Fort Garland toward the Blanca Massif and Mt. Lindsey
Fort Garland was established in 1858 to protect settlers in the San Luis Valley, then part of the Territory of New Mexico. Built in a parallelogram around the parade ground, the fort could accomodate two companies of 100 men and a handful of officers.
Over 25 years, the fort was home to a number of different companies of infantrymen, mounted riflemen and volunteers. Kit Carson and his volunteer unit were commanded to the fort in 1866 to keep the peace and negotiate with the Utes. Regular troops returned in 1867 and Carson and his volunteers were mustered out. Most of them returned to Taos but Kit moved to Boggsville (near today's Las Animas) and settled down as Colorado's Superintendent of Indian Affairs. He died there in 1868.
Fort Garland was abandoned as a military post in 1883, following the final confinement of the Utes to reservations.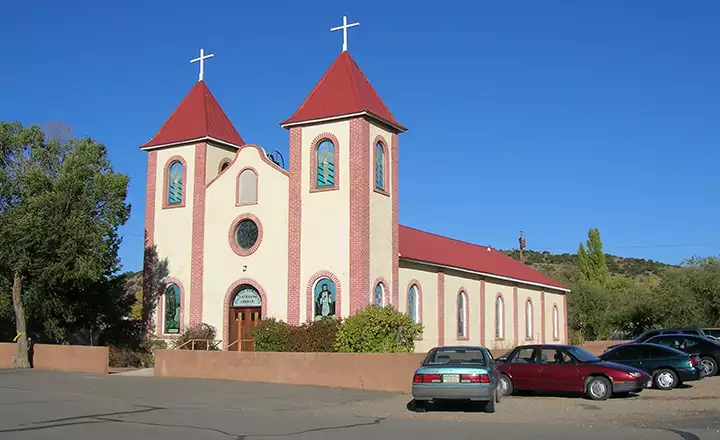 Fort Garland's Catholic church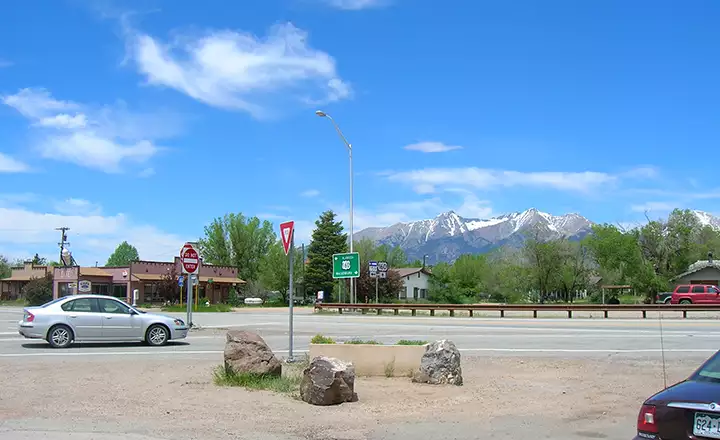 In the heart of Fort Garland
Today you can walk the parade ground of the fort and tour the adobe buildings. The Commandant's Quarters features a re-creation of the quarters during Carson's time. Fort Garland also highlights the folk art and culture of the Hispanic community in southern Colorado.
Fort Garland is a "census-designated place" located on US 160 in the San Luis Valley of southern Colorado, 25 miles east of Alamosa. The town consists of maybe 400 people settled at a crossroad. There are a few gas stations, a couple of restaurants and convenience stores and several other businesses along the highway. The town of Blanca is 4 miles further west. The two towns share their community center and their schools. The two towns are nearly surrounded by Forbes developments (Forbes Trinchera, Forbes Wagon Wheel, Sangre de Cristo Ranches, etc.).
The Fort Garland Museum and Visitor Center is open daily 9 AM to 5 PM, April 1 to October 31. From November 1 to March 31 it is open Thursday through Monday, 8 AM to 4 PM. Admission is charged. For more information please call (719) 379-3512.
Trinchera Peak, from Fort Garland