Glendale, Colorado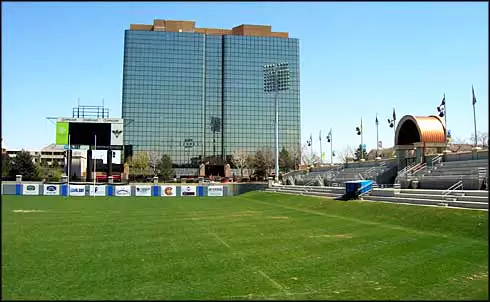 Inside the Rugby Stadium at Infinity Park
The City of Glendale is in a funny position: it's part of Arapahoe County but is completely surrounded by the City and County of Denver. Since 2005, Denver has provided all fire services under a contract with Glendale. As a political enclave within the City of Denver (and not subject to Denver's legal jurisdiction), Glendale has become a center for entertainment, nightclubs and strip joints. Most of the constructions in Glendale consist of commercial developments, including residential and office high rises.
Adjacent to the Glendale municipal buildings is a new mixed-use municipal development called Infinity Park. Infinity Park includes a stadium, park, event center and recreation center. The stadium is home to Glendale's nationally-ranked professional rugby team: the Glendale Raptors. With a seating capacity of 5,000, the stadium can seat more people than live in Glendale. The 35,000-square-foot recreation and sports center is operated by the YMCA of Metropolitan Denver.
Glendale is also home to the Four Mile Historic Park, a property that houses Denver's oldest house. Four Mile House was built in 1859 as a tavern, stage stop and wayside inn along the Cherokee Trail that carried travelers, prospectors and other emigrants into Denver.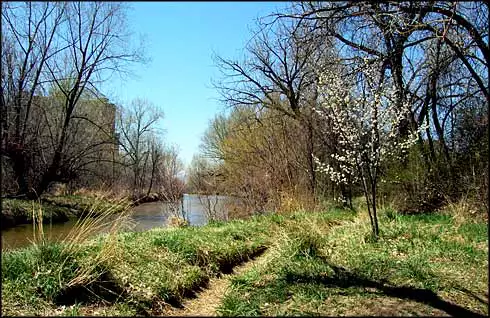 Cherry Creek as it flows through Glendale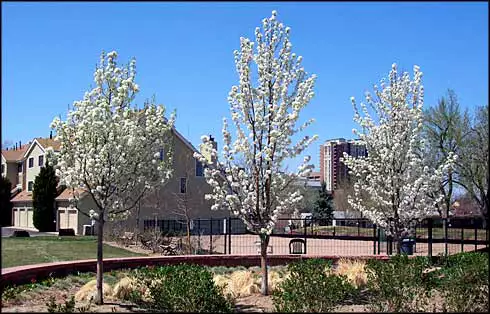 Springtime blossoms in Playa del Carmen Park, Glendale