Crowley County, Colorado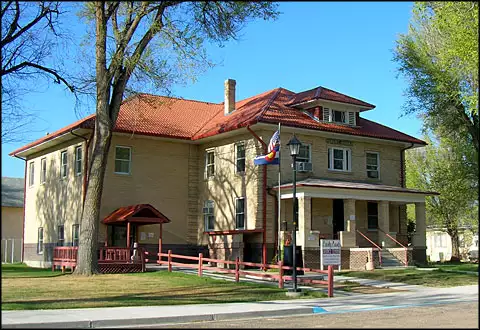 The Crowley County Courthouse in Ordway
Established in 1911, Crowley County is now populated with about 5,000 farmers, ranchers, and other hard working people and covers 802 square miles of rolling prairie. Time has not distorted the values or ethics of those who live here. The work ethic and dedication is as strong now as when the settlers started tilling the land in the late 19th century. The low cost of living and peaceful lifestyle make Crowley County a secret haven along Colorado's Front Range. The communities of Olney Springs, Crowley, Ordway, and Sugar City all lie along Colorado State Highway 96, north of the Arkansas River. Crowley County contains 789 square miles of land and 11 square miles of water. The county seat is Ordway.
Because of lack of water and scarce rainfall, almost no one lived in the area of Crowley County before 1890. However, the 1890s saw the completion of the Colorado Canal (a 50-mile long irrigation channel fed by the Arkansas River) and the arrival of the Missouri-Pacific Railroad. Within a decade, hamlets and towns sprang up all over the county and more than 50,000 acres of land went into agricultural production. Ordway, Crowley, Olney Springs and Sugar blossomed with canning plants, mills, grain elevators, newspapers, schools, even an opera house.
Then came the dry summers of the late 1920s and the Dust Bowl years of the 1930s. Many ranchers and farmers just packed and left but the upswing in agricultural demand that came with World War II brought some folks back. Things were looking pretty good until the National Sugar Company closed its plant at Sugar City in 1967. That forced many people to sell their water rights just to cover their debts (a practice that has since been revived in the area: the City of Aurora is desperate for more water and is busy buying water rights all up and down the Front Range).
Now, quite a few of the farmers and ranchers of Crowley County have persisted and are still in business. The county's economy is also helped by the summer and fall tourism at Lake Henry and Lake Meredith. In 1997, CCA built a "correctional facility" in the county and Colorado has built another and since expanded it. Both of these facilities hired many local people, until Colorado was forced to terminate the contract with Corrections Corporation of America in the aftermath of the financial crisis of 2008. That left only the one prison still operating...